Cheats can appear to be a tangled task when playing the Sims 4.
However, they could be a vital component of our gameplay and therefore learning how to maximize your game is crucial to enjoy a better simulation.
Cheats are used to serve a purpose.
They are not used to fix one issue or another but to speedily solve problems too.
The main purpose behind cheating is to keep playing the game as you like it, with no unwelcome (but constant) interruptions.
When cheating adds an additional boredom that is added to the experience, we are less motivated to play, don't you think?
The UI Cheats Extension is no an exception!
We're proud to present to you the the UI Cheats Extensionmod for the Sims 4!
This mod is the only one that solves all the issues that arise to cheating within the game.
It's among the best and the most efficient tools for gaming available on the internet.
To download it you can click this link to install it on the Patreon webpage.
Let's see what can do with Sims 4 UI Cheats!
What is the UI Cheats Mod in Sims 4?
First of all let's discuss the entire premise behind this mod and the reason we're highlighting it here!
From the beginning, it is clear that the UI Cheats Extension is a mod for the Sims 4 that completely eliminates the requirement to enter cheats manually into the game.
Simply put the Mod UI Cheats that replaces all cheats that are basic within the Sims 4.
Instead of needing to type in things such as "motherlode" or "testingcheats true" it is possible to click on a single thing and you'll get your money and promotions or anything else you'd like.
The UI Cheats Extension mod can be used in numerous ways.
The purpose of this mod is to make gameplay easier, faster and more enjoyable for both novice players as well as veteran simmers.
Imagine the game for a moment.
You're completely in control to alter your time and needs, jobs and much more in the moment!
This is an absolute game changer for any player who has played the Sims 4 for a long time and has played through each of the "annoying" parts.
Here are 4 reasons to take part in the Sims 4 with UI Cheats!
A huge collection of cheats you can access at anytime.
No typing is required to use any cheating.
A greater depth and personal preference for each cheat.
Fast use immediately.
This UI Cheats Extension mod is an application that provides you with the final decision on nearly everything you play.
If you require money or wish to manage the requirements of your Sims you can achieve this with this mod!
It isn't necessary to type or type cheating commands anywhere.
All you need to do is use an easy click-and-drag process that we'll go through in more detail!
How do I Download UI Cheat Extension?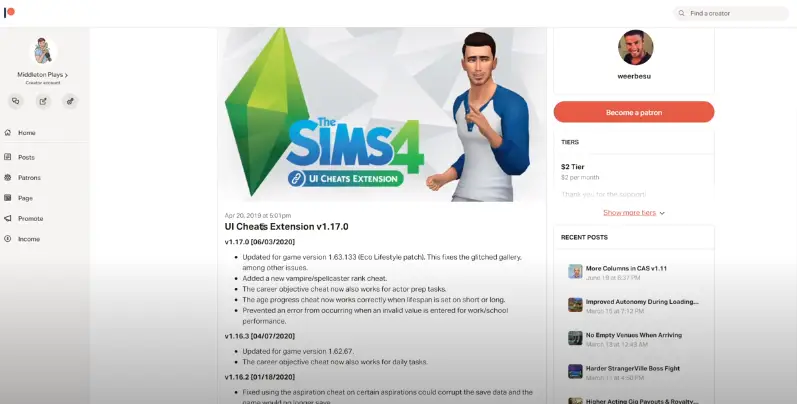 If you've been wondering what to do to get and install Sims 4 UI Cheats, do not fret.
The process is simple and you'll finish it in less than a minute.
This is how to download, and how to install this mod!
The download process begins with download the UI Cheats Extension mod from the Patreon website.
Its creator was weerbesu who has been making amazing Sims 4 mods for a time.
This page lists every patch update presented in a tidy manner.
For instance, you could look over what included with this update "Sims 4 UI Cheats Extension v1.18" or the "Sims 4 UI Cheats Extension v1.16.0" update.
This will give you a an understanding of what to expect from you when you enter the game.
Think about joining youerbesu's Patreon if you want to back him however, remember that you don't need to.
Scroll through the "Compatibility" section and find the original download link.
You can also search for the phrase "If you play Legacy Edition, download the version here" and click "here".
In order to install UI Cheats to the Sims 4, follow these steps:
Unzip the downloaded files.
Open your Mods folder inside the Sims 4 directory destination.
Create an entirely new folder and give it the name "UI Cheats Extension".
Copy the files of the folder that was unzipped into the new UI Cheats Extension directory.
Start the game!
We believe you didn't have any problem installing and downloading the Sims 4's UI Cheats, here's a solution B.
In this YouTube tutorial will show users how you can do the exact process using slow steps and simple methods.
Go check it out!
How Do You Use The Sims 4 UI Cheats On Mac?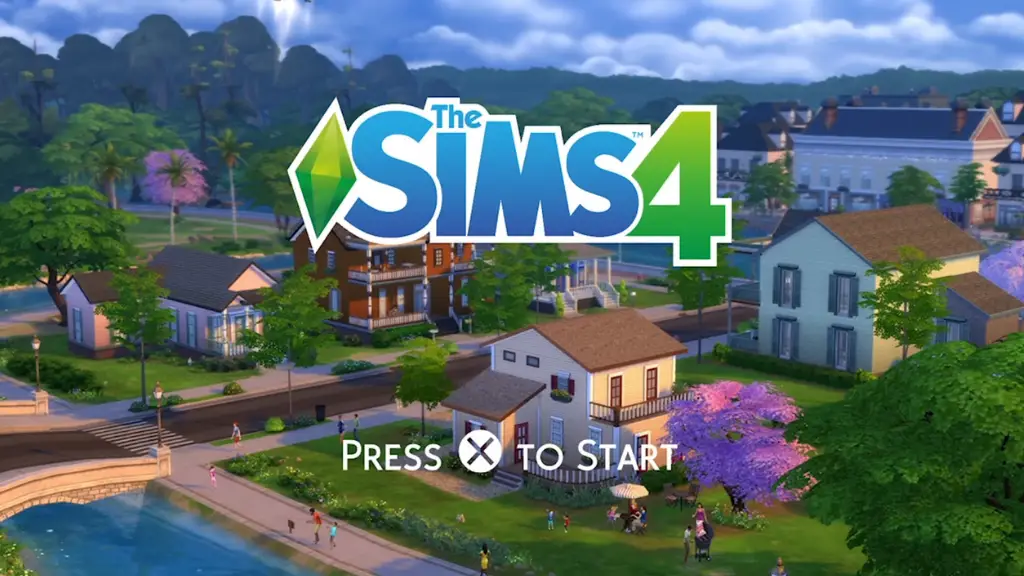 There's a widespread myth among the Simming community concerning the use of Sims 4 UI cheats on the Mac.
This is why we're here to help dispel any confusion.
It is safe to use this Sims 4 UI Cheats Extension mod on the Mac!
It works with Apple computers, and it can be used equally well on a Windows PC.
It is possible to download and install it in the same way you install it on a PC.
Just follow the steps we have provided in the previous section and you'll be safe!
Once you have downloaded the file and installation, you'll have the most recent UI Cheats Extension version on your Mac system.
You will be able to enjoy all features without having to worry!
Furthermore, the Sims 4 UI Cheats are compatible with PS4 too.
PlayStation 4 has a couple of different commands available when it comes to use this extension.
But, we'll discuss a few essential details you need to be aware of further down.
How Does the UI Cheats Extension Mod Work?
Once you've installed this UI Cheats Extension mod, then we recommend that you start your game and begin clicking every single thing!
There's a lot to the things you can alter by using this mod, so trying it is the ideal option.
The whole thing works by using the left and right clicks of your mouse.
That means that one click is usually used to add something, while the other click will take it away.
For instance, right clicking on a particular moodlet will take it off your Sim
Additionally, left-clicking on the counter to add money will increase the amount of money.
Therefore, you should click on everything and watch what happens!
If you're having trouble comprehending the details you can perform the Sims 4 UI Cheats, here's some guidance!
Moodlets
One of the things you'll quickly realize is the effect you influence the moods of your Sims.
When you use Sims 4 UI Cheats, it's very simple to alter the way your Sims are feeling anytime by simply either removing or adding the moodlets you wish to remove.
As mentioned earlier when you right-click button on an individual moodlet and then eliminate that particular moodlet from your Sim.
This is an extremely useful device, particularly if your Sim has a baby and you're not able to stop the moods that are negative and keep appearing!
Naturally, you are able to make use of this feature in any way you'd like.
If your Sims are angry or sad you can instantly bring them joy.
This is an absolutely god-send option for anyone who has played the game for a longer time.
It's because those who have played for a long time are aware of how challenging and unpredictable the game can become when we least expect it to be.
Therefore, having the ability to choose how your Sims play at any time is a great thing!
And it takes only the click of a button to get everything you want!
Money
When we talk about "cheats", we often refer to "money cheats".
This Sims 4 UI Cheats Extension mod is an extremely popular method to solve your money issues all the time within the game.
It offers, the most effective money management you could get within the Sims 4.
Here's the way it is done!
For instance, if you left-click your money and you click on it, you'll instantly earn 1,000 simoleons.
This is extremely useful for those who need extra cash to buy something or two.
Sometimes, only 500 simoleons keep you from the dining table we want or the chair we want.
This is a quick solution to the problem.
You can continue this process for as long as you want and continue to accumulate that money!
Then, if you don't want to bombard people with clicks throughout the day you can simply make a right-click on your money just once.
It will trigger a window to open asking you to select the precise number of simoleons you wish to purchase.
You can enter any amount and get it in full.
This is the ideal method to make use of this feature because you can get all the money you desire and then you can forget about it!
It is possible to also get negative cash.
If you ever find yourself with an excessive quantity of funds in your wallet simply right-click on the money and add a negative number such as 1000000.
This will erase the sum you've entered and make you a deficit.
This is very helpful to maintain the realistic game play when things begin to fall apart.
Therefore, you should put the negative number and you can continue with the normal game.
Time With The UI Cheats Extension Mod
Time is another huge feature in the Sims 4 Mod for UI Cheats.
If you're unaware let me tell you that you can determine the day and time of your game using this extension too.
Being able to manage the clock and other elements of the game is one of the main features of this mod.
How do you make it work?
If you click the time in the lower left of the screen, you will be able to create the exact time you would like your game to take place.
This will cause the game speed ahead to the moment you want it and nothing else will change.
The change will occur quickly, but everything else remains the same.
But, this isn't all!
You must be extremely cautious about how long you can wind and rewind time when using Sims 4 UI Cheats Extension.
The reason behind this is that if you use too often, you are at risk of ruining an element of your game.
Consider this as an example.
If you have pregnancy Sims due in just two days and you speed three sim days ahead it could cause the Sim to crash because you're using game's mechanics.
It's important to be aware of the actions you're taking.
Be careful not to engage in this mode overly often, so that you don't cause confusion or upset your Sims!
Skills, Jobs, And Aspirations
Skills are another aspect that you can modify according to your preferences.
You can see it's extremely helpful in any kind of game.
The reason behind this is that skills require an extended time to develop and increase.
With Sims 4 UI Cheats, you can instantly level up your skills.
Sims 4 UI Cheats extension allows you to quickly master every ability you'd like.
Charisma writing, programming you just name it!
If you left-click on a particular skill, you are able to raise it by 10.
This is a much simpler option than using cheats that are set for the skill level as it's only one click.
However, it's slightly more difficult to control because at times you just want to increase the skill level of one.
Therefore, be cautious!
It's the same for your job's performance and goals.
At any time you can increase the performance of your job at 100, even if you don't desire to pursue it in the traditional method.
All you have to do is click on the icon for your job in the section for career to be able to move, promote or even change your career.
This allows you to experiment with new ideas without risking or losing your progression.
You can also promote your tasks as well as your goals and anything else!
For aspirations, just right click on a specific aspiration and it will immediately achieve it!
Relationships Values
Relationships are an important topic of discussion in the Sims 4.
It's not easy to build, maintain them and manage one in a normal pace.
It is a challenge to establish, maintain and control one.
Sims 4 UI Hacks provide an ideal option to keep your relationship in good shape or quickly establish the perfect relationship between 2 Sims.
Here's how to use it.
If you'd like specific Sims to connect faster it is possible to speed up their connection quickly!
Click on the Sim you wish to establish an alliance with and then set the number as 100, 100.
This will immediately boost your relationship to the right place.
If you're not aware let me tell you that the first number signifies " friendship" and the second " romance".
If you're looking for an engagement between two Sims then the number may be similar to this: 1000.1000.
In turn, if you're hoping to be friends with your neighbour but not much then the number should be 100.000. You can however, use any number you want depending on your goals!
Needs
Finally, your needs!
This Sims 4 UI Cheats Extension mod is most likely the best tool for your needs that you'll ever discover!
It lets you select and drag the requirements that you want to meet for the Sims, straight from the menu!
Instead of putting on a cheat code to keep your needs full in all times it is possible to put each of them separately.
This is extremely helpful in many scenarios.
For instance, if you notice that your Sim's bladder has become empty and they have to go to the bathroom at the end of a conversation, you can quickly bring it back to half-full or full.
This will give you complete command over your Sim!
Additional Sims 4 UI Cheats Extension Mod Features
We briefly discussed what you can expect when you begin playing with this mod, we'll go over the additional features you should take note of.
These are some examples of how to use this Sims 4 UI Cheats extension and what you can do using it.
University
Sims 4 UI Cheats can aid you in your University.
Instead of using university cheats you can make two clicks to resolve your issues.
Right-clicking on the University experience bar will allow you to set an organization rank.
Additionally when you click right on the University task it will finish that job automatically for you!
It's impossible to emphasize enough how much time you save by this method therefore, you should definitely to test it out for yourself!
Weather And Seasons
While you do have Sims 4 cheats to play every season and weather within the game, you can also make use of this extension.
This Sims 4 UI Cheats mod allows you to instantly alter the weather as well as the season simply by pressing them.
A right-click on the season or weather icon will open additional options.
There you can alter the temperature and time and change the season that your game is currently playing in.
Age Up With Sims 4 UI Cheats
Ageing up Sims by using this mod is special.
It's not like the earlier features that let you define everything to the one particular detail.
Instead when you hit the progression bar, you'll be presented with a different choice.
In essence, you'll be able to alter or eliminate from the days you wish to add however, only at the present level.
But that's not the only thing.
In the recent Sims 4 UI Cheats Extension update, new age-up tricks were introduced.
This means that you are able to alter the age of your Sims while playing!
Perks
Finally, we want to talk about how the bonuses are used.
There are hundreds of cheats available within the Sims 4, each of which unlocks a specific perk.
However, with the Sims 4 UI Cheats, you just need to right-click on a perk when playing to unlock it instantly.
This is applicable to every perk available in the game, no matter the game pack or expansion it comes from!
Sims 4 UI Cheats Extension V1.23 – 2021
As of the time of writing, the most recent version of Sims 4 UI Cheats Extension is v1.23 in April 2021.
It was officially released on March 3, 2021, bringing some cool improvements for the modification.
It wasn't the most hefty of patches but it was able to fix several issues.
Here's what you are likely to get from it.
There are two new university cheats: one for ranks, and the other for tasks.
There's a new cheat that allows you to earn spellcaster and vampire ranks too.
There are also fixes to use simoleons along with the game cheat.
It should now function consistently and won't cause crashes.
However, you will be able to get a stable version of this mod like Sims 4 UI Cheats Extension mod as of 2021!
Why Your Sims 4 UI Cheats Extension Mod May Not Be Working?
Although it appears that the Sims 4 UI Cheats Extension has been working flawlessly since its inception some players have stated that it's not working for their needs.
If you're among the ones who struggle to get this mod to function, this is the only option you have to do.
Visit the official website of the author for the most recent version of the UI Cheats Extension for the Sims 4 by weerbesu.
This may not seem like assistance but using an incorrect version of the mod could be 90 percent of the time.
Sometimes, a tiny update could alter the way the downloads are performed therefore it is advised to first go to the Patreon's webpage.
The creator is constantly updating this feature and we must keep up with the creator.
If, however, you have the most recent version of Sims 4 UI Cheats Extension and you still encounter this issue it's time to examine your system.
There might be some applications or programs that are causing problems with the mod's functioning.
Reinstalling the game may also resolve the issue.
FAQ
Q-What is the best way to use the Sims 4 Mod for UI Cheat?
It functions like almost every UI in the game .
It is controlled by clicking on the desired option with the mouse.
For instance, if wish to change the time, you have to hit the clock symbol in the upper right-hand corner, which will allow you to alter the game's time.
Q-What do I need to know about installing this UI cheats Sims 4 extension mod on my Mac?
The process is nearly identical for all operating systems with the exception of the location of the file that may differ according to your system's requirements.
The download page for the Mod includes different file formats for different operating systems.
Q-What exactly is Sims 4 legacy edition?
The version that is older than Sims 4 is a dedicated version of the game capable of running on older technology on computers.
It must download and install by following the original installation process to make certain that you're capable of playing it correctly.
Q-Do mods work with Sims 4 legacy?
Although not all mods will work with the old edition of the game several are popular, including for instance the UI cheats extensions mod are specifically designed for the old version of the game.
Q-How can you download and install the Sims 4 UI cheats extension mod?
The Mod can be downloaded either through the Patreon website or from the Official forum of the game.
If you're looking to build your game to benefit from their contributions you could consider using the old source to download the mod to your game completely without cost.
Q-What's wrong with me? Why can't I get access to the gallery in Sims 4 legacy?
The original version doesn't support any type of custom content.
This is why the gallery online won't be available to play as well as the mods and the cc you wish to include within the game must be upgraded first in order to function with the older versions of the game.
Final Words
If there is a mod that can offer you an incredible value, this is the one!
This mod is highly recommended by the Sims 4 community as a "game-changer" because of all the tools that it can provide.
A few of the most fundamental "meh" moments of the Sims 4 can be resolved in a matter of seconds and you can be taught how to use it within less than 10 minutes.
The UI Cheats Extension removes the requirement for cheating further.
It enhances the experience of simming for all players, including us at SnootySims.
We suggest you try it out and we'll guarantee you an experience that is of the highest quality and you will not wish to use the Sims 4 without it!