The first episode of the new Trigun anime, Trigun Stampede, will be shown at Anime NYC, all thanks to Crunchyroll!
Crunchyroll announced on Tuesday that the first episode of the Trigun Stampede anime will have its world premiere at Anime NYC on November 18. The announcement was also posted on the anime's official website.
Anime NYC earlier revealed that it will welcome staff members from CG anime Studio Orange, including main producer Waki Kiyotaka and producer Yoshihiro Watanabe, who are working on the anime. The screening will take place during the staff panel discussion.
The episode will be shown at the Trigun Stampede Special panel in New York on November 18 from 6 to 7:30 PM. The panel will take place in the Jacob K. Javits Convention Center's Panel Room 1.
The discussion will also include a Q&A session with Orange's creative staff and "unique new materials" from the anime. The show will premiere in January 2023.
In January 2023, the anime will be broadcast on TV Tokyo and other networks. Crunchyroll will begin streaming the series in the Philippines, Singapore, India, Pakistan, Bhutan, Sri Lanka, Bangladesh, Nepal, Kazakhstan, and Kyrgyzstan in January 2023, excluding Asia.
Madhouse's previous television anime version aired in Japan for 26 episodes in 1998. In the year 2000, the anime was released on home video in North America.
Funimation licensed the series and released it on Blu-ray discs and DVD after Geneon Entertainment (previously Pioneer) released it on DVD.
Following Sony's Funimation Global Group's acquisition of Crunchyroll from AT&T, the series is currently available on Crunchyroll. The anime first broadcast on Cartoon Network's Adult Swim programming block in 2003.
The Trigun anime is based on the manga of the same name by Yasuhiro Nightow. From 1995 to 1997, the manga was published in Tokuma Shoten's Monthly Shonen Captain magazine.
Later in 1997, Shonengahosha's Young King Ours magazine published Trigun Maximum, which lasted until 2007. The manga has been published in English by Dark Horse Comics.
Trigun: Badlands Rumble, the first new Trigun animation in over a decade, premiered in April 2010. The anime had its global premiere at Sakura-Con in April 2010, despite Studio Madhouse's ambitions for the project dating back to 2005.
The film was also shown on Cartoon Network's Toonami programming block. The tale was written by original manga author Nightow and directed by Satoshi Nishimura.
Orange's animation is directed by Kenji Mutou (Cavity Express director, BEASTARS storyboarder, Land of the Lustrous episode director).
The character concept was created by Kouji Tajima, the concept designer. Takehiko Okishi wrote the scenario, and Tatsur Inamoto, Shin Okashima, and Yoshihisa Ueda are in charge of the scripts and composition.
Character designers include Kdai Watanabe, Tetsur Moronuki, Takahiko Abiru, Akiko Sat, Soji Ninomiya, and Yumihiko Amano, in addition to Nao Ootsu. The soundtrack is being composed by Tatsuya Kat (Free!, Fate/kaleid liner Prisma Illya franchises).
THE ANIME WILL STAR:
Yoshitsugu Matsuoka as Vash the Stampede
Junya Ikeda as Knives Millions
Tomoyo Kurosawa as Young Vash
Yumiri Hanamori as Young Knives
Maaya Sakamoto as Rem Saverem
Sakura Andou as Meryl Stryfe
Kenji Matsuda as Roberto De Niro
Yoshimasa Hosoya as Nicholas D. Wolfwood
TRIGUN STAMPEDE SYNOPSIS: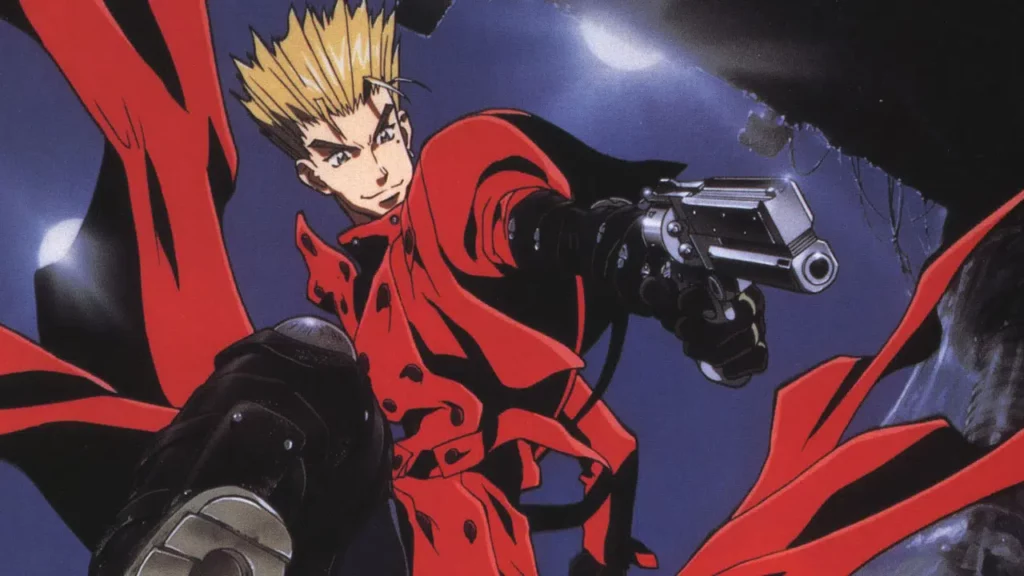 The individual known as Vash the Stampede has a bountiful reward of $60,000,000,000.00 placed on his head.
For this reason, he has earned the moniker "The Humanoid Typhoon" due to the fact that he is a ruthless adversary who slaughters all those who stand in his way and leveled entire cities just for the joy of it.
According to the tales, he leaves a path of death and ruin wherever he goes, and anyone can consider themselves dead if they so much as make eye contact with him.
He is known as "The Grim Reaper." But , in reality, Vash is a giant softie who avoids violence at all costs and claims to have never been responsible for taking the life of another person.
Vash travels across the wastelands of the planet Gunsmoke while Meryl Stryfe and Milly Thompson, who work for an insurance company, follow closely behind him in an effort to lessen the damage that he causes to the general populace.
Vash is accompanied by his crazy obsession with doughnuts and his goofy demeanor. But very quickly, their follies develop into situations that could endanger their lives as a famed assassin team is called in to inflict agony on the three protagonists.
The painful events of Vash's past will be uncovered, and he will have his integrity and values tested to their absolute limits.