Like no other genre in the hentai genre, trap manga/hentai anime is a unique way to engage the viewer. 
We enter it expecting romance, but instead, we'll be pleasantly shocked in the next second.
Now, let's look at this list of the best Trap Hentai anime. 
15. Skirt no Naka wa Kedamono Deshita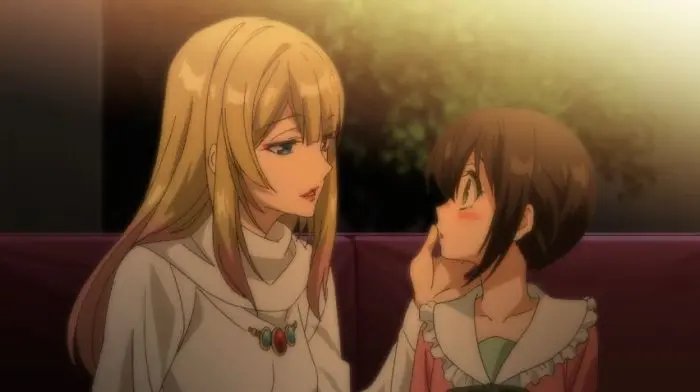 Episodes: 12
Aired: July 2017-September 2017
Shizuka's friend talks her into going to a singles night. She's really shy around men, which is a shame. She quickly goes to the bathroom, where she meets a pretty woman named Ryou.
She feels much more comfortable talking to another woman, so they decide to go out for drinks together.
They talk about each other a lot and seem to like each other. Shizuka asks Ryou if she has a boyfriend, but she says she doesn't want to find one.
She asks Shizuka to come back to her place and kisses her passionately on the bed.
Shizuka is confused to hear that Ryou's voice has suddenly gotten deeper and…something hard is pressing against her.
14. Konna Ni Yasashiku Sareta No [Episode 1]
Episodes: 3
Aired: June 2014 to November 2014.
The day before Valentine's Day, a high school student who likes her senpai is busy in the kitchen making homemade chocolate to give as a gift.
Suddenly, her older sister Akira came in and hit her hard with her chocolate, knocking her to the floor.
Akira starts to yell at her sister, calling her a disgusting pervert who gets excited by dressing as a girl. Wait…what?
Akira lifts her sister's skirt to show that she is a boy. Hiromi has always wanted to be a girl, and he is very envious of his sister's big breasts.
Then, Akira tries to show how perverted Hiromi is by making him c*m with her foot, but he quickly turns the situation around on her.
He fights back and finds out that her brother in a dress makes her feel sexually attracted to him.
13. Panchira Teacher [Episode 2] (Panty Flash Teacher)
Episodes: 2
Aired: November 2004-February 2005
When one of her students tries to sexually assault her in front of the class, the new teacher doesn't make a good impression on her students.
The students aren't upset because this kind of bullying happens all the time. One student, Atsasuki, is also being picked on in this way.
After school, two other students make him dress up as a girl and demand that he make them feel good sexually.
When he doesn't give in, they make him feel even worse by pulling on his foreskin. This makes him stand up straight, showing off his large size.
The male bully feels threatened by how girly Atsasuki is, so he shows his power by spraying his sperm on his face.
12. Shinkyoku no Grimoire The Animation [Episode 2]
Episodes: 2
Aired: November 2014-December 2015
The power of the Grimoire of Greed starts to tempt a girl named Eva. She and her brother Adam rape people to get mana for their dark master.
Adam uses the power of the book to make himself look like a woman. He gets a man who doesn't know it to have sex with him.
After that, his magically made p*ssy goes away, and he shows what was hiding under his dress.
After all, is a boy's a$$ that different from a v*gina? Adam is about to show him as he climbs on top of him and hard rides his c*ck.
11. Keiraku no Houteishiki Level-C (Level C)
Episodes: 1
Time of Air: July 15, 1995
When Kazuomi encounters male model Mizuki in the streets and proposes to the young man sexual intimacy in exchange for accommodation, Mizuki is uninterested but accepts to let him remain. 
The two are in love together, but Mizuki is shocked when Kazuomi will not pay the "rent" regardless!
Kazuomi believes that happiness is more enjoyable when it's shared instead of unidirectional and Mizuki always appears so joyful when Kazuomi loves him. 
There are a variety of sexy moments in which you can see everything to allow you to enjoy their passion for each other!
10. Otome Domain The Animation
Episodes: 1
Year: 2017
The mother of our protagonist has passed away and he's all by himself. A woman from a rich family offers him the chance to remain in an all-girls high school trans-dressing.
Unfortunately (Or fortunately) the girls who live living in the dorms aren't all that nice and sexually perverted. As for the rest, I'm sure you'll find out for yourself.
Otome Domain Animation can be described as a type that focuses is on the character's interactions rather than the plot.
So, you'll have the chance to watch the entire show without unwelcome plots.
9. TSF Monogatari
Episodes: 02
Year: 2011
Takumi Musashino was a typical high school kid until he was prescribed an experimental treatment for a disease and changed into an attractive girl.
Soon, his classmates will use his character as a way to satisfy their needs as Takumi can experience the joy of being the woman she is.
There's no doubt that you'll enjoy an unforgettable ride in Yaoi and trapping.
8. Otonoko Ojou-Sama
Episodes: 1
Year: 2011
The story is about an unnamed servant boy Hikaru and a gorgeous mistress Ayana. 
Ayana often dresses him as a woman and makes him an individual toy, doing everything sexually sexy.
It's a quick trap hentai anime that only has one episode, however, within 15 minutes you'll be able to enjoy every second of it.
7. Boku no Pico
Episodes: 3
Year: 2011
Picoworks on the coffee shop of his grandfather for this summer. 
When he meets a girl known as Tamosu and Tamosu, a spark of love and passion develops between the two. 
The rest, well there's some great yaoi action.
It's undoubtedly one of the most popular Hentai (controversial) available.
Make sure you go through the entire three-part series.
Boku no Pico
Pico to Choco
Pico x CoCo x Chico.
6. Sweet Dreams
Episodes: 3
Year: 2014
Hiromilikes the guy and was planning to propose to him by gifting him chocolates made by hand. However, her sister will not let it happen as she is obsessed together with his sister.
When you hear " It's a trap," you're going to be having a great time. It's the kind of trap that comes featuring some very amusing scenes.
If you're interested in yaoi/trap characters and you like them, then you'll be awestruck by this one.
5. Hikari along with Tobaru tobaru, the Flying Sticky
Episodes: 1
Year: 2013
As opposed to the other ones listed it is a 3-D Hentai and of course, you'll appreciate it as you did the other ones. The characters and voice acting are quite impressive too.
The story revolves around Tobaru who is a woman who has been invited to the house of Hikari to visit. 
A little bit thirsty Hikari makes the most of this opportunity and decides to bring a stop to her virginity.
4. Shounen Maid Kuro-kun Tenshi no Uta
Episodes: 1
Year: 2010
Kuro-Kun is a cute male with beautiful features as if he were a girl. However, he is now forced to be the boy's maid to pay the debts of his father.
The anime that is based on the trap hentai genre is an enjoyable and enjoyable experience. In other words instead of oblivious sequences, Misu does everything to Kuro in a humorous manner. 
As in, making him play fun games. And there are BDSM themes here.
3. Otonoko Delivery
Episodes: 1
Year: 2016
Otonoko Delivery follows Shun and Aoi, two middle-aged boys who dress as girls and make some money by interacting with people such as Kazuya.
This is an amazing trap hentai anime and if you're planning to be watching this in the evening, you might want to get a friend to watch it with you.
2. Hi.Me.Go.To
Episodes: 1
Year: 2001
Takashi is in love with his partner, but he is unable to make her happy, and one day, he sees his teacher on the train being groped by an uninitiated. 
Because she appears to be having fun, she asks him for assistance.
Whatever the case, we're sure that you'll have a wonderful experience watching this.
It's only a minus that it's one single episode with a runtime of 27 minutes.
1. Natsuyasumi
Episodes: 3
Year: 2013
The story revolves around an individual who takes an excursion during summer and ends up hooking up with a gorgeous girl. 
At least, that's his initial thought until he finds out that the girl is a male dressed cross-dressing as a girl.
Natsuyasumi is an uncommon trap hentai series with a romantic ending. Instead of sloppy and raw romantic scenes, this has a decent plot.