At the start of the show, demons killed Tanjiro's family and turned his sister into a demon. Demons were much stronger than humans, and they could heal quickly, so it seemed almost impossible to kill one.
That was before Tanjiro joined the Demon Slayer corps and got his fancy sword for killing demons. Now that our main character has everything he needs, he's ready to get revenge and find a cure for his sister.
But let's start with his new Black Sword. Not only did Tanjiro's sister become possessed by a demon, but he also got a "death sword." (Talk about the short end of the stick!)
It's been said that people who use Black swords like Tanjiro will die young, but it's rare for this to happen to the main character. (Except that he was dead for a while)
No more spoilers! Let's talk about the mysterious sword again. Does it have something that makes it different from the other blades? Why does it look like that? Even so, Tanjiro's weapon can't be just any old thing, can it?
What color is Tanjiro's sword?
In Demon Slayer: Kimetsu no Yaiba, Nichirin swords, also called Nichirin blades or Demon Slaying blades, are made from a special ore that absorbs sunlight constantly.
The Demon Slayer Corps uses the blades to kill demons because they have a unique property. After Tanjiro passed the Final Selection and joined the corps, a swordsmith named Hotaru came to Urokodaki's house to give Tanjiro his own Nichirin Blade.
Urokodaki, Tanjiro's teacher, and Hotaru both thought that the sword would turn red because Tanjiro's hair and eyes were burgundy. They even said that the color was a sign of good luck.
But when Tanjiro used the blade, it turned completely black, which was thought to bring bad luck to the person who used it.
People say that those who use a Black Nichiren blade won't get very far and will die young, just like those who used them before them.
Why did Tanjiro's sword turn black?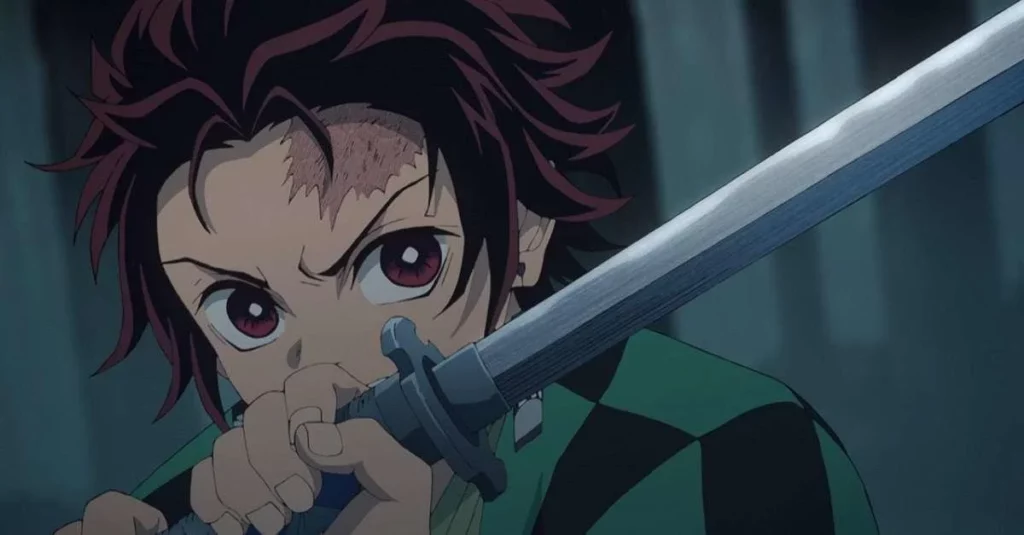 Even though we don't know for sure why Tanjiro's sword turned black, we can put together some theories and hypotheses based on what we know so far.
If we look at Zenitsu's sword, we can see that his Thunder Breath style is reflected in the solid yellow band that runs down the length of it. Inosuke, on the other hand, uses the Beast's Breath, which makes his sword look indigo-grey.
Taking all of these things into account, we can say that the way the user breathes has a big effect on the color of the sword.
In that case, it makes sense for Tanjiro's sword to turn black, since he uses the extremely rare Dance of the Fire God, also known as the Sun Breathing style, which is where all other styles come from.
People think that once a Nichirin sword gets a color, it will always stay that color. But Tanjiro's sword did turn red for a while, and I will talk about that in this article as well.
What do sword colors imply in Demon Slayer?
The Nichirin swords are also called "color-changing swords," which is another name for them. The reason for this name is that when these weapons are first used, they take on a color that is unique to their owner.
For example, Giyu Tomioka uses a blue blade as the Pillar of Water in the Demon Slayer Corps. Because he uses the Water Breath style and is easygoing and calm, blue is a great color for his sword.
Mitsuri Kanroji, on the other hand, uses a pink Nichirin Blade that fits her Breath of Love style and shows how emotional and passionate she is.
Our main character, Tanjiro Kamado, uses a black Nichirin blade, which is a special weapon, just like every other protagonist's. It turns out that black Nichirin swords are very rare, which means that almost no one knows what they mean.
In keeping with the sad theme of the series, the only thing known about the black sword is an omen that says the people who use it always die young. Is this a sign that Tanjiro is going to die?
Manga readers are sure of it. Tanjiro did die young, even if it was only for a short time, just like other users. Only the person who made the story knows if this was a hint or just a coincidence.
Can Nichirin swords change their color more than once?
When someone uses a Nichirin sword, it changes color to match their personality and stays that way forever. But in later chapters of the manga, some swords get a crimson color on top of their original color.
Nichirin Swords can't change color more than once. Only the first time their owner uses them do they change color. Demon Slayer swords, on the other hand, can change color for a short time under certain conditions.
Nichirin swords turn crimson red when they are exposed to intense heat, which raises their temperature. These swords can stop demons from regenerating and sometimes even burn them down to their cells.
But only a few characters, like Tomioka and Sanemi, have had swords that changed colors.
During the fight against Muzan, when Sanemi slammed his sword hard into Giyu's, the color of both swords changed to red for a short time.
People think that their swords turned red because Giyu had his Demon Slayer Mark, which let him raise the temperature of his body and, in turn, the temperature of his sword.
Tanjiro's Red Sword
If you don't know what this heading means, you haven't read the manga and you don't know what spoilers are.
When Tanjiro used his Sun Breathing style against Muzan, his black Nichirin blade turned red. This gave him the power to stop the Demon King's ability to heal faster.
Why Tanjiro's sword turned red is a hard question to answer, since the manga never said what happened. Even so, I do have a major explanation and an alternative for the event.
One reason the sword might have changed color is that sword often turn red when they are exposed to intense heat. This is a well-known and scientifically proven fact.
Tanjiro's Demon Slayer Mark is another thing that could have caused his sword to change color to red. People think that these marks might let the people who use them dye their blades red and give them the same power to stop demons from healing.