The Spring 2020 anime season was one of the most anticipated seasons and I feel it lived up to the hype and the excitement, I mean just look at all the popular titles from this season.
I know the Spring 2020 season faced some hiccups with the arrival of the pandemic and many animes did get postponed for production and budget issues but still, the season was amazing.
The anime scene, fans, production, and overall quality has seriously shot up in the last couple of years.
Even Netflix is all for anime, opening up their platform for so many unique animes and animated movies.
With this list, I'll try my best to choose the most popular of the spring 2020 animes.
I have to tell you that it was a difficult task because there are so many and they are so good!
If your favorite pick isn't on the list, let us know about it in the comments below.
21. Sing "Yesterday" for me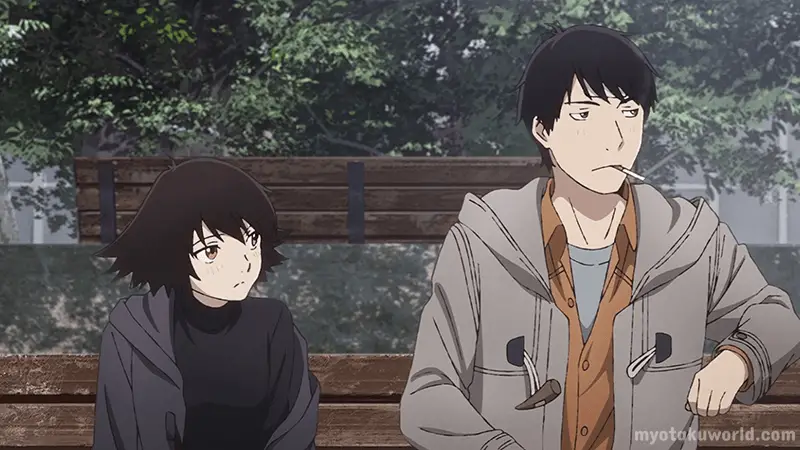 Starting off our list with Yesterday wo Uttate. This anime is about love and humanity. We follow the lives of a group of four, two boys and two girls.
The main male-protagonist, Rikuo has a negative mindset and as viewers, we get to see the world from his unique outlook. He works at a convenience store with possibly the most eccentric girl, Haru.
I can say that watching this was a rollercoaster, but in the end, I think I was happy I got the ticket. Overall, it is a good slice of life anime, give it a watch, the slice of life genre rarely disappoints.
20. Ascendance of a Bookworm
Here comes the Isekai anime train! There are some amazing Isekai anime in this spring season and for the first Isekai anime, we have Urano Mototsu and her books.
The Ascendance of a Bookworm is about our Urano Mototsu, a book-loving soon-to-be librarian.
We follow her story as she gets Isekai-d into a world where she could dive into her hobby of books forever.
Urano loves her newly discovered world and we accompany her on adventures as she explores this world.
19. Nami yo Kiitekure (Wave, Listen to Me!)
Next up on the list, we have a fun anime, Nami yo Kiitekure. It has comedy, drama and romance basically the whole Seinen vibe.
In the anime, we follow the story of a woman, Minare Koda.
In the first phase of the anime, Minare works at a soup curry restaurant called Voyager.
Minare is a very frank and outspoken woman, she has a powerful voice and of course amazing looks.
The anime has a unique plot and the characters are well designed. Check out this comedy-seinen, it's definitely worth your time.
18. Boku no Hero Academia (My Hero Academia)
The first ongoing fan favorite on this list. This season of BnHA was action-packed, I mean the franchise fails to disappoint.
The animation quality and the plot have been consistently good since the first season. I followed the anime weekly and always kept me on the edge of my hypothetical seat.
Kohei Horikoshi is an amazing mangaka, he just keeps on improving the anime.
In my opinion, season four was all about character development and growing up together as heroes.
The character faced a lot of adversities and felt pushed to their limits and that's what helped them grow.
Well there are always two sides to a coin and I think that the anime has definitely has faced some hiccups otherwise it would have been way up this list but overall the fans have been satisfied with the series.
17. Listeners
Set in a fantasy world, where music does not exist. Yeah, you read that correctly, where music does NOT exist.
Personally, I can't even imagine a life without music, I value my sense of hearing a lot, and if I were to lose that I don't see a point in living on.
Thankfully, in this fantasy world without music, our protagonist finds a strange girl with an audio input jack in her body. This leads to them spending time together.
As viewers, we follow their adventures and experiences of discovering rock music and then exploring the history of music together.
16. Kakushigoto
Oh, this slice of life anime will take you on a ride. Kakushi Gotou is the protagonist we follow who is kinda popular for his mangas but he is well known to have inappropriate content in his mangas.
So after becoming a father, Kakushi makes a promise to himself that he will not disclose his job and all his work to his daughter Hime.
This promise leads to some hilarious situations. It also makes Kakushi lie and deceive all the time for Hime.
Will she find out about her father's profession?
Watch to find out.
15. Appare-Ranman!
This anime is set in the 19th-century where the world was powered with steam, coal, and physical labor.
Appare Sorano the protagonist is shown to have a knack for inventions and so we follow him as he competes in a race with his own built automobile.
The anime and the characters are really cool. Appare kinda reminds me of my childhood when I was curious about lots of things and always wanted to learn new things.
The anime is actually very comedic and I think almost everyone will enjoy this type of comedy and jokes.
14. Gleipnir
On number 14 we got Gleipnir, in this anime, we follow a seemingly normal boy with a huge secret.
Shuuichi is shown to be a timid, cute boy but in reality, he has the powers to turn into a monster.
This anime has some very cool powers for all the monsters, like Sanbe with his rock-hard body, Chihiro with her cat ears that lend her the ability to understand other animals.
I loved the overall vibe of this anime and so I think it deserves to be among the Top15. The anime has a little bit of ecchi otherwise it is full of suspense and mystery.
The two main characters Claire and Shuuichi team up in a weird and awkward way to find Claire's sister. The plot metaphorically thickens as you watch more and more.
13. BNA: Brand New Animal
At number 13 we have BNA: Brand New Animal, it was one of the most promising animes, straight off the bat when it was announced.
The protagonist of BNA is Michiru Kagemori who suddenly turns into a raccoon beast one day which forces her to escape and make her way to the "Anima City".
Michiru, prior to turning into a beast she was a cute high schooler with short black hair and a cute smile.
BNA has a well set up world, like the world-building area, the concept of an ongoing feud between the beastmen and humans is interesting and fun to watch.
I followed this anime weekly and I would definitely recommend it.
12. Psycho-Pass 3: First Inspector
Next up on the list, we have one of the most anticipated anime of this entire anime season. I was waiting for this anime for so long, oh my god.
In this anime, we follow the rookie inspectors Arata and Kei, investigating the case of a series of murders of family members.
Psycho-Pass 3 did not disappoint, the series performed well in almost all aspects, animation, plot, character development, and suspense.
I don't think any fan of thrillers and crime series should miss this anime, it has everything that makes a good thriller good!
11. Fate/Stay Night Movie: Heaven's Feel III Spring Song
The Fate/Stay franchise has some great movies, this movie was one of the most anticipated anime movies this Spring 2020 season.
I mean after the epitome that was the second movie, Heaven's Feel II back in 2019, everyone was anticipating this one.
I had great expectations of this one and I think I feel satisfied with the movie, it had a great plot and obviously my favorite characters.
This movie was a great thriller and kinda a nail-biting experience.
As a fan, I know that Heaven's Feel route of the old visual novel is kinda the most amazing one.
10. No Guns Life Season 2
The next one on the list is another thrilling fan favorite, this season of No Guns Life was a great anime. It was full of action, drama, and of course the sci-fi of No Guns Life.
In the anime, we follow Juzo, Mary, and Tetsurou the main characters as they try to navigate their way through the series of events that happened.
Season 1 laid out some amazing world-building and kinda a good story.
Personally, I think season 2 was definitely better than the first, the characters did get some good growth though the story felt a little lacking compared to my expectations of it.
9. Ghost in the Shell Stand Alone Complex_2045
I remember how I discovered the franchise. The first piece I watched grom Koukaku Kidoutai was the very first movie Ghost in the Shell(1995), which was one hell of a watch.
Ghost in the shell is one of my all-time favorites Sci-fi anime. If you aren't familiar with Ghost, it is about a society in the future with advanced artificial intelligence, kinda gives matrix vibes but it is definitely not the same.
It has loads of cool mecha action scenes, good drama, and of course some great Sci-Fi moments.
With the plot and the world-building, I think it definitely deserves to be in the Top 10.
8. Kami no Tou (Tower of God)
Next up on the list, on the lucky number 8 we have another new coming, yet kinda one of the most anticipated anime, Kami no Tou(Tower of God).
Aptly name it is about a Towe that has powers to summon people called, "regulars" and grant their wishes.
The trailer to this anime left me wanting to watch the entire anime on the same day but of course, I had to wait. I would say the wait was worth it though, as it was an amazing watch.
This anime has some cool sword-fighting action, it has got mystery and suspense and then there is the world-building.
SIU, the creator of Kami no Tou definitely has some amazing creative imagination because the world-building and character design of the anime are extraordinary.
It is worthy of its spot on this list.
7. Fruits Basket Season 2
Oh, this is one of I was looking forward to. Fruits Basket, in my opinion, is one of the best slice-of-life anime with a supernatural touch. It perfectly unique and feels like in a league of its own.
Fruits Basket Season 2 flawlessly picked up the story and made it even better than its prequel. I mean it was definitely the expected outcome.
Season 2 made the characters more relatable and the story even more interesting.
The anime has some good drama and romance. It definitely deserves the Top 7 spot.
6. Yahari Ore no Seishun Love Comedy wa Machigatteiru. Kan
Next up on number six, we have OreGairu which is short for My Youth Romantic Comedy is Wrong, As I Expected.
The anime was supposed to be aired in April but as we know the entire world was under the spell of COVID-19, they had to postpone it to July which was really frustrating for all the fans but we are still going to consider it under Spring 2020.
I think Wataru Watari did an amazing job coming up with such an interesting set of characters and then throwing them into such a unique plot.
This season of OreGairu was definitely the best of all three so I would say that the wait was worthwhile but it definitely would've been better if it had got here sooner!
5. Shokugeki no Souma: Gou no Sara
On number 5 we have Food Wars! I don't think I could've imagined this list without Food Wars!
Though as not good as the first plate, this season was a long-awaited watch for all the fans since it was the final season of the anime.
Season 5 has some glaring issues with the writing and the plot development but despite those flaws, the fans adored the series and were kinda patient with the franchise.
In my opinion, I don't think any season of Food Wars could top the first season but I had hoped that the series ended on a good note but nonetheless, I would say that I still enjoyed the fifth season.
4. Kaguya-sama wa Kokurasetai?: Tensai-tachi no Renai Zunousen
Next up on the number four spot, Kaguya-sama, Love is War? This anime continues to amaze me.
After the masterpiece that was the first season with such amazingly written characters and the ep that went so viral, I wouldn't have been surprised to be let down by the sequel.
I think all the fans of the series were kinda in doubt about if Kaguya and Miyuki would start dating, personally, I thought it more fun to watch them go after each other and play mind games but that can't go on forever, right?
I think Season 2 definitely trumped the first one and it grew the plot.
3. Sword Art Online: Alicization War of Underworld
On the number 3 spot, we have the much-awaited final season of the Sword Art Online anime franchise.
I believe SAO fans were waiting on this season for a long and luckily it did not get delayed by the pandemic.
This season was criticized for being predictable and repetitive, in the sense that it followed the same plot of Kirito being overly powerful and defeating the antagonist but I think it was well written.
It continued on the story and I think it was worth the epic finale because it definitely is amazing anime with good world-building and storyline.
2. Given Movie
On spot number two we have the movie, Given the sequel to the amazing 2019 anime Given.
The movie was an awesome watch, it focused more on Haruki and Akihiko. The two high schoolers are part of the band as seen in the anime.
Though it's only a 59 min watch the anime grew so popular it has made it almost to the top of this list bested by just one.
The plot of the movie is interesting but what I liked more is that we get more details and insights into the other characters from the anime series.
We follow the relationship between Haruki, Akihiko, and Akihiko's ex Ugetsu. It definitely deserves to be on the number two spot on this list.
1. Violet Evergarden Movie
After watching the anime back in 2018, I was shocked kinda demoralized a bit but I did like the anime.
It is a depressing anime and when the movie was announced I felt kinda scared kinda excited.
I was definitely going to watch the movie but it got postponed from April, its initial date to September 2020 on account of the pandemic.
In the movie, we follow Violet in the future as she tries to understand her emotions and the meaning of love.
The movie can be overwhelming but it is deserving of the number one spot on this list and definitely worth a watch.