Spring is just around the corner and now is the right time to get out of hibernation and start binging some anime.
This spring season is bringing us loads of sequels to our favorites.
Start catching up on your favorite anime from the previous season cause you need to be sharp and understand what is happening in the sequel.
Let us have a look at the most anticipated anime of this spring season!
20. Senyruu Shoujo
Senyruu is a style of poetry. It refers to a 17-syllable long poem.
Now, why is this girl called the Senryuu Girl?
Well, mainly because she can only communicate in these poems.
Nanako Yukishiro is a 16-year-old high school student at Karai High.
She seems quite an ordinary school girl but she cannot speak and can only talk in senryu.
I love the chemistry between Eiji, a former delinquent who has now turned into a better person thanks to his newfound love of senryu, and Nanako who has joined the literature club as well.
19. Hachigatsu no Cinderella Nine
Cinderella Nine is an anime about a high school girls' baseball team that has the desire to win it all in their baseball league competitions.
Akane Ukita is the one to look for in the bunch, you'll find her wearing a cute hoodie with cat ears but the most skilled among them is Tsubasa, the founder of the team.
I wonder how the girl's baseball team will tackle the competition with not much talent in their team, but I'm sure Akane will be the one to watch as she learns the game and becomes better and better at it.
18. Hitori Bocchi no Marumaru Seikatsu
Hitori Bocchi is gonna be an amazing watch for all the introverted weebs out there.
This anime plot is so relatable to people who have had a difficult time making friends and have social anxiety issues.
Hitori Bocchi is a cute little girl who has started middle school and now has to make friends with her new classmates.
Her best friend from elementary school severs ties with her saying that he will only be friends with her if she befriends every one of her new classmates!
I mean that is one way to support your friend and help them overcome their social anxiety.
Inspired by this and wanting to become friends with Kai, her best friend again she sets out on this ridiculous mission of befriending everyone in her class!
17. Hangyakusei Million Arthur II
The second season of Hangyakusei Million Arthur, is a more light and comedic version of the MMORPG.
The anime is about the Old English legend of Arthur and the Excalibur.
I guess we all know this legend after watching the first season but for those who don't, Excalibur is the sacred sword stuck in the stone and whoever manages to get it free and wield it becomes the King of England, Arthur!
Let us see what the second season of Million Arthur gives us.
We know the twist Million Arthur has put on the original story which is having a million Excaliburs but now let us see where it goes from here!
16. Bakugan: Battle Planet
Man, I used to watch this every night as a child!
Bakugan is probably the second or third franchise I was fond of after Dragon Ball and Inazuma.
The original anime was fun and uplifting!
The upcoming Bakugan Battle Planet follows Dan Kouzo and his friends and their dog Lightning.
They call themselves, Awesome Ones and know for making videos on ViewTube.
They stumble across the biomechanical legend of Bakugans and soon they befriend the Bakugan and start sparring using them.
Let us see how they defend against their neighborhood bullies who use Bakugan villainously.
15. Kono Oto Tomare!
Kono Oto Tomare! (Sounds of Life) coming in at number 15 has gathered quite the hype from Slice of Life watchers.
The anime is being adapted from the manga titled the same written and illustrated by Amyuu Sakura.
Chika the grandson of Gen Kudou doesn't quite understand the beauty of classical/traditional Japanese music.
Gen is a Koto maker, Koto traditional Japanese string instrument.
Chika trying to understand his grandfather joins the high school Koto Club.
Since Chika is a delinquent and has quite a notorious reputation in the school the Club president is ignorant of his request to join the club even if they need the members.
14. Mobile Suit Gundam: The Origin – Zenya Akai Suisei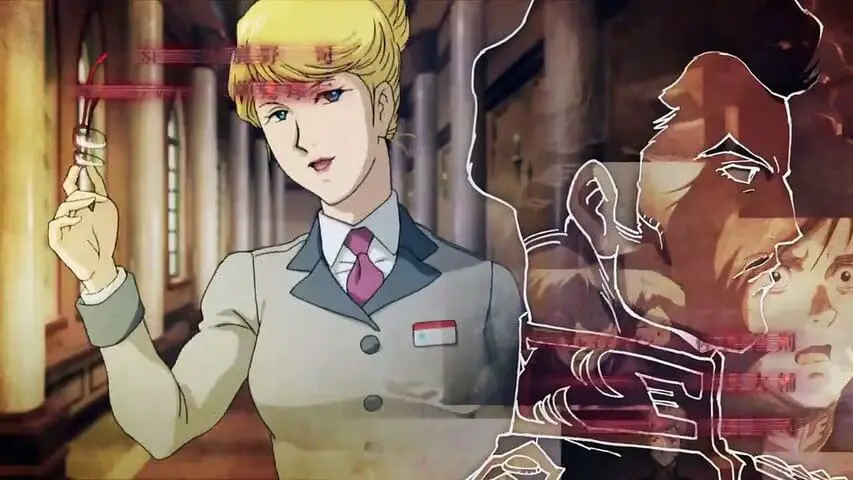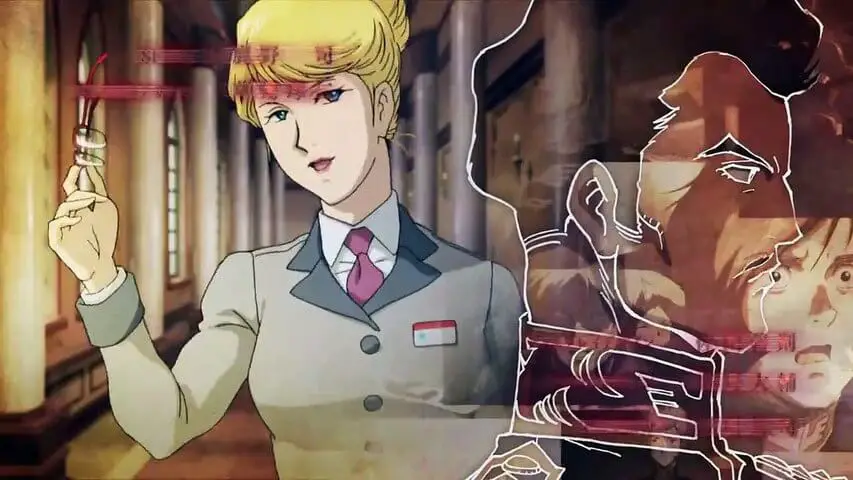 The Mobile Suit Gundam franchise needs no introduction.
One of the best-earning and marketable franchises in the anime industry is famous for the toys and showpieces it sells.
The newest announcement from the anime franchise about their upcoming anime The Origin has the fans pumped up and rightfully so!
The anime is about Char Aznable, nicknamed, "The Red Comet" and you can guess it from the title, "The Advent of Red Comet".
13. YU-NO: A Girl Who Chants Love at the Bound of this World
The most anticipated anime of spring 2019 for sci-fi and multiverse lovers.
Sci-fi is one of my favorite genres too and I am pumped to watch this one.
Takuya the protagonist is interesting to witness in this genre.
The plot starts with her father disappearing out of nowhere and sending a letter after a while which contains information about the existence of a parallel world.
Takuya takes this very lightly and considers it to be a random jibber-jabber but later realizes she couldn't be more wrong!
Parallel worlds do exist and her father has invented a device that allows him to travel freely through them.
Let us watch to find out what happens when she finds her father or can she even find him at all?
12. Strike Witches: 501-butai Hasshin Shimasu!
Strike Witches is another franchise with a new anime this season with 501 Joint Fighter Wing Take Off!
The anime is about the 501-Joint Fighter Wing division of the Strike Witches.
The protagonist of the show Yoshika Miyafuji joins this division in the hope of fighting off aliens called the Neuroi.
But on days with no tasks and invasions Yoshika and her new friends at the 501- Joint Fighter Wing Division just sat around and did some chores.
The anime is adapted from the manga titled the same written by Makato Fujibayashi released way back in 2011.
Though it is older than 8 years the anime is still anticipated by Strike Witches fanbase.
11. 7SEEDS
7SEEDS is one of the new anime Netflix has produced along with two other experienced anime studios and it will be streamed on Netflix.
7SEEDS has a wild concept and an even more anticipated plot.
The anime begins with the main character being thrown into a new dystopian world where humanity has perished and all the people of Japan have been divided into groups of five.
Natsu Iwashimizu is a soft-spoken high schooler, she can't even begin to comprehend what has happened to her.
With her minimal talent, she is easy to overwhelm by the skills of people around her.
We gotta watch this to see how Natsu will reach the "Seven Fuji" by tackling all the obstacles she faces!
10. Isekai Quartet
This has to be a dream come true for all the Isekai lovers in our community!
Isekai Quartet is a comedic parody of all the anime in the isekai genre.
It has some of the most loved anime characters like Emilia and Subaru from RE: Zero, Kazuma from the greatest isekai ever, and even the Overlord himself.
Considering this whole anime is huge fanservice, no wonder it made the Top 10 of the Most Anticipated anime this season!
9. Zoku Owarimonogatari
Zoku Owarimonogatari is the newest installment in the Monogatari series, coming this Spring season of 2019.
The anime has about six episodes half an hour each.
Koyomi Araragi's school life is about to be over because graduation day is just around the corner.
He will soon end his thrilling high school life with oddball relationships with supernatural beings, he will never be the same.
Just when it was all going great, Araragi gets sucked into his bathroom mirror into a very different world and has to find a way to return to his own.
8. Mix
One can recognize just from the art style that this is another one of Mitsuru's sports masterpieces.
Adachi is known for his sports manga and the good romantic stories he writes.
The mix is about two close stepbrothers that excel at the game of Baseball.
The Meisei Academy High School has a legend of having a strong baseball team all due to the legendary player Tatsuya Uesugi who won it all 26 years ago.
The two brothers decide to lift Meisei Academy High back to its former glory.
Watch them win it all in high school basketball.
With this being Adachi's story, there is bound to be some kind of romantic tension between some of the characters in the show!
7. Mayonaka no Occult Koumuin
Midnight Occult Civil Servants has to the anime with probably the most unique plot and definitely the most specific name in this season.
The anime takes place in a world where occult creatures are hunting in the night which are not seen by normal humans.
The Occult Civil Servants exist to protect humans from these creatures and capture or eradicate the ones that wreak havoc.
Arata is the protagonist of the show along with the main characters Theo and Kyouichi.
Arata is assigned to the Shinjuku Ward Office of the Occult Civil Servants division where he meets his new teammates,
On his first night, he discovers something bizarre.
I will let you watch the anime and figure out what that is but it's an amazing start to a promising anime!
6. Fruits Basket
This one has to be one of the most anticipated remakes of the entire year!
Fruits Basket the 2001 anime is getting adapted again and it will release soon in Spring 2019.
The anime has if not the best but one of the best slice-of-life plotlines in anime history.
The protagonist as we all know Tohru has to live all on her own because of a devastating family tragedy.
The tent she lives in is actually on the property of the Souma family.
Souma offers to take her in after hearing about her situation.
I am a Slice of Life enjoyer and I am sure all slice-of-life lovers are gonna rewatch it the minute it is released.
Pretty sure about this one!
5. Bungou Stray Dogs 3rd Season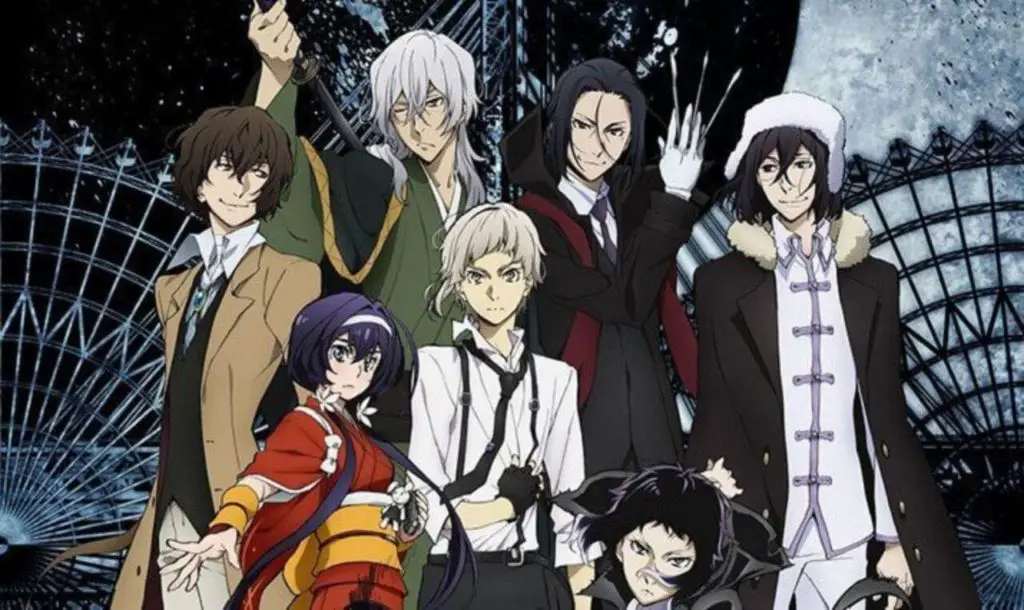 Bungou Stay Dogs has had a good amount of success from the first two seasons and this season they are out with the next and third seasons in the series.
To all those who are unfamiliar with this show, you all should go and watch the first two seasons they are legit amazing. Bungou has a lovable set of characters and the plot is not that shabby.
Atsushi's story begins at the orphanage where he is kicked from.
His life becomes more eventful after he saves the life of Osamu Dazai, the comedic detective trying to investigate a supernatural occurrence that happened with Atsushi too!
I won't say much more than this cause I might ruin someone's experience of actually stumbling upon the events that follow on their own! I hope the third season is action-packed like the second one
4. One Punch Man 2nd Season
Okay, I do not have to say anything about this one. It is all self-explanatory.
Of course, the second season of One Punch Man had to be on this list.
I mean the anime came out of nowhere and made its mark on the mainstream media like it was nothing.
I don't know what we are getting into for the second season but I am sure it is gonna be as legit as the first one!
I bet it is even better than the first installment of the show!
3. We Never Learn
Bokutachi wa Benkyou ga Dekinai is a high school romance comedy shounen adapted from the manga titled the same written by Taishi Tsutsui.
The first issue was published in 2016 and the manga is still running as it is getting adapted into an anime!
Yuiga works completely determined to get the VIP Scholarship which will cover all his college expenses.
The scholarship is awarded to him but under one very odd condition.
A condition that he has to tutor three excellent students who are excellent at one subject but they are interested in learning a different subject from Yuiga.
2. Kimetsu no Yaiba
Demon Slayer is the most anticipated first season of any anime that is coming out in the Spring of 2019 season. It has to be the best of them all.
I have seen the animation quality on this show and it is flawless.
The plot is set in a world where demons exist and thus exist the Demon Slayer Corps.
Tanjiro Kamado comes home one day after a hard day's work in the town selling firewood to find that his entire family is eaten by a demon and his little sister Nezuko has turned into one!
We are most likely going to follow his adventure as he tries to find a cure for Nezuko and joins the Demon Slayer Corps.
1. Attack on Titan Season 3 Part 2
I do not think I have to explain anything to anyone about this.
Attack on Titan the third season has to be the most anticipated anime of this season and there is no doubt.
To all those who haven't watched this masterpiece by Isayama because someone told you it's too mainstream or someone dislikes just because it has risen to popularity so quickly, my friend please go watch it.
It is amazeballs.
And with that we end this list of the most anticipated anime of the Spring 2019 Season, I hope I have done justice to all anime on this list.
Which ones are you looking for? Tell us in the comment section!