The Sims is loved by everyone.
Make your Sims do silly things or design your ideal house with the dollhouse-like character creator.
It's all possible.
Other people's works may be admired online or brought into your game!
In order to help you get started on your Sim-focused real estate adventure, I've compiled a massive list of my favorite user-created lots, residences, parks, businesses, dance clubs, and mansions.
The main game is compatible with some of them, but most of them require additional expansions and item packs, as well as Custom Creations (CC).
While exploring and installing any of these lovely lots, bear this in mind.
Almost all of the necessary information can be found in the description, so be sure to read it carefully before proceeding with the download.
Shop til you drop!
50. The Grotto Park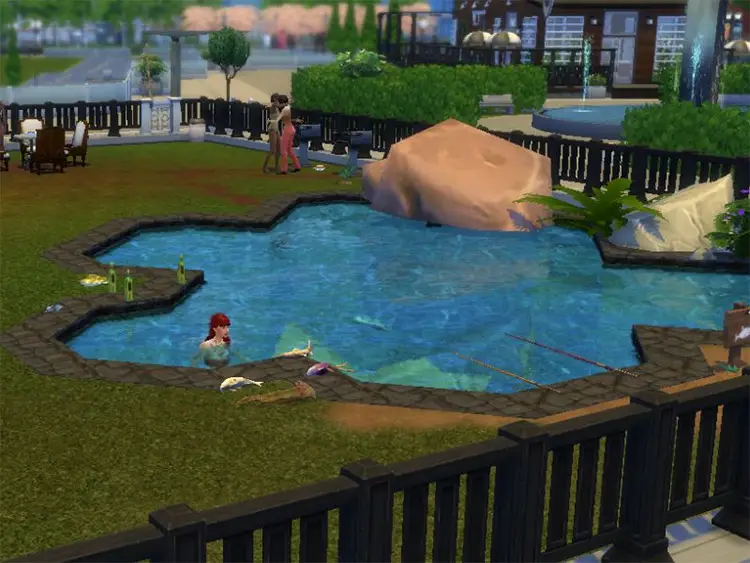 As a result, our first entry is a lovely park with two swimming pools, perfect for lessons, family fun, or simply relaxing with your fellow Sims.
There are two pools on this property, but the bottom one is the star of the show.
Rocks and other natural-looking embellishments give it the appearance of an actual cave.
It also comes with a set of monkey bars and a few tables where you and your friends may have a cup of tea.
49. Martha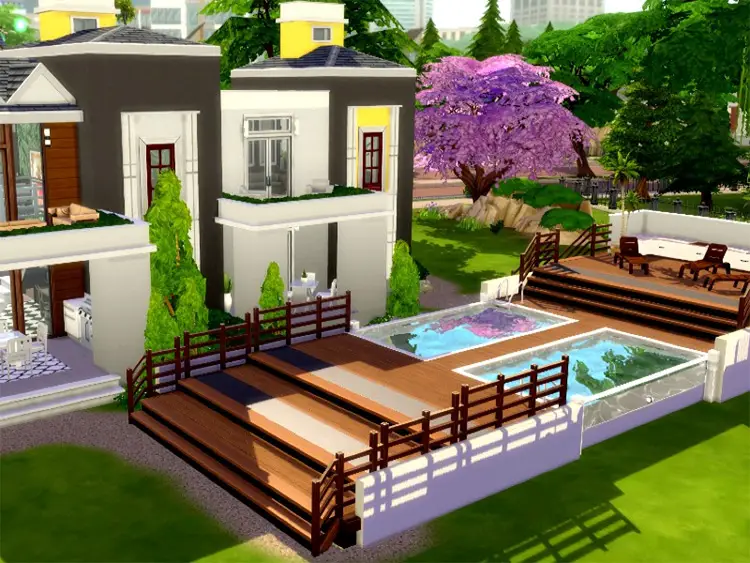 Next up is a somewhat unusual house that fits in perfectly with Maxis' base constructions.
The style is unusual for these lots, particularly the protruding skylights that are perched atop each of the roofs and resemble fireplace shafts.
The private pool, which is a feature of this house, is situated atop a charming wooden deck.
The balcony has enough room for sunbathing as well.
Additionally, it is ideally positioned to receive almost all of the day's sunlight.
There are many bright colours and plants used throughout the decor, which is rather unusual.
Its three bedrooms are perfect for accommodating a group of artists while they collaborate on their upcoming masterpieces.
48. Club Vegas
In TS4, there are plenty of bars and clubs where you may hang out with your friends.
However, none are as striking as Club Vegas.
This place has a striking red on black colour scheme that is enhanced by numerous neon lights.
The entry is particularly remarkable since the parallel ponds that frame it give the impression that you must cross a bridge to get there.
When you're not showing off on the dance floor, there is plenty of room inside to relax with a drink.
Sims will adore this place.
47. Apocalypse – In Ruins
Apocalypse In Ruins is one of the most unusual homes I could locate, perfect for a vampire, a hiding extraterrestrial, or a zombie apocalypse survivor.
A rather substantial living space is concealed beneath these collapsed walls, yet it takes on a new life when nature invades and gives the space a fantastical feel.
Three bedrooms, two bathrooms, and all the conveniences a small household would require to live comfortably are located within.
All in a sombre manner resembling a palace for vampires.
46. The Riverways
Consider Riverways, a small home for the creative Sim with lots of free time, for something less odd.
The top floor's dark wood veneer is my favourite, and the abundance of greenery is always welcome.
However, this home's inside is what makes it special.
There is plenty of attractive furniture throughout the space, along with some unusual accents like hanging plants and braziers.
It has facilities, a small pool, three bedrooms, two bathrooms, and is one of the best uses of a 30 by 20 lot I've ever seen.
45. Bar Tanara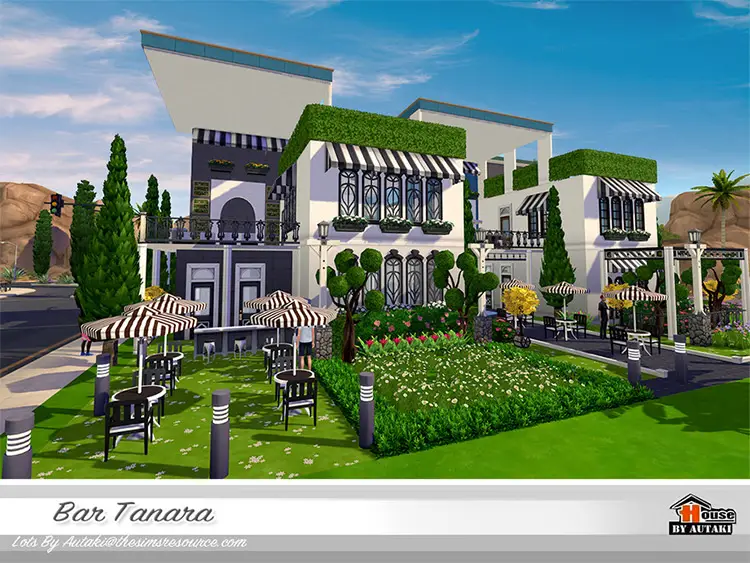 Give your Sims a helping hand and get them the Bar Tanara, an attractive café/bar with modern, opulent aesthetics, if they're having trouble deciding where to take their sweetheart to wow them.
Couples can enjoy a lot of outdoor sitting right next to the expansive flower garden that serves as the focal point of this property.
A marriage proposal or even just a selfie can be made on the terraces that look out over the garden.
The indoor area is a fantastic alternative in the event of bad weather.
Despite the colour scheme's propensity to remain monochromatic, a few spots of vibrant colour here and there prevent it from appearing overly clinical.
44. Gunnel
The most beautiful residences could be a little bit too dazzling for an ordinary neighbourhood.
This mid-century modern home is ideal for your Sim if they wish to blend in.
Although the exterior is unremarkable, it does appear clean and well-designed.
There is space within for a little more imagination.
Numerous textures, daring decisions like indoor-growing vines, and the most tasteful application of animal print that I've ever seen are present.
This one-story house, which has one bedroom and one bathroom, is perfect for a small to medium-sized family.
43. Villa Satayina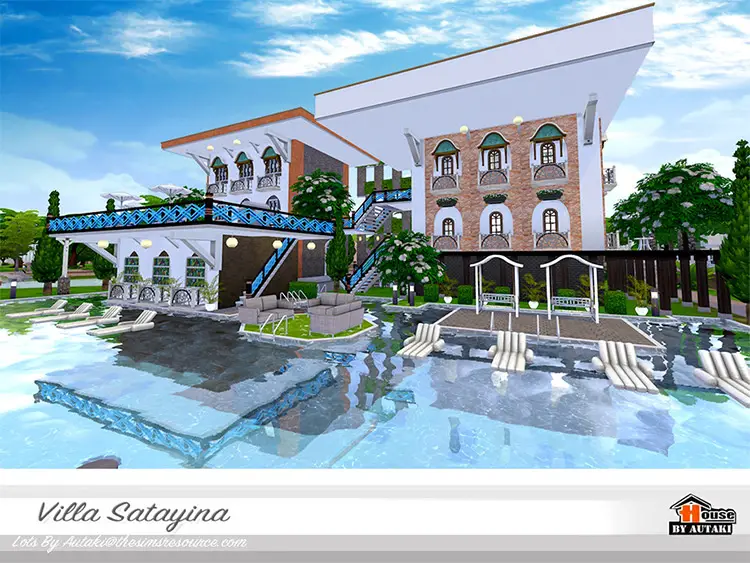 The focus of attention doesn't bother some Sims.
Many of them even flourish there.
They'll adore the Villa Satayina if you're helping them navigate their virtual existence.
This vibrant and luxurious mansion is ideal for showing off their money, whether it belongs to a dubious millionaire dynasty or just a bunch of prosperous young businesspeople.
The enormous pool is the focal point, but the diverse interior design is also fantastic.
Each of the three storeys features a wide variety of textures and aesthetics.
42. Cynthia- Small Home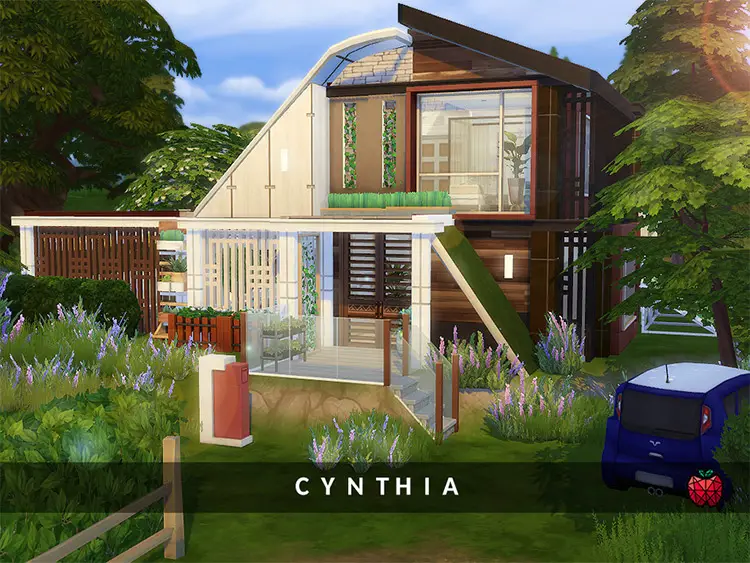 The following residence has two bedrooms, one bathroom, and a tiny pool on a 20 by 20-foot property.
It is a lovely little eco-friendly home with some modern Asian influences.
Around the home, lavender grows freely, and the second floor's vertical garden adds some natural beauty.
The interior is made up of several various elements, including wood, brick, and stone, which adds to the oddly comfortable atmosphere.
Due to the extensive use of textures that resemble wood, the baths are without a doubt my favourite interior space.
There is plenty of room to add some amusing bathroom accessories.
41.Little Aegean Church
You're probably familiar with Santorini's uniformly white walls and blue dome ceilings if you've ever seen photographs of the Greek island.
This stunning chapel, constructed on a hill overlooking the ocean by the Greek artist Eivi in the traditional Santorini style, pays tribute to their country of origin. You can utilise your imagination, even though it might not be the Aegean.
Over the entryway hangs a representation of the Virgin Mary, hinting at the interior's abundance of Christian art representing various scenes from Christ's life.
40. Stacked Containers
Some of the more intriguing sustainable building ideas that have gained traction in recent years are container homes.
This one utilises the 30 by 20-foot property it is situated on quite effectively by having two completely separate homes—one on each story.
Vegetable gardens, playground swings, recycling bins, and even solar panels on the roof are there. It accommodates two medium-sized households and most of a family's urgent needs.
39. French Townhome
Here is something that appears to have been teleported from the outskirts of Paris to a lot in The Sims 4.
The French Townhome's front is reminiscent of the streets of the French capital, with plenty of ornate metalwork and pastel hues.
Inside, you'll discover a variety of wallpapers in tasteful hues to give each space a special look. There are presumably names for them on your Sims.
It could appear a little pricey.
However, this 3030 lot's three bedrooms and two bathrooms make it ideal for sharing with other promising Sim residents.
38. Knitted Cottage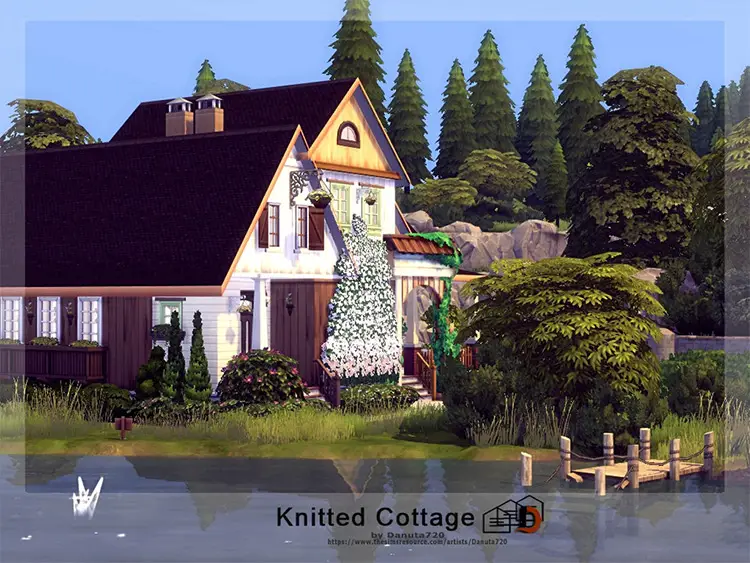 This lovely cabin in the woods is perfect for a medium-sized family seeking peace and quiet. Beautiful vines and flowers climb the walls.
The inside is surprisingly cosy and resembles your grandmother's home, but with a contemporary twist that prevents it from appearing even slightly dated.
The kids' room is really impressive, in my opinion. It has many small elements, such as sketches on the walls, that give it a "lived-in" appearance and looks startlingly genuine.
37. Tropico Moderno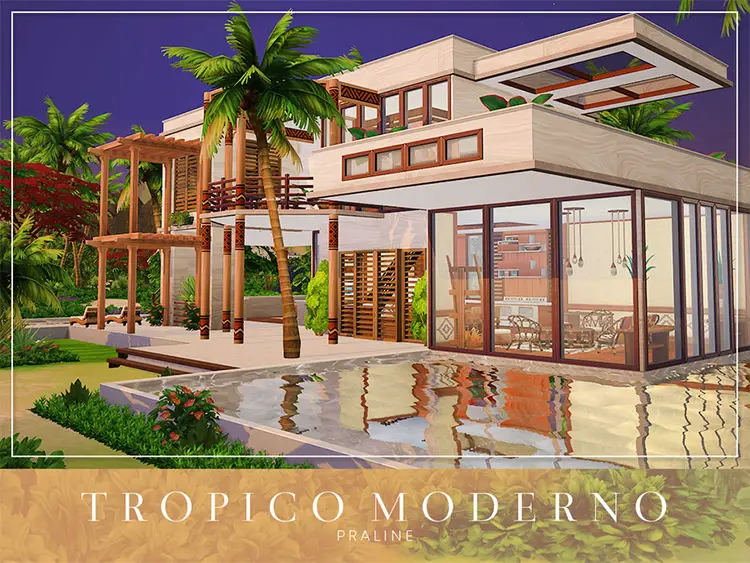 A modern interpretation of the traditional beach hut is Tropico Moderno.
It has a lot of glass, square shapes, and straight lines to allow the sun to shine directly inside.
The main bedroom is extremely pleasant without losing excellent design thanks to the clever use of warm hues.
The open-air terrace, which seems like the ideal place to read a book or enjoy wine with friends, and the pool are my personal favourites.
36. Sushi Restaurant 2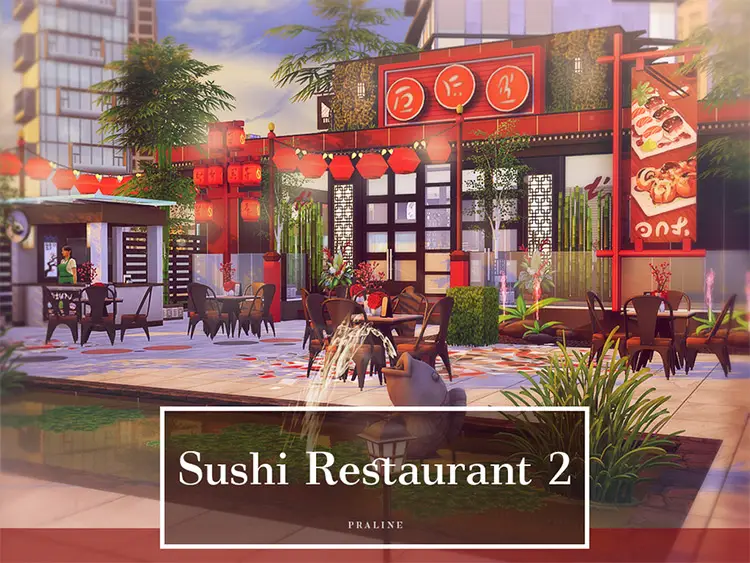 The original Sushi Restaurant from PralineSims has long been one of the most popular custom lots, and this improved version might be even better.
This establishment's interior is almost entirely made of wood, from the floor to the tables and chairs, in true Japanese style.
There are even some teppanyaki tables like you'd see at Benihana, and the menu is in Japanese.
It appears to be the kind of place you'd like going to on a date, especially with the open-air dining area's strong lighting providing a romantic vibe.
35. Farm House Reinvented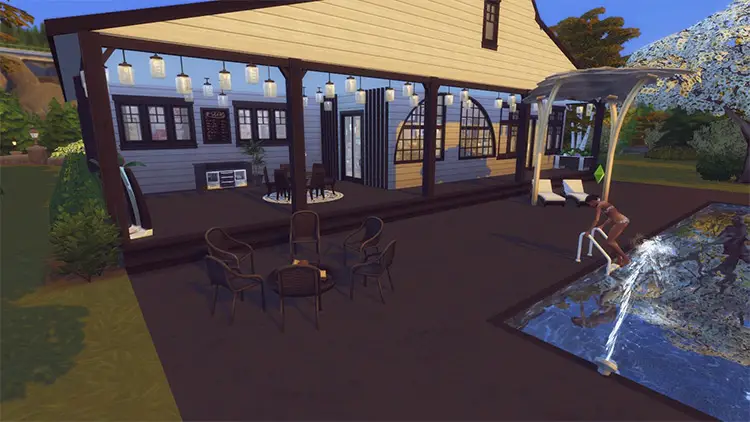 This stunningly rebuilt farmhouse, which is perched erectly on a hilltop, is a stunning example of a contemporary interpretation of traditional rural architecture.
It contains two sizable secondary bedrooms, two bathrooms, a sizable kitchen, and a sizable master bedroom.
The size is ideal for a farming family that has amassed sufficient riches to live comfortably and indulge in a good, big pool.
34. Waterpark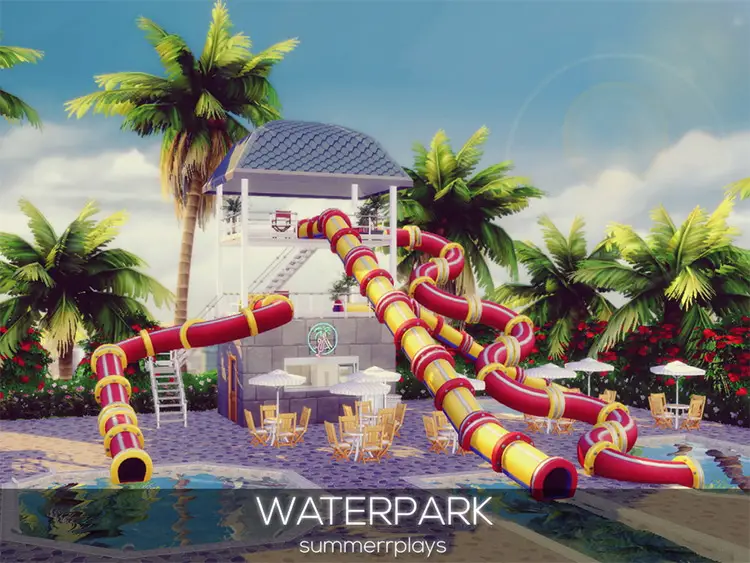 Nothing beats spending a fun summer day with the family at a water park.
This charming summer location is beautifully framed by cayenne blossoms and features a variety of water slides for kids, teens, and adults to enjoy.
Additionally, there are numerous areas to sunbathe and, most crucially for Sim parents, a bar.
Not to worry, they also provide cocktails without alcohol.
33. Stylish Sophistication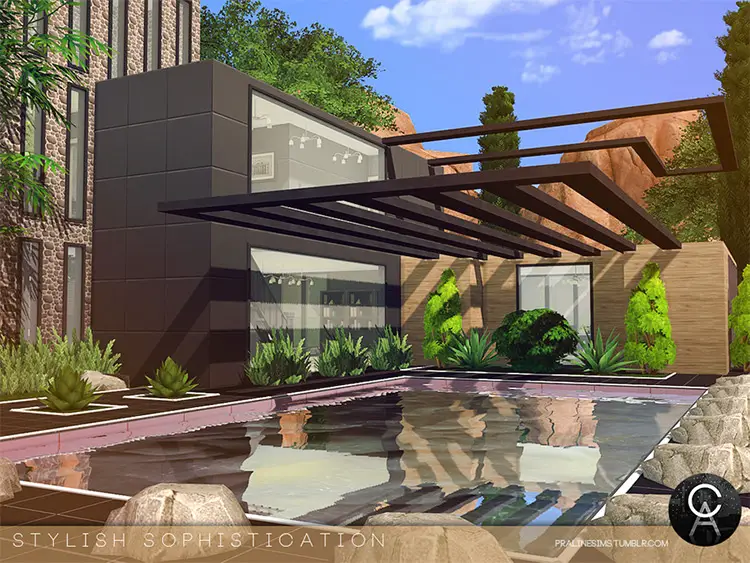 You can't go wrong with the Stylish Sophistication house's alluring avant-garde style if you're an up-and-coming modern Sim looking for a new abode.
This home's focal point is the big pool just outside, but the interior is quite elegant.
With its dark, sombre colours and fairly modest design, the furniture exudes a lot of understated elegance.
A few indoor plants help to ease the strain and add a touch of cosiness.
32. Urban Minimalist 2
This stunning modern home that can accommodate a modest or medium-sized family is one of PralineSims' most recent architectural successes.
It has a minimalist décor style with a predominance of straight lines.
The majority of the furniture is framed in dark brown tones with vibrant colours, and there are many glass panel walls around the space, which lets in a lot of natural light.
A gorgeous pool that will make your Sims' neighbours green with envy is set against lovely greenery outside.
31. Summerfeelings
A magnificent big property is always a wise choice if you have a lot of extra cash to spend.
However, it will cost you half a million Sim coins.
A large, lavish home with magnificent landscaping is called Summerfeelings.
The enormous pool that empties into the multi-tiered cascade is the major draw.
Even the middle of the pool has platforms with palm trees growing on them!
Inside, the seven bedrooms, four bathrooms, and other main living areas all feature bright, elegant hues.
These include light mint, cream, and turquoise.
30. Bauhaus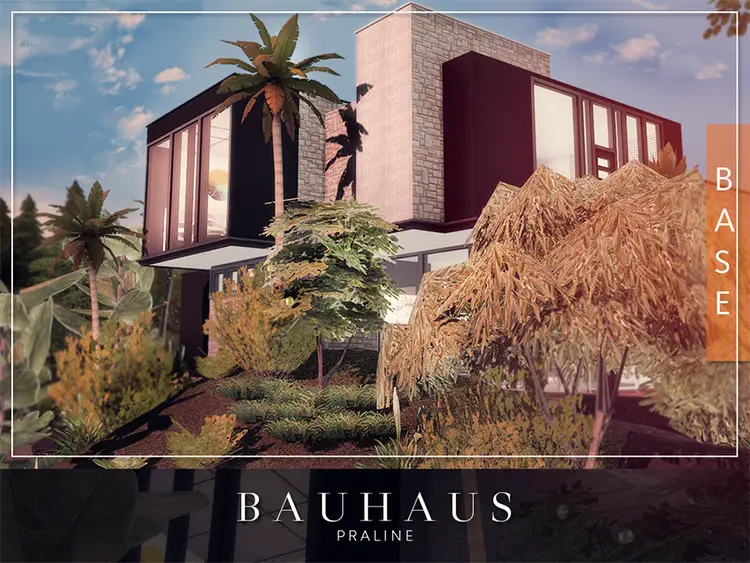 The German Bauhaus movement of the post-World War II era greatly impacted the design of this two-bedroom home.
The house is surrounded by a lot of flora, which softens its angular forms.
Though bold and original, it is by no means odd.
On the inside, each space has an own personality thanks to the exposed concrete and other raw surfaces.
It keeps the house stimulating from end to end when combined with clever colour use.
29. Autumn Breeze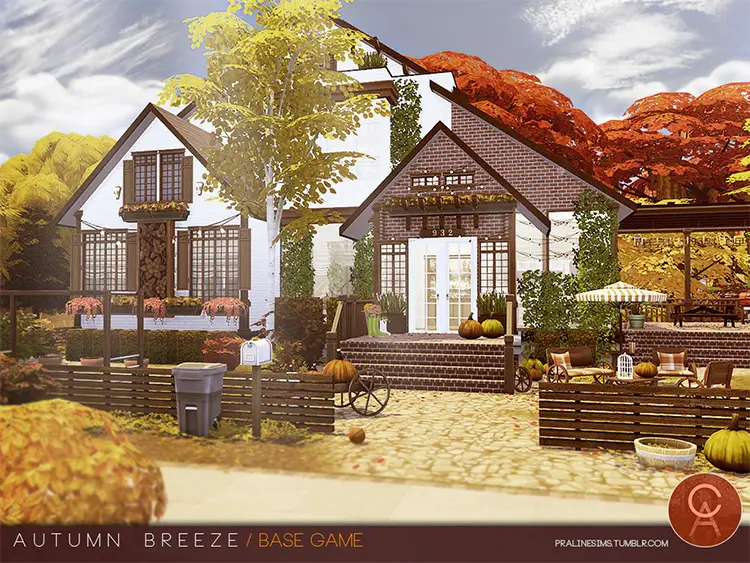 Autumn is known for warm beverages, nice couches, and remaining warm; few custom lots accomplish everything like this three-bedroom home.
I adore how the patio's furniture appears to have been fashioned from a reused wooden cart, as shown by the wooden wheels that support the majority of the chairs.
The interior has a subdued melancholy atmosphere evoking the season it is named for.
However, a sensible mix of materials and textures maintains it feeling cosy.
Each bedroom has a unique décor style, ranging from regal to more rustic, so every member of the family should have no trouble finding one they like.
28. Paradise Wedding Venue
If you've ever considered having a gorgeous beach wedding ceremony, you definitely had an image of this Paradise Wedding Venue in your head.
There are enough chairs for a modest gathering of friends and family to relax and watch your Sims join their lives to those of their loved someone.
The furniture is largely constructed of rattan and light-colored wood that fits in perfectly on the tropical island of Sulani.
The aisle is unquestionably the best part.
Any ceremony held here will feel wonderful due to the palm leaf wheel surrounding the altar and topped with yellow flowers hanging from it.
Just be sure to choose the ideal wedding gown for this location!

27. Greenhouse Café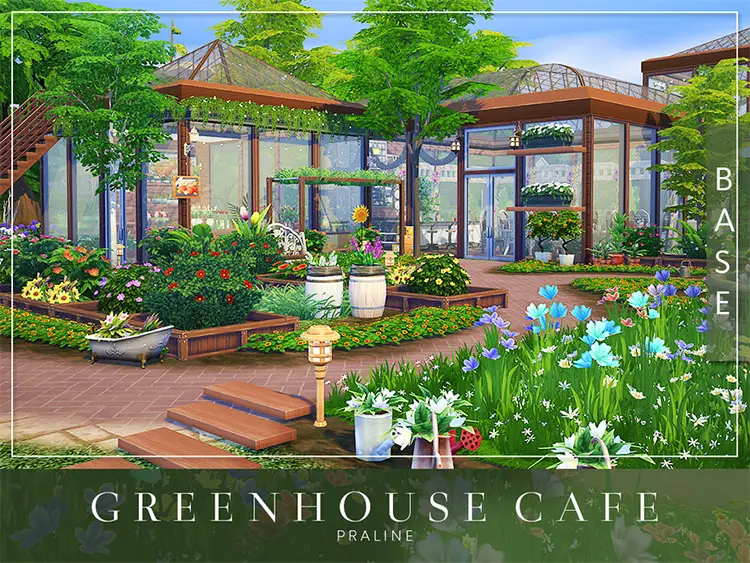 The Greenhouse Café excels for two primary reasons: its abundant flora and the fact that it is fully compatible with the base game.
In the café's main garden, many flower varieties combine to produce a true celebration of colour that stands in for the lot's focal point.
You may get there from the entrance by travelling down a lovely brick road.
Although the glass walls make the indoor seating areas appear light and roomy, I would choose the outdoor terrace where I can enjoy some iced tea while feeling the sun on my skin.
26. Luxurious Abode
Occasionally, all you want is a spacious suburban house with a white picket fence, space for your entire family, your office, and a huge pool.
To do just that, this custom house is situated on a 40 by 30 lot.
The light cream wood veneer will look amazing on your Sim's poolside Instagram stories.
It has a sizable patio with a lovely pool that curiously reminds me of a fountain at Versailles.
Every room in this house has an own décor theme and personality, and your influential Sim can even host important visitors in the office.
25. The Witch's Hut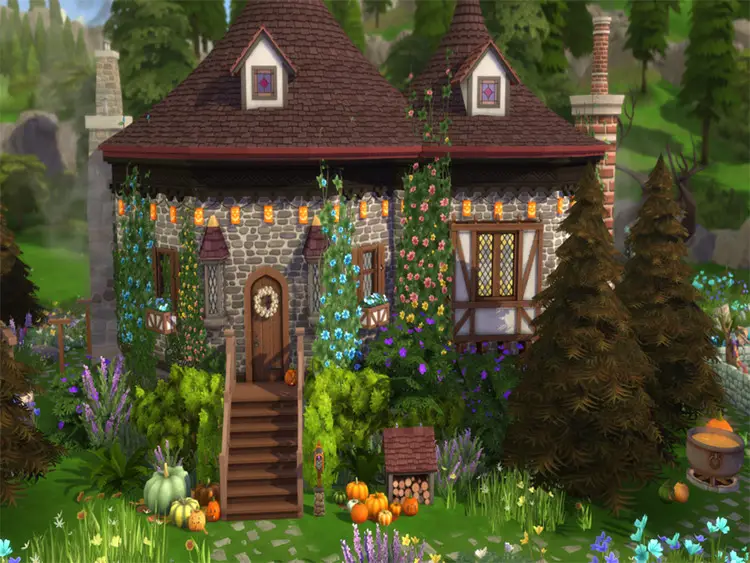 If you've ever heard an old tale about a witch, you know that they usually live alone in a forest, presumably in a charming house like this one.
Surrounding the main house, lovely flowers and lots of greenery give it a deceptively pleasant and secure appearance.
There is a large patch of pumpkins outdoors, as well as a seething cauldron for your outdoor spellcasting requirements.

Everything a witch needs is within, including a kitchen, a bathroom with a rather mediaeval feel, knitting materials, and even a hidden underground room where you can carry out your magical experiments.
24. Pet Park
The majority of Sims have at least one pet, and every witch has a familiar.
So why not venture outside and enjoy this lovely Pet Park with them?
This 30 by 20 lot has enough attractions for your Sims' pets and them to enjoy.
The canines have access to a bone-shaped pool and a well-equipped obstacle course to prepare them for a performance.
The park is completed by a lovely fountain and some tables where owners may relax and converse while their dogs sniff each other's behinds.
23. Fun Park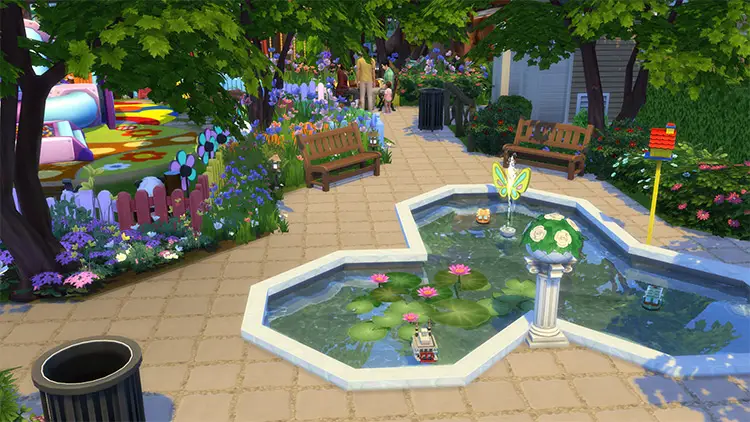 I have the ideal location for some excellent family fun, if your Sims chose kids over pets.
It's difficult to keep track of all the attractions and activities in this fun park.
Whether they are little children, teenagers, or adults, there is a place in this park for everyone!
The pond is lovely, and the barbeque tools are practical, but my favourite feature is the toddler-safe area, which has lots of padding on every surface to make it kid-proof.
Nicely done!
22. Blue Lagoon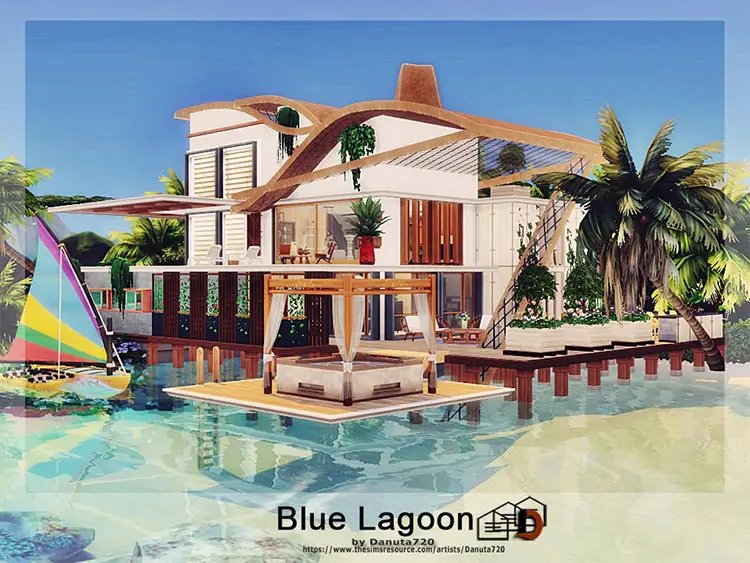 I've always wanted to live near the water, but I've never been able to accept having to do so in a vacation-style bungalow with a tropical feel.
The Blue Lagoon house is a contemporary beach house that avoids the "hut on the sand" look and instead brings the convenience and style of the suburbs into your coastal home.
However, you won't exactly be walking into a technologically advanced bunker.
It is ideal for a sea-loving family with excellent living standards because wood and warm colours are utilised carefully to keep the room in tune with the tropical backdrop.
21. Manor House 3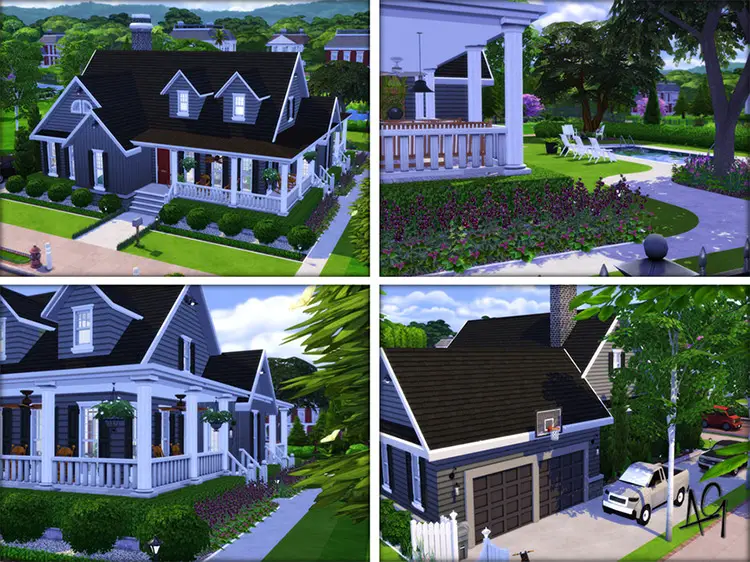 Here's one that will surely please even the most privileged Sims when it comes to living conditions.
There are no tricks or unconventional design elements used to make this two-story Manor House look attractive.
Its architecture is quite conventional, and the paint job is understated.
However, several features, like as the immaculately trimmed bushes and its immense size, point to a rich inhabitant.
Each room is a little bit different from the others and the interior is likewise well designed.
20. Mondrian I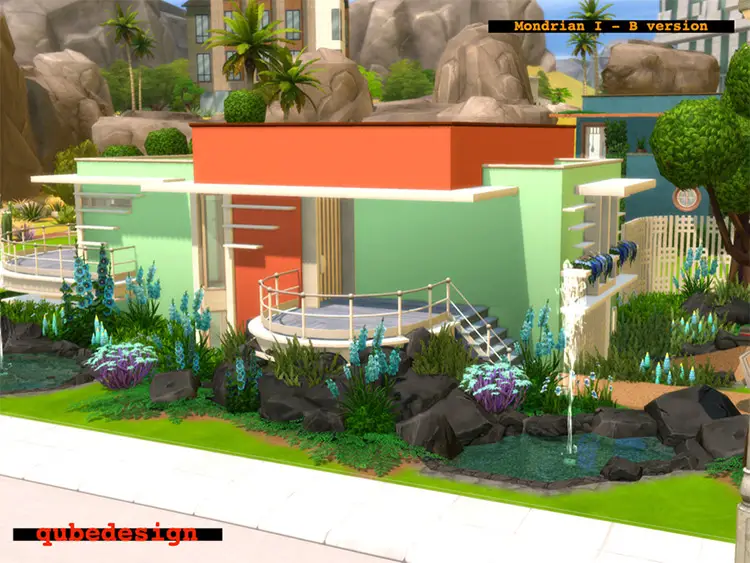 This distinctive home, which bears the name Piet Mondrian in honour of the eminent Dutch painter, combines Art Deco motifs with ideas from ecological design.
Bright orange is used a lot, which I love, but it's not the only daring hue used.
These bold colours are enhanced with stylish furnishings, subtle accents, and lots of inside and outdoor flora.
In addition to the two bedrooms and baths, you also receive a Jacuzzi to unwind in after a long day of being the envy of your neighbours, a garage, a study, and a home cinema.
19. Beach Paradise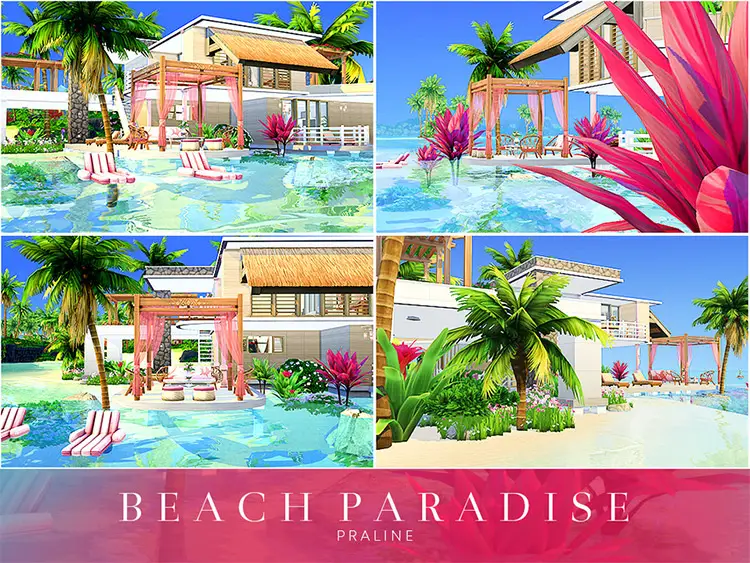 I recommend the Beach Paradise if you're looking for a coastal home that will give you the feeling of a tropical escape while still being classy and elegant.
The home itself looks surprisingly connected to the surrounding nature on this spacious lot, and the terrace is the ideal spot for watching the sun set.
The interior is decorated with a lot of rattan furniture and warm, intense colours to mimic the tropical setting outside.
The greatest aspect may be the living area, which feels cosy enough to relax in after a long day at the beach.
18. Mini Beach Bungalow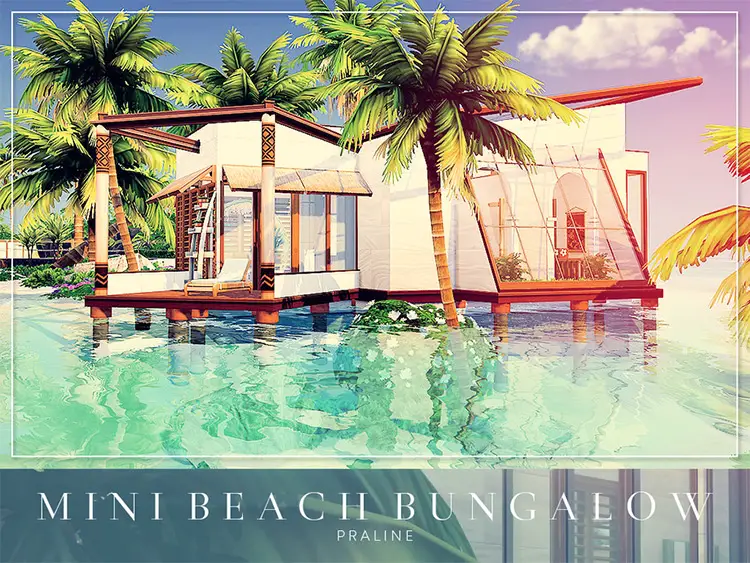 I prefer to have a pleasant home with just the necessities for a tropical break if I'm going to the beach on vacation or by myself.
Since both of these houses were created by PralineSims, they are comparable to our prior item, however this Mini Beach Bungalow is much smaller.
Intense shades of cyan and turquoise liven up the otherwise sombre interior design, achieving the ideal balance for a cosy but fashionable home.
It's undoubtedly the most contemporary design you'll see on a cottage of this type.
17. Small English Cottage
The Small English Cottage is a cute small house that resembles the scene for a bedtime fairy tale, much like the Witch's Hut we previously discussed.
It could appear absurdly tiny. However, the interior is equipped with everything you require, including a kitchen that is enough, a bathroom, and a bedroom.
The stunning lavender garden outside supports the fairy tale image, and there's even a fenced-in section with good soil where you may grow your own vegetables.
16. Olympus & Underworld
I adore it when users push a product, like TS4's building engine, to its absolute boundaries, as evidenced by the enormous edifice known as the Olympus & Underworld lot.
Greek mythology served as the inspiration for this enormous structure, which features the gleaming ancient Greek architecture of Olympus, the Gods' home, overlooking the cold, dark depths of the Underworld.
But to include this one in the community, you'll need to put some money down.
15. Korean Home
This very traditional-looking Korean home, with its three spacious bedrooms, three bathrooms, and various common areas, is the ideal setting for a big, close-knit multigenerational family.
Bamboo and other flora that are similar to those found in Korean areas were specifically chosen by the home's creator, PralineSims, to give it a more authentic feel.
This property has a vibrant and eye-catching appearance during the day, but at night, when the brilliant lighting turns on, it takes on a serious appearance that combines history and contemporary.
14. Korean Designer Abode
In contrast to our last post, which modernises a largely traditional style, this Korean Designer Abode draws design cues from traditional Korean architecture to create a contemporary home.
For an exquisite appearance inside, wooden surfaces are combined with a colour scheme that is primarily black and white.
I particularly like how the house's front has various areas where plants are sprouting, as this keeps the area cheerful and serene-looking.
13. Modern Zen
Now, this gorgeous Modern Zen home borrows heavily from traditional Japanese architecture.
In the outdoor spaces, including the two sizable pools and the terraces that overlook them, Asian plants like bamboo and cherry blossoms may be seen.
Inside, modest and tasteful decoration in deep, rich colours is set against a background of light beige and white.
A work of art also exists in the restrooms.
The room's central tub prevents it from seeming crowded, and a mirror wall adds to the sensation of openness.
12. Freelancer's Modern Home
This lot is another outstanding modern building that takes design cues from traditional Japanese architecture.
This studio apartment's kitchen, living room, workspace, and bedroom are all contained within one enormous box.
The restroom does, of course, have a separate enclosure.
This enables natural light to enter most rooms in the house together with the numerous glass panel walls.
You may always relax outside by the pond while you're not inside working at your desk, or you can invite some friends over to grill and drink.
11. Coconut 3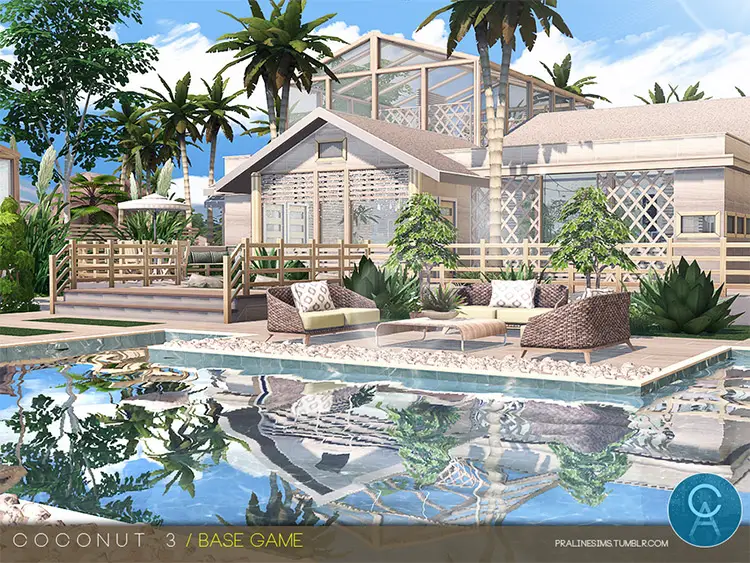 The Coconut complex, like our prior entry, is designed to let the sun's rays in.
But it raises the bar significantly.
In addition to having many glass panel walls that let in sunshine, the entire inside is painted in light colours like beige and cream.
Even the master bedroom has a glass ceiling, and the only privacy features in the bathroom are a few thin wooden grid walls.
Is the enormous pool outdoors not mentioned?
10. Modern Lake Abode 2.0
More of the same contemporary style is shown in this upgraded edition of PralineSims' Modern Lake Abode, although certain additions keep things interesting.
The distinction between indoor and external spaces is intentionally blurred.
Glass is used to let in natural light and provide Sims a special perspective of the pond outside, which resembles a zen garden.
Dark brown and black are used frequently inside to create an opulent appearance, while certain lighter colours are used to give some spaces, like the bedrooms, a more cosy feel.
9. Sakuya
Our next entrance, with its abundance of black furnishings and dark wood, appears appropriate for housing the top brass of a local Yakuza organisation in Japan.
The home itself is certainly attractive, but this lot is made fantastic by the stunning front yard and outstanding landscaping.
The interior design is generally nice and elegant, if rather subdued; nonetheless, the inventive use of indoor plants, including vines climbing up some walls, makes a lovely contrast.
8. Seattle Grace Hospital
Grey's Anatomy enthusiasts, keep your chairs firmly in place. You're going to get your head completely shattered, so.
This 50/50 Sims 4 lot is a finely detailed recreation of the Seattle Grace Hospital, which serves as the backdrop for the majority of the episodes of this American television programme.
You'll know the most of the common rooms, like the bar and the exquisite lobby, and it has every piece of medical equipment a hospital could possibly need.
Additionally, there are patient rooms, operating rooms for complicated surgeries, and everything else from the programme.
7. Bisham Manor
The Bisham Manor from The Haunting of Hill House is another another stunning property that was pulled right out of a hit TV programme.
This enormous house, also known as Hill House, resembles the reimagined Shirley Jackson novel on Netflix identically, both inside and out.
Even a hidden floor is there!
It is perfect for creepy Sims, such as vampires and evil sorcerers, and it has five spacious bedrooms that can accommodate an actual army of them.
6. Aura Modern
The two adjectives that best define this roomy home are style and elegance.
It has a private bar, multiple dining rooms, three double bedrooms, three bathrooms, and even a dance floor with DJ gear.
Not to mention the enormous private pool that is waiting outside.
All of the interior decorations are either black, white, or grey, but they all look great because of the cutting-edge architecture and striking accents.
Get it if Elon Musk is your sim.
5. Old French Village
There aren't many lots as ambitious as Catdenny's Old French Village, which recreates a complete hamlet on a 64 by 64 space.
In a really scenic way, several different structures appear to be stacked next to one another.
These consist of a number of residences, a café, and even a bar.
Your Sim will undoubtedly think they are in a Disney movie while standing on the bridge that bridges a picturesque waterfall that empties into a wide canal that runs through the town.
4. Dalaran – The Floating City
Wait until you see this accurate TS4 recreation of World of Warcraft's Floating City of Dalaran if you thought the last article was impressive.
Its original location was in the Eastern Kingdoms, but it was later transported magically to the skies above Northrend, where it now flies over your TS4 town.
Everything you see in the game is present on this 64 by 64 lot, more or less at the same scale.
The Main City area, the Rogue and Mage Class Halls, the Sewers, and even a few additional homes to relocate into the city if you so choose, are included in this.
3. Kindergarten
If I had children, I would want them to grow up in a setting as lively and vibrant as this kindergarten by designer PralineSims.
Numerous playthings and park furnishings, including a sandbox, a merry-go-round, and seesaws, are dispersed around the lush, green grass, with lovely flowers sprouting up everywhere.
It's the ideal kindergarten on the inside.
This includes the amount of natural light that enters both common areas and classrooms. Numerous small elements, such as the student's bags hanging on the walls, lend it authenticity.
2. Sulani Wedding Venue
On the shores of Sulani, this enormous 50-by-50-foot property advertises itself as a straightforward tropical wedding site, but it actually appears like something from a fantasy role-playing game.
In addition to being constructed on a wooden pier with a view of the ocean, the altar is surrounded by a stunning natural bridge structure that gives it a grotto-like appearance.
The unique, almost ethereal coral-colored decor made walking down the aisle feel more like the coronation of an elven queen than a wedding.
1. Hope Arts Center
The Hope Arts Center is the most engaging and immersive of the 50 fantastic lots I put together for here.
In addition to having the cutting-edge ecological design options you would anticipate in such a location, the inside is also quite authentic due to the numerous art displays.
There are spaces to watch movies quietly, venues where bands can perform, and even a little café where you can refuel your body after feeding your spirit.
Excellent location for a first date!
This complex structure, which functions as an art gallery, a workshop, and an architectural statement, ought to be the benchmark for all TS4 lots.