Remakes allow a new generation of fans to enjoy retro anime with updated visuals and, hopefully, a more complete adaptation of the story.
The '90s Anime is home to a wealth of great works that could benefit from a remake retro anime , and Goo Ranking asked the Japanese community which one they would like to see remade. +
Here's the top 16 retro anime that fans wants to see remade!
16. Slam Dunk
Sakuragi Hanamichi is a junior high punk used to getting into fights and being rejected by girls but upon entering high school he meets the girl of his dreams, Haruko Akagi.
He will do anything in order to win her heart including joining the school basketball team that is aiming to conquer the nation lead by Haruko's brother.
The problem is that Sakuragi has never played basketball before and a freshman sensation is stealing the spotlight and Haruko's affection from him.
15. Martian Successor Nadesico
Akito doesn't want to fight. Despite a childhood spent on the anime Gekiganger 3, a Mecha show, he'd rather cook than pilot a Mecha.
Fate intervenes when his home on Mars is destroyed, and he is transported instantly to the Earth, mysteriously.
He has questions no one can answer fully, but follows a girl from a chance meeting in hopes to discover any. The girl, Yurika, is captain of the private battleship Nadesico, and in order to follow her, he enlists as their cook.
Possessing the nanite implants that allow to control mechas, he's a handy backup pilot for the mechas of the Nadesico.
He joins a crew bent on avenging Mars that seems to be composed of only misfits, otakus, and ditzes; however, in reality, they are handpicked experts.
They take their own private war back to Mars to face the harsh reality that life may not always be like a Giant Mecha series.
14. Mobile Suit Gundam Wing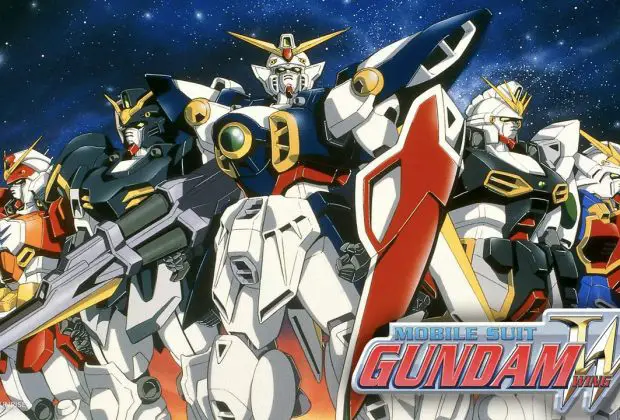 The United Earth Sphere Alliance is a powerful military organization that has ruled over Earth and space colonies with an iron fist for several decades. When the colonies proclaimed their opposition to this, their leader was assassinated.
Now, in the year After Colony 195, bitter colonial rebels have launched "Operation Meteor," sending five powerful mobile suits to Earth for vengeance.
Built out of virtually indestructible material called Gundanium Alloy, these "Gundams" begin an assault against the Alliance and its sub organization OZ.
One Gundam, whose pilot has taken the name of the slain colony leader Heero Yuy, is forced to make a crash landing into the ocean after an atmospheric battle against OZ's ace pilot Zechs Marquise.
Upon coming ashore, he is found by Relena Peacecraft, daughter of a peace-seeking politician, who witnesses Heero's descent to Earth.
Although neither of them realize it yet, this encounter will have a profound impact on both their lives, as well as those on Earth and in space colonies.
12. Phantom Thief Jeanne 
Phantom Thief Jeanne (Japanese: 神風怪盗ジャンヌ, Hepburn: Kamikaze Kaitō Jannu, lit. "Divine Wind Phantom Thief Jeanne") is a magical girl shōjo manga series written and illustrated by Arina Tanemura.
The story is about the adventures of a high school girl, Maron Kusakabe, who is the reincarnation of Joan of Arc (Jeanne d'Arc) and transforms into a phantom thief magical girl to collect the scattered pieces of God's power, which are also coveted by demons hiding in beautiful art works.
11. Fushigi Yuugi
While visiting the National Library, junior-high students Miaka Yuuki and Yui Hongo are transported into the world of a mysterious book set in ancient China, "The Universe of The Four Gods."
Miaka suddenly finds herself with the responsibility of being the priestess of Suzaku, and must find all of her celestial warriors for the purpose of summoning Suzaku for three wishes; however, the enemy nation of the god Seiryuu has manipulated Yui into becoming the priestess of Seiryuu.
As enemies, the former best friends begin their long struggle to summon their respective gods and obtain their wishes…
10. Magic Knight Rayearth
Three young girls, Hikaru, Umi, and Fuu, are transported to a magical world called Cephiro during a field trip to Tokyo Tower.
They are soon greeted by Master Mage Clef, who explains to them that they have been summoned to become the Legendary Magic Knights and save Cephiro.
The girls are less than enthusiastic about this idea, and only want to return home. Clef further explains that they must seek out the three Rune Gods to help them fight. He bestows armor and magical powers to each of them.
They learn from Clef that High Priest Zagato has kidnapped the Pillar of Cephiro, Princess Emeraude. The Pillar of Cephiro has the sole responsibility of keeping Cephiro alive and in balance with her prayers. Without Princess Emeraude, Cephiro would fall into ruin.
Hikaru, Umi, and Fuu must fight off Zagato's henchman and find the Rune Gods if they ever want to get back home. They soon learn that friendship and loyalty are the only things they can rely on in the crumbling Cephiro.
9. Mamotte Shugogetten
Tasuke Shichiri is the envy of his friends because since his parents are always traveling he can do as he pleases. It's a surprise present from his father that keeps him from being lonely: an odd ring known as the shitenrin.
From it comes a moon goddess named Shaorin, dedicated to protecting her "master" — no matter how much of a mess she makes doing it!
8. Hell Teacher Nube
Nube is a clumsy, easygoing, and very kind teacher, but he has a secret under his glove on the left hand. He has a monster hand, and he also has the ability to sense ghosts and evil spirits.
So he protects his dear students from these evil spirits with his monster hand, proving to be very powerful.
7. Nadia: The Secret of Blue Water
In 1889, the world is on the pinnicle of great discoveries in technology. In mankinds grasp for the future, a sinister foe known only as Gargoyle, obsessed with restoring the former Atlantean empire to the glory it once held, begins his plans to take over the world.
Nadia, with the help of a young inventor, Jean Ratlique, and Captain Nemo of the submarine Nautilus, must fight to save the world from Gargoyle and Neo-Atlantis. Based on the Novel '20,000 Leagues Under the Sea' by Jules Verne.
6. DRAGON QUEST: ABEL YUUSHA DENSETSU
Dragon Quest is loosely based on Dragon Quest III. The names and some of the characters are familar, but the world map is smaller and a very different shape. The two main characters are Abel and Tialah.
Tialah receives the legendary Red Stone from the Aliahan Village sage Master Yogi. Soon after, Tialah is kidnapped by the evil Baramos who wants to use the Red Stone to resurrect The Great Dragon and be granted eternal life.
Abel swore to rescue Tialah and he is given the Blue Stone, which can only seal the Dragon once it has been released.
5. Boys Over Flowers
Makino Tsukushi, a girl who comes from a poor family, just wants to get through her two last years at Eitoku Gakuen quietly.
But once she makes herself known by standing up for her friend to the F4, the four most popular, powerful, and rich boys at the school, she gets the red card: F4's way of a "Declaration of War."
But when she doesn't let herself be beaten by them and is starting to fall for one of the F4, Hanazawa Rui, she starts to see that there is more than meets the eye…
Orphan`s agents pilot mysterious mecha known as Grand Cheres, and search the world for mysterious, giant disks which occasionally appear, flying at high speeds and wrecking much of the countryside, or cities, when they hit the ground.
After a dying disc almost kills Hime, a Brain Powerd is born from the disc. Brain Powerds are another type of Mecha, similar to but not the same as Grand Cheres.
Hime becomes the Brain Powerd`s pilot, forming a symbiotic relationship with the living mecha and joins an International Organization dedicated to stopping Orphan, or at the very least saving humanity should Orphan succeed.
4. Future GPX Cyber Formula
14-year-old Kazami Hayato is the youngest driver of Cyber Formula, a Grand Prix in which each vehicle is equipped with computers to aid in racing.
With the help of Asurada, the most advanced cybernavigation system, and team Sugo, Hayato races to become the winner of the 10th Cyber Formula Grand Prix.
Along the way, Hayato will have to learn what it truly means to be a racer and that victory cannot be achieved simply by driving the best machine.
In addition, Kazami will have to gain the respect of the veteran racers, thwart those who attempt to steal Asurada, and participate in races outside of Cyber Formula.
3. Rurouni Kenshin 
Himura Kenshin is a vagabond with a dark past and sunny disposition. Not a ronin but a rurouni, he was never a samurai, but an assassin of utmost skill in the Meiji restoration, who in the turning point of the war simply walked away.
His travels lead him to Tokyo in the 11th year of the Meiji era, where he befriends a female Kendo master, a former thief, a brawler and a doctor all with their own secrets.
Together they fight off the enemies surfacing from the dark past that Kenshin cannot escape. 
2. Yu Yu Hakusho
One day, 14 year old Yusuke Urameshi suddenly finds himself dead, having died pushing a child out of the way of oncoming traffic.
Since he has such a bad personality, even the Spirit World was caught by surpise that he would sacrifice himself.
Yusuke soon finds out he wasn't supposed to die and has a chance for resurrection and bringing his body back to life.
After being resurrected, Yusuke becomes a Spirit Detective, along with his comrades, and one adventure after another happens, whether it be an investigation or a fighting tournament.
1. H2 
Hiro has two loves: baseball and porn, but due to an elbow injury, gives up baseball, choosing a school with no baseball team. His childhood friend Hikari attends a different school with baseball ace Hideo.
The two of them wish that Hiro had not given up baseball. Hiro joins the soccer team and meets Haruka, a very clumsy girl who is also the daughter of his father's boss. Haruka is the manager of the unofficial baseball club at Hiro's school.
When the soccer team challenges the baseball club to a game, with hopes of humiliating them, the baseball club nearly loses until Hiro, disgusted by the soccer team's arrogance, switches to the baseball club.