We are currently living in a golden age of Modern Anime Movies. In the past, most worthwhile movies were only produced by Studio Ghibli or were compilation films, like Mobile Suit Gundam: The Trilogy.
But now the best talents in animation are working on anime movies at a diverse set of studios that illustrate life from many different perspectives.
Unlike older classic film's focus on fantasy children's stories, these films don't shy away from controversy with topics like suicide, broken families, religion, and disabilities.
18. A Letter to Momo
This personal work by Hiroyuki Okiura, a senior animator who has worked on classics like Akira, is based on a simple but deeply moving idea. When Momo's father, Kazuo, dies, she and her mother move from Tokyo to a small island in the middle of nowhere.
She is haunted by the fact that she fought with Kazuo in his last days, so she keeps thinking about a letter he started to write to her just before he died but didn't finish.
In a strange turn of events, three funny-looking grotesque spirit animals show up to help Momo deal with her grief.
The slow first act of the movie perfectly shows how long a bad childhood summer can feel. The peaceful, sun-kissed landscapes are a powerful contrast to Momo's obvious inner turmoil.
And when things start to get weird, Okiura handles the changes in tone beautifully. He even manages to work in a complicated fart joke without making the story too childish.
17. Bubble
Bubble is a pretty interesting movie. Its story is told through the idea of simple bubbles. It tells the story of Hibiki and Uta, a person who was made from bubbles from another world.
The story is pretty sad, but it could have been told in a much better way. Bubble's animation, on the other hand, is amazing and makes it well worth watching.
16. Redline
The company that made Paprika was called Madhouse, and they are back with Redline. As expected from this company, the animation is in a class all its own.
The movie took seven years to make, and you can see that in every carefully animated scene. The race scenes are definitely the best parts, as each one is thrilling and amazing to watch.
15. Paprika
Many people think that Satoshi Kon was one of the best people to direct anime movies at the time.
It's sad that this man's talent and life were cut short by pancreatic cancer, but his amazing work is still around for everyone to see.
Given how great its director is, it's clear that Paprika has a great story. But the animation is also a big part of what makes Paprika so great, and it's still amazing to look at.
14. Sword of the Stranger
Once again, we follow a skilled fighter on his travels, this time through Sengoku-era Japan, and see how he interacts with a wide range of interesting people.
Our fighter, Kotaro, gets caught up in the fighting and chaos that is going on in Japan. Kotaru has to use his skills to stay alive when he is sent to help a hurt person.
13. Tokyo Grandfathers
Satoshi Kon, who also made Paprika and Perfect Blue, directed the action movie Tokyo Grandfathers.
It's about three homeless people in Tokyo who find a baby in the trash on Christmas Eve and set out to find the child's parents.
It's Kon's most realistic movie because it has neither magic nor science fiction. It's not as crazy as Paprika, but it's funnier and has more heart than that movie.
The three main characters are all funny and likeable, which makes for a lovely story about finding family.
12. The Secret World of Arrietty (Karigurashi no Arrietty)
The Secret World of Arrietty is based on the 1952 children's tale book The Borrowers. It tells the story of the Clock family, who are four inches tall and live in a family's house.
The family Clock borrows small things to put in their homes. But their daughter Arrietty is found while they are on a journey. Arrietty is on a mission at night when the family's son, Sh, sees her.
She is told that her life is in danger and that she should never talk to people. She does her best to be friends with Sh, though.
This anime movie has beautiful graphics and a touching story about life, friendship, and being alive. In Hiromasa Yonebayashi's first movie, everyday things are shown in such a beautiful way.
Even a little bit of the movie Spirited Away comes to mind. The 1997 American version of the story is nothing compared to this one.
11. Ghost in the Shell 2.0
Ghost in the Shell, which came out in 1995 and was based on a manga by Masamune Shirow, is a fan favorite and one of the most important anime movies of all time.
It follows a cyborg police officer (Atsuko Tanaka/Mimi Woods) and her partner (Akio Otsuka/Richard Epcar) as they look into a case where sex robots were hacked and made to attack people.
It came out again in 2008, but this time with new video, updated animation, and a remixed soundtrack. Even though purists might like the 1995 version better, it can't be denied that the re-release looks better.
But the most interesting thing about the movie is still how it looks at identity in a world where technology is getting better and the line between humans and robots is getting blurrier.
10. When Marnie Was There
Anna is a 12-year-old girl with asthma, so her foster parents send her to stay with their relatives at their house near the sea.
Anna comes across a run-down house and a girl who seems to live there while she is exploring the wetland area.
Anna makes friends with the mystery blonde Marnie, but she still doesn't know a lot about her.
What happens to Marnie?
Is she dead?
A thought?
Hiromasa Yonebayash, who also made The Secret World of Arriety, directed the Ghibli movie When Marnie Was There.
It's a touching story told with the beautiful 2D animation that Ghibli does best. It was praised by critics and was up for an Oscar for Best Animated Feature.
9. The Wind Rises
The Wind Rises is the last movie that Hayao Miyazaki, a legend in the world of anime, created.
It's one of his more realistic movies, and it tells the story of Jiro Horikoshi, the engineer who created many of Japan's fighter planes used in World War II.
In particular, the movie looks at how the militaristic leaders of Horikoshi's country took advantage of his ability and ideals.
As you might expect from a Ghibli movie, the animation is beautiful, and the scenery of Japan before the war looks almost like a dream world.
The Great Kanto Earthquake of 1923 is shown in a very well-done scene.
8. In This Corner of the World (Kono Sekai no Katasumi ni)
A "slice of life" in Kure and Hiroshima in the 1940s, with love, laughter, fantasy, hope, and death.
The main character is an everyday, dreamy girl who loves to draw and paint. At least, that's how she seems on the outside.
She grows up in Hiroshima and marries into the family of a young guy who works in Kure, which is a naval town.
The movie shows a lot of information about what life was like for a normal family at that time. It starts out with a great look at her old-fashioned marriage with her new husband, how she lives with her in-laws and talks to her friends.
Even though the story takes place during a war, there are happy, sweet, and touching moments. The hard times come slowly, though.
The main character's relationship with her sister-in-law is a little bit made up, but she makes a strong bond with her family, and her relationship with her little niece is so sweet.
7. Evangelion: 2.0 You Can (Not) Advance
The Rebuild of Evangelion is a set of four movies that tell what happened in the Neon Genesis Evangelion show.
Evangelion: 2.0 is the second movie in the set. In that show, a race of beings called Angels fought against humans who used giant robots.
People have said that Neon Genesis Evangelion is one of the most important anime series ever made, and many Western cartoon shows, like Steven Universe and Gravity Falls, have made references to it.
Even Wes Anderson has said that he likes the series. Those who want to give it a try should start with the Rebuild movies.
6. Doukyuusei-Classmates
Doukyuusei is a simple love story that will make you laugh and smile a lot.
Based on the very famous manga with the same name, this movie follows two high school students, Hikaru Kusakabe and Rihito Sajou, as they find themselves and fall in love for the first time.
Rihito is a straight-A student who gets perfect grades in all of his classes. Hikaru is a lazy person who plays guitar in a band and is popular with girls.
When Hikaru offers to help Rihito get ready for the upcoming singing festival, these two boys, who are very different from each other, end up becoming friends.
5. The Tale of the Princess Kaguya
A man who cuts bamboo finds a little girl inside a bamboo shot. He and his wife decide to take care of her.
They called the girl Princess, and she grows quickly and seems to have special powers. Princess and her new parents move to the city, where many men try to win her hand, but she feels sad and lost.
Princess needs to figure out her past and where she came from before she can find her place in the world.
In the English dub, Chlo Grace Moretz does a great job as the title princess. Darren Criss, James Caan, Lucy Liu, and Beau Bridges are with her.
The movie has a 100% rate on Rotten Tomatoes, which is very impressive.
4. Into the Forest of Fireflies' Light (Hotarubi no Mori e)
You can fall. Fall hard. For a soul you are not allowed to touch.
Those words really got to me. I thought about those deep words for hours. If someone could write something so deep about a movie, I wondered how moving the movie was.
I had to see that show no matter what. Let's See what's this movie is all about.
Six-year-old Hotaru Takegawa loses her way in an ancient forest while visiting her uncle. Hotaru meets a masked spirit named Gin when she is alone and desperate for help.
Gin is willing to help Hotaru but he warns her not to touch him or else he will disappear forever.
Despite this, the two become close friends over the years as Hotaru visits Gin every summer. When romantic feelings form, their resolve is put to the test.
3. Wolf Children (Ookami Kodomo no Ame to Yuki)
Wolf Children is about a young mother named Hana (Aoi Miyazaki/Colleen Clinkenbeard) who fights to raise her two children, Ame (Yukito Nishii/Micah Soluso) and Yuki (Haru Kuroki/Jad Saxton), after their werewolf father dies in a tragic accident.
The kids have to learn how to deal with being half-wolf while keeping it a secret from the rest of the world.
This is not as easy as it sounds. Yuki has a hard time controlling his wolf side. At one point, he loses control and hurts a friend.
Wolf Children is a family drama and coming-of-age story, even though it has a supernatural concept.
The artist Yoshiyuki Sadamoto, who also worked on Neon Genesis Evangelion, did a good job of making the figures look cute and interesting.
But the best things about the show are the writing and the voice actors, who give these characters real feelings.
4. A Silent Voice (Koe no Katachi)
A Silent Voice is based on the manga of the same name by Yoshitoki ima. It's about a young boy named Shya who is about to jump off a bridge. He thinks back on his life and explains why he's at the bridge.
Shya had been picking on a deaf student named Shko Nishimiya. Because of this, he has lost the support of his peers and is now being picked on himself.
During the whole movie, he tries to make amends with her. This is a great cartoon movie with a strong message against bullying and emotional depth that will touch everyone who watches it.
A Silent Voice has beautiful animation, colors, and a unique, haunting music that will keep you up late at night thinking about how it made you feel.
Will Shya get his chance to make up for being mean? There's only one way to know!
3. Howl's Moving Castle
Miyazaki made the movie Howl's Moving Castle, which is based on the well-known children's book by Diana Wynne Jones.
In a fantasy world, two countries are at war with each other. Sophie (Chieko Baisho/Emily Mortimer), who is young, is cursed by a bad witch, who turns her into an old woman.
Sophie tries to break the spell by working with a young wizard named Howl (Takuya Kimura or Christian Bale). They soon become involved in the war.
Howl's Moving Castle is set in a fantasy world, but it also has anti-war themes. People say that Miyazaki was moved to make the movie because he was against the 2003 attack of Iraq.
In 2013, he said his best of his own movies was Howl's Moving Castle. "I wanted to show that life is worth living," he said, and he didn't think that had changed.
2. Your Name (Kimi no Na wa)
This movie is incredible. Your Name is a great mix of magic, romance, and drama. "Two strangers find themselves linked in a strange way." is enough to get you interested.
When a connection is made, will only space keep them apart?
But there's a lot more to it than that.
The main characters, Taki and Mitsuha, are drawn to each other, and they all seem to have something to do with a strange natural disaster…I wish I could say more, but you really have to see it to believe it.
1. Spirited Away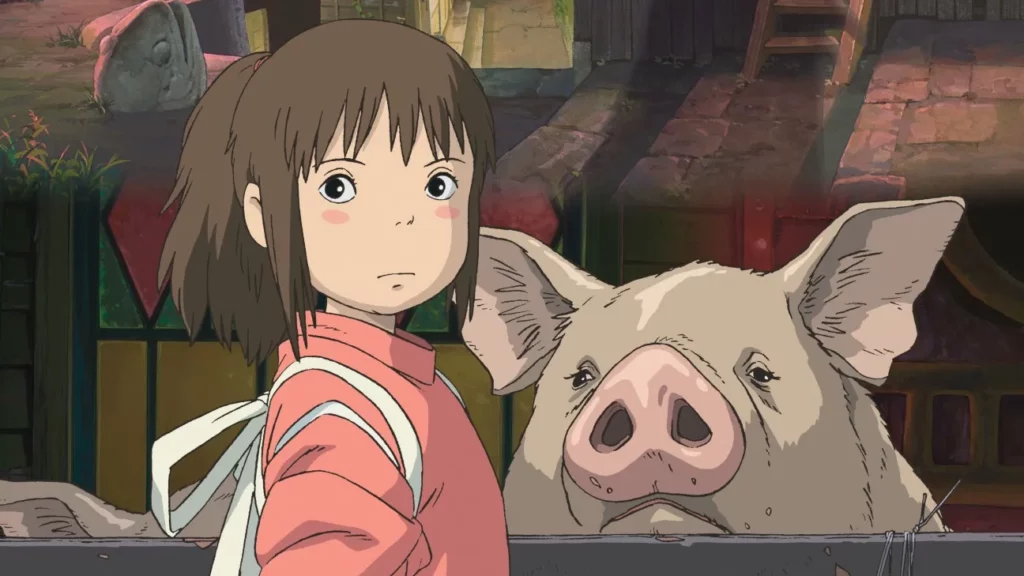 Spirited Away is about Chihiro, a 10-year-old girl (Rumi Hiiragi/Daveigh Chase) who finds a magical world full of ghosts.
Some of these things are dangerous, but most are nice. In fact, Yubaba (Mari Natsuki/Suzanne Pleshette) makes Chihiro her slave and turns Chihiro's parents into pigs.
Chiro starts secretly to think of a way to save her parents and get out of the spirit world. It's another movie that Miyazaki made, and it's likely his most well-known work.
It builds on the things he did in My Neighbor Totoro and Princess Mononoke that were new at the time. The movie looks great and has a lot of interesting characters and animals, like the dragon Haku and the ghost with a mask named No-Face. But the big draw is the story and the people in it.
They are real and complicated, which makes this fantasy journey more like a grown-up drama. Miyazaki set a very high standard for cartoon movies in the 21st century with this.