"Maid Sama" is under the genre of rom-com which was appreciated a lot and gain its fandom base across the world.
Although this series set a major place in fans eye because of the character and of the dialogue delivery.
So, these are some of the fundamental reasons to gain so much popularity throughout the world.
With the fact the main characters are also very simple-looking and not portrayed as extremely appealing; the female appears just a normal girl of high school.
You know this anime is one of the best rom-com genre anime I have ever watched and I am not only embellishing because I liked it but if you are the one who never watched it you must give it a try and those who already watched it can understand me what I am saying.
They focus on every minute aspect of the anime from plot to sound, from character to their personality, etc… and create it with perfection so that's why because of these portions the anime become more popular and fascinating for the fans.
Maid Sama Season 2 Release Date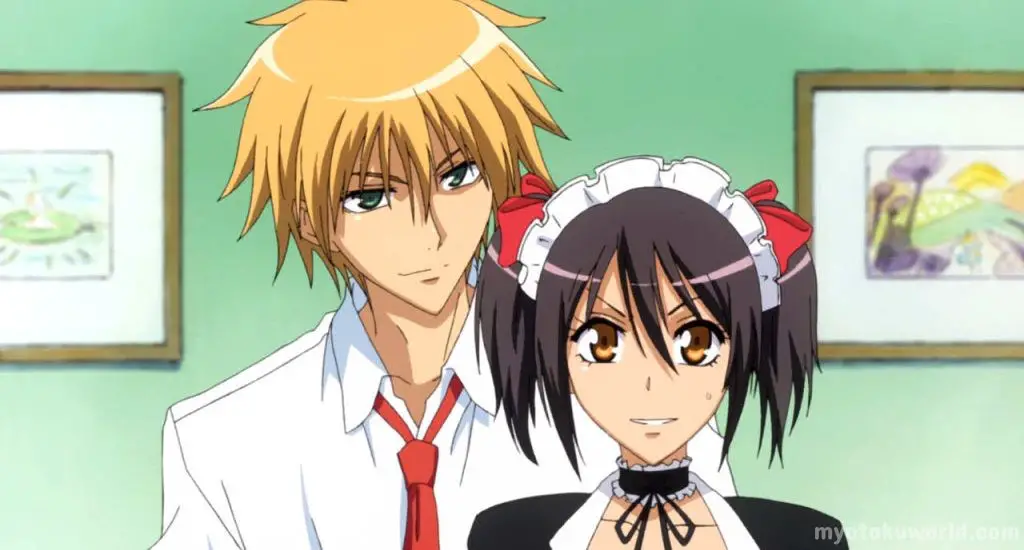 Maid Sama premiered on the screen on April 2, 2010, with a total of 26 episodes, and the season ended on September 24, 2010.
And fans are waiting for the season second very eagerly and also fans approach the J.C. Staff fans to know more about the second release but regrettably, they haven't published anything officially to make it clear when they are going to release the Maid Sama second season.  
So, don't deceive yourself just comprise the one we have after going through many scrolling on the internet about 'Maid Sama' season 2 release date.
We can predict the new season may release in 2021 as far we can estimate the things and yet with the hope, we haven't received any cancellation thing on the series so just wait wisely that's all we can do now.
Maid Sama! English Dub:
The English dubbed of the first season of 'Maid Sama!' can be found on Hulu. You can also stream it on Amazon Prime with its original audio and with English subtitles.
Kaichou wa Maid-Sama Plot
The plot of the story is awesome as I told before the story revolves around the main girl character named Misaki Ayuzawa who is also a senior at Seiki High, this school recently become co-ed and open its gate for girls too.
The school situation is not so good and they know for attracting trouble like a magnet.
As the school becomes co-ed Misaki is the first female who is appointed as the President of the school council and she everything on her to revive the reputation of the school and also discipline the boy studying in the school.
She is a ruthless dictator and because of her nature and how she treats everyone, she was referred to as a "Demon President" of the school.
While her fellow female student looks up to her as a role model and the best student staff to create some change in the school which is totally in a mess.
But everyone has some secret so she also has a big secret as she was an opposite outside the school to help her single mother she worked as a part-timer maid at Maid Latte café and if the truth turns out her self-reputation may turn down in the school and those who look upon her may disguise her.
With a big twist in the story here comes our male protagonist who one day she bumps into Takumi Usui and at that she was wearing the maid uniform and with the fact she believes that being a popular boy of the school he probably let her secret out but with a twist or we can say a surprise factor come where he keeps the secret to himself.
As far as the show, it becomes pretty clear about their love story with the fact Takumi never showed any interest to any girl but when it comes to Misaki her charm instantly draws him towards her.
Yet the season one pretty end with a clear process so if the new season or we can say that second season of the Maid Sama come out, it will probably come out with a new story of the same character.
Hence it worth waiting because the bond show in the series is on another level that indulges the attention of the most fans.
Maid Sama! Two Main Characters
The main characters are that of Ayuzawa Misaki and Usui Takumi of the show.
Misaki Ayuzawa
Misaki is extremely intelligent and hardworking. She despises all the men because her father abandoned her with her little sister and mother and also put them in under lots of depts and to pay all of them she started to work as a maid in a café to help her mother.
And she is also the president of the school where is the opposite character although it was difficult for her to keep her secret to not let anybody knows about her.
But she manages all the thing and the story revolve around her travail and efforts to keep herself up and maintain her self esteem in school and being a maid part-timer, she treats her customer very well.
Takumi Usui
Takumi is also very intelligent and with all his expertise he is also a popular guy in the school where everyone is praised by all his fellow and there is nothing he can't do.
He almost effortlessly perfects in every game and can play the violin as well. And because of her charm with her smartness, he falls in love with Misaki.
One of the best male characters who are protective as well as positive with all fancied qualities to be a main protagonist of the series.
More Anime News …