With so many fresh releases in hentai manhwa/pornhwa, we can't help but get immersed in its universe.
Which hentai manhwa are the best?
This list will help you locate the best hentai manhwa to read.
25. Touch to Unlock
Here's a guy who's been a foot mat for so long that you want to stick a rod up his buttocks as a fake backbone.
He's named Chiho. Chiho's life improves when he learns that his mum has magic stored away in local girls.
The retrieval process is not something we would discuss at a PTA meeting, but we can't help but be thrilled that Chiho receives dick-in toon p*ssies so sweet it's illegal to envy him.
Touch To Unlock is super-exciting, stimulating, hilarious, and imaginative.
24. Lucky guy
Jungsuk's girlfriend dumped him and he failed a vital exam. He chooses a cram school out of desperation and finds hot, stressed-out kids.
To help him study, Ms. Kang gives him one-on-one lessons. Jungsuk's life could get more adventurous.
As the title says, the main character is a lucky guy to have so many attractive chicks to himself. The plot isn't much, but you'll like the sexual encounters.
23. The virgin witch
Mike, 30, wants a gorgeous boyfriend. An unknown person grants her birthday request to become a witch, and she agrees.
Our little witch will soon be riding more than broomsticks.
The Virgin Witch is a reverse harem manga where the main character sleeps with any male she likes.
This fantasy could keep female readers up all night.
22. Sexercise
Bae Woong joins a gym to improve his physique, but he can't enter unless he signs a contract.
After realizing that it's managed by attractive ladies, he signs up and learns their secret is sex. Bae Woong needs new exercises.
We need this manhwa's 50/50 sex and comedy. Despite appearances, the primary character is a sleeping beast. This hentai manhwa has nonstop sex with gorgeous babes.
21. Stepmother Friends
This manhwa starts with a lonely boy. He had no opposite-gender relationships.
The story begins when his father gives him a new mother.
He learns his stepmother's secret from a hidden video online.
This changed his life.
20. Queen bee
Most people know about this renowned hentai manhwa.
It's a 4-star manhwa on most websites.
If you're just starting this hentai manga, be prepared for brutal torture scenes and wrath.
This was the warning for newbies, but you'll get used to it. Understand?
19. Weak Point
This hentai comic begins with Kim Dongjin, a contracted employee at a law company.
He dislikes the firm's youngest employee, Yoo Serin. She ignored his case. Despite being the firm's youngest attorney, she charged extra.
Our main character's vulnerability impacts everything in later chapters. Try this hentai manga.
18. Project Utopian
12 men and 12 women are abducted and carried to an island in this hentai comic.
This secluded island is lawless.
Later in the story, if these folks live on the island for 10 months, they'll receive $500,000.
This hentai manhwa reveals human nature.
17. Fitness
This hentai manhwa is great. As the title suggests, the story is about fitness.
Hyun-soo and Dong-jun are trainers. Sang-Mi enrolls in Hyun-academy Soo's despite his incredible sales last year.
He wants to prevent her from enrolling. Highly recommended for its wholesome plots.
16. Sister Neighbours
Hailey, Tim, and Hailey's best friend Denise live in Seoul.
Tim's life changes when he tells Denise's buddy that she's his sex partner.
This manhwa depicts a regular sharing boyfriend situation perfectly.
The plot is simple, like most hentai manhwa, but the sexual scenarios are mind-blowing.
15. His Place
Kang, a college virgin, lost it to Hae-mi.
He keeps inviting her out, but she refuses.
She makes him an offer he can't refuse and promises to teach him new things.
Imagine a virgin meeting a sexy girl.
Same for Kang in this hentai. Under Hae-guidance, mi's he had sex with multiple females and housewives.
It's a light-hearted fantasy manhwa.
14. Boarding Diary
Jun-woo lives near a school in a friend's boarding house. Mi-Kyung, the building's owner, cares for him, so he resolves to repay her compassion with sex. Yes?
If all homeowners were this hot, nobody would leave. The artwork in the manhwa makes us want to read more chapters.
It's a top-tier manhwa with a charming, naughty mi|f who loves it completely.
13. Landlord's Daughter
Since Junie moved into Darla's flat, they've been buddies. Darla's dominance revolutionized high school.
How would this affect their families?
It may look like a cruel NTR manhwa at first, with a sexual landlord, but the tale and artwork take a 180-degree turn.
You should read this wonderful hentai manhwa.
12. Daughter in Law
Terry loses his son but keeps his hot daughter-in-law.
He couldn't control himself after seeing her half-naked in the same house. How about her?
If they weren't incest or NTR, this would be a great relationship.
Their chemistry is good and their sex is incredible. If you don't mind these settings, buckle up.
11. Log into Lust
A man finds a USB and logs into a VR game without realizing it's unfinished and full of flaws.
Our MC takes advantage of bugs that make NPCs h*rny.
Gamers will adore this manhwa. It's a fantastic isekai hentai manhwa.
It features humorous events and sexual encounters. It's a unique hentai manhwa.
10. Taming a Maid
After a trip to America, Dong-parents su's bring home a beautiful mi|f maid, Anida.
Dong-su blackmails Anida after discovering she's having an affair with his dad.
Taming a Maid is a memorable manhwa because the story stays with you.
It's hurtful, sweet, substantial, and makes you like it more. If you want NTR hentai manhwa, read it.
9. GOLDEN SCALE
The protagonist is a rowdy who wins the California State Lottery and bribes officials to gain a job in China.
He meets several beautiful women and uses their help to become a corporate titan.
Golden Scale is a hard-to-find hentai manhua. You'll like the main character's attitude, even though every girl falls for him too readily.
It gets better with each chapter, and there is plenty to appreciate.
8. Hell's Harem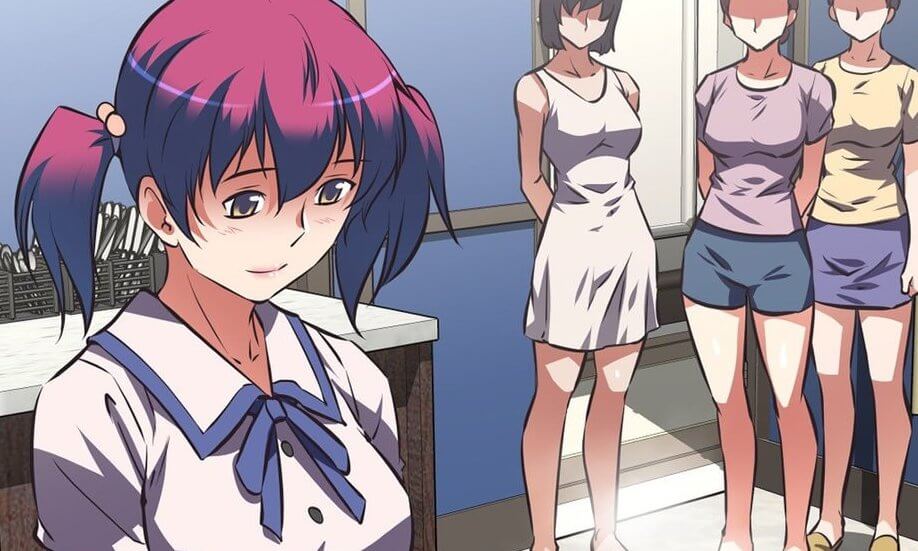 Whoever created Hell's Harem deserves praise or a one-way ticket to Siberia, where Viagra-fed polar bears await.
Gihyeon, an avid fapper, electrocutes himself with a X*X toy and dies.
He's sent to a hell hotel where he must drill all the women he fapped as many times as he did on earth.
Both our hero and the females he has to drill have a strong motivation to f*ck themselves to bits within a given period.
The only one we're worried about is Gihyeon, whose c*ck will go to hell and back in the most intense c*m-extracting escapade known to man.
7. Collapse and rewind
This hentai manhwa is about two loser business partners. Jonathan is a streamer no one watches, and Sophie can't sell real estate.
They soon realize that Jonathan's viewers enjoy watching them together and being nasty, so they form a jism-filled alliance.
This manhwa discusses modern society's problems and the severe, privacy-violating actions needed to fix them.
It's relatable and thought-provoking. Don't read it and establish a nude streaming channel!
6. Secret class
Adoptive women believe an orphan needs hardcore s*x education. By the time they're done, he can almost kill a housefly with a flick of his noble c*ck.
Secret Class is a must-read for everyone with wet dreams about getting manhandled by hot relatives.
Almost everyone thinks it's better than sliced bread topped with chocolate c*m, and we're inclined to agree.
5. Learning the Hard Way
Jinhoo was bullied in high school but concentrated on his company. Later, he attended a famous institution and became a tutor.
His next student is an empty-headed bully who's more gorgeous than any goddess. The lass makes fun of Jinhoo, but she soon realizes how much has changed.
This hentai manhwa doesn't have the most original plot, but it has amazing art and plenty of hot chicks with boobies to juggle.
4. Excuse Me, This Is My Room
Roommates can be as stressful as a pineapple-carrying porcupine. Jinsoo agrees with us that this guy is stuck with a curvaceous, cold-hearted sl*t who hits and bullies him.
Is it fun to have chicks wail and put you down? Jinsoo in Excuse Me, This Is My Room doesn't complain much.
Jinsoo's bully likes him more when she learns he has enough wood to build a log raft and doesn't mind her sitting on it.
3. Close As Neighbors
Imagine you're a guy doing his own thing and getting along with his neighbors, the Min sisters.
These nice females live so close they can enter and exit your room through a window.
They're different in looks and how they interact with you and hotter as a devil-fed gas fire.
Imagined enough?
Good!
In Close As Neighbors, Theo becomes involved in a neighborly, sisterly f*ckathon.
This hentai manhwa is easy to love and has plenty of humorous moments.
2. My ex-cohabitation wife's
Most readers would rather see a scabby hippo than their ex. Cohabitation with my ex-wife may give them a new perspective.
This manhwa is about a couple that fell out of love. They decide to have one last f*ck before signing the divorce papers.
The final f*ck and personal/professional concerns modify their relationship, so they keep living together and continue humping like rabbits.
1. Brawling Go
Jaejin. His s*rotum is worthless.
Beat him, it won't get hard, and point to the heavens to peel back a p*ssy! If he asked for guidance, we'd tell him to feed his useless c*ck to a dog.
When bitten by a deadly snake, his luck changes.
This site provides Jaejin with a unique woody he may employ in Quantico SWAT training. When the newly-risen c*ck refuses to obey gravity, complications arise.
Brawling Go is a c*ck-blessed hentai manhwa that's fascinating.