In the past 12 months, anime has seen a tremendous increase in popularity. According to Google Trends, anime relate terms shot up by at least 350%.
Anime like Jujutsu Kaisen increased by 4000%, Horimiya by 1900% and Rent-a girlfriend by +700% worldwide.
Isn't this a good time to discuss the anime that did not receive such a boost but also deserve a pat on their back?
Here's a list of 15 anime that acknowledge the hidden awesomeness of anime.
15. Misfit at Demon High Academy  
What could go wrong with an overpowered main character with parents that will melt your heart?
This anime makes sure to show how terrifying and benevolent the Demon King can be.
This demon king now has to attend a school after resurrecting 2000 years later.
This anime handles the aspect of an overpowered main character well, since that completely inhibits any character progression on their part.
Anos is a smart, kind, understands that he is not perfect, trusts his comrades and doesn't try to be anything he is not.
He is well aware of the amount of magic he possesses and makes sure to use it to do everything he sees right.
Perfect for a light snack after a hard day of work to sit and relax with.
14. Grand Blue 
You got yelled at school/university/work.
You came home to a tonnes of chores to do.
You finally finished all the chores and found out that your dog has torn up your favorite soft toy.
Sounds like a really bad day, doesn't it?
Grand Blue is just the thing you need.
Grand Blue is a sitcom slice of life seinen anime that will fill you with giggles to the brim.
Follow the adventures of a young man just entering college.
All of his hopes and dreams of being cool, popular among the girls and enjoying his college life to the fullest will take a turn when he joins a club.
13. Tsurezure Children 
The amount of pure serotonin that this anime will give you should be enough for it to be considered an over the counter drug.
Tsurezure Children shows the various different colors of blooming love in high school kids, following different match ups like the jock with the shy girl.
The class president with the delinquent, the overly excited person with the never excited person, the two best friends who finally realized their feelings for each other and so on.
Short stories that will leave you with a "moe moe kyun" and a hope to find true love as well.
12. Hinamatsuri 
This anime is such a fresh take on parenting and covers all aspects of it. 
From being proud of your child, jealous of someone else's child, having to be strict as a parent but despite everything loving your child.
A slice of life comedy at heart, Hinamatsuri is the story of two girls who have very different experiences living in the same city but living two completely different lifestyles.
This, obviously, results in them having completely different behavioral patterns. 
As in almost all of anime, though, they are not just any girls. 
They have their own secrets. Protecting their secrets while trying to form new bonds and adjusting to a new lifestyle.
Unknown people, unknown place, nothing to eat and nowhere to stay. What will happen to these girls just trying to find their way? 
11. Magic Kaito 
Kaito is a high school based magician genius kid who's secret identity is a thief who steals jewels and returns them. 
His enemy? 
That would be the police, of course and occasionally a super smart detective from England and rarely, young genius detective, Detective Conan.
Magic Kaito explores Kaito's adventures as he balances his studies, his exams, his thieving career, his magic tricks, his secret identity and a budding romance. 
How does Kaito manage all of this? Well, magicians never reveal their secrets. 
So, we may never know. 
10. Seven Deadly Sins 
Another anime that handles the concept of an overpowered main character in a fabulous way.
Demons have taken over the world and now it's up to the heroes to save it.
Overused and boring. 
Demons and angels should come to peace and understand each other.
Also, reaching a saturation point. 
Seven Deadly Sins takes the roles and reverses them to throw us a curveball in the best way possible.
This anime takes the sins to counter each one of the Holy Knight's twisted idea of justice.
A team versus an entire army that is trying to destroy the entire country from the inside.
Who will win? 
9. The Devil Is A Part-timer
Another demon based anime! This however is quite a bit different. 
The devil king is in modern Japan and he is going take over the world!
In quite a roundabout way… 
He currently is a part-timer at MgRonald's competing against the Sentucky Fried Chicken that has opened in front of them.
The world conquering can wait but Maou will never let Sentucky make more sales…
NEVER.   
8. Senkou no Night Raid 
This is a historical anime that will give you the chills. 
Senkou no Night Raid focuses on the time between the two world wars.
This anime discovers how one can't change fate, or can you?
The characters have extraordinary powers including clairvoyance and telepathy.
It explores a young girl trying to find her elder brother, but ends up in an unsolvable tangle of politics, diplomacy, negotiation and power struggles.
Senkou no Night Raid provides a much-needed look into this overlooked portion of history in a thrilling and insightful manner while retaining the action packed actual anime fun.
This series will keep you hooked until the very last episode and leave you with a melancholic realization of life.
7. The Blue Exorcist 
It's insane how much an anime, one based on demons and exorcism, can tell about being human and not.
Two twin protagonists who are part human and part… well… Satan.
All they wants to do is exorcise Satan but exorcising demons, as they find out, is much more than sprinkling holy water and saying prayers.
Go on a journey with these brothers to find out what's right and what isn't.
Of course add a neutral demon principal to the school who just likes to watch from afar, sometimes create trouble to spice things up and enjoys festivals a lot.
6. Tiger & Bunny 
As much as I would like to say that this is a moe-moe Shoujo anime made for girl below the age of 10, it is not.
Tiger & Bunny is a superhero seinen anime about a tag team of two characters, Tiger or Wild Tiger and Barnaby better known as Bunny.
This anime gives an insight about the other side of the life of heroes.
What is left when they walk away from all the camera flashes, the red carpet and the hordes of people running for their autographs?
Who sees them as beyond heroes and as humans?
Who can they rely on when they need help?
What can they do when responsibility becomes too heavy for their shoulders?
Tiger & Bunny provides not an answer but atleast a perspective on this.
5. Fire Force 
Finally! 
A shounen has appeared on the list!
The reason why shounen usually do not appear in lists like these are because shounen is one of the more popular genres of anime.
It is where one usually starts anime and is one of the more celebrated genres.
What all can be done using pyrokinetism at the centre?
Create fire? 
Manipulate it? 
Fire Force takes all of this to the next level.
This anime has characters that can alter faces, manipulate people using electricity, create and summon demons, transform into other people and even manipulate time just using fire.
A lot of power systems do not restrict themselves to a single power.
Fire Force, however, shines by making use of the single power system used in so many different and utterly crazy creative ways!
4. Cowboy Bepop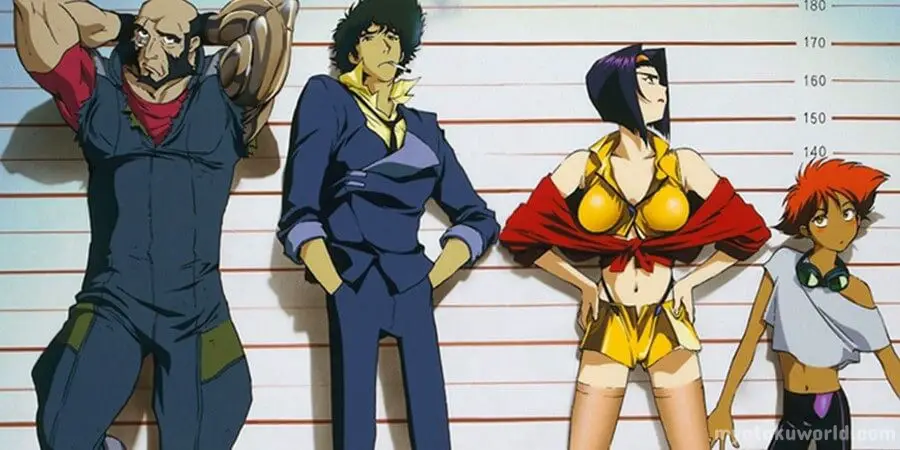 Sci-fi thriller with a kick of old school blues. 
Cowboy Bepop is just such a cool anime. 
It does leave you with the lingering feeling of how life isn't always going to be happy.
It requires you to be in a certain kind of mind-set to be able to enjoy it the most.
That being said, comedy, fluffy family moments and situational crises are the part and parcel of this series.
Betrayal, finding yourself, losing loved ones, going on journeys and returning home…
all of these beautiful and inexplicable feelings portrayed perfectly in this action-packed ball of life.
3. Akame ga Kill 
Another heavy HEAVY anime. 
Akame ga Kill is such a… 
There's friendship, betrayal, realism, hope, optimism and love all weaved into this beautiful story and objective that is destined to get your eyes moist.
The story of each and every character, why they want what they want, why they do what they do, why do they like the things they do,
why they dislike the things they do, what they used to do before and what drove them to do what they do now…
All of these questions and more answered in an impeccable manner with unmatched storytelling!
2. Code Geass 
Revenge!
Who comes to mind? 
Kurapika? 
That's probably because you had no idea about Lelouch until now.
Code Geass is such an intriguing political and diplomatic thriller with so much manipulation and a gigantic God Complex that it is difficult to find any other anime to match the level of this one.
Code Geass one of those hidden jewels in anime that deal with a lot of moral greyness and where it really raises the question…
Who exactly is the protagonist?
Motive for everything that he does, the way he plans everything and his superpower to completely manipulate people including their wills to live and die for him make for a very compelling premise and gripping story.
1. Overlord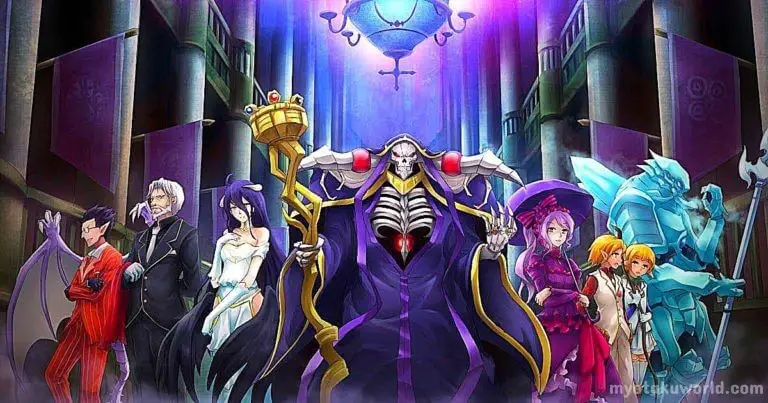 This anime is a gold mine for people who enjoy any kind of anime at all.
Isekai giving it an entirely new world to explore, an anime with overpowered main character that just pretends to know everything, his loyal servants believing every word.
He says and blissfully misunderstanding everything into something extremely profound.
This anime is treasure trove for action lovers with a kick of realism, politics and diplomacy, romance, otherworldly creatures all in a pretext of a game having magic tiers and healing potions.
Overlord gives the glimpse of what happens inside a game once the players stop playing.