How to gain Yun Jin, Genshin Impact's newest character and the latest addition to the popular anime RPG.
What is the release date of the Yun Jin banner? On the eve of her long-awaited debut in the anime game, this much-anticipated character will finally be revealed.
Genshin Impact has already mentioned Yun Jin more than once. Data miner Lumie shared a depiction of the character on Twitter back in January 2021.
She has also made a brief appearance in the game. Her name was mentioned multiple times in the voice lines of existing characters in a recent cutscene for the Moonchase Festival.
A Yun Jin character demo and a full character reveal have been released since Mihoyo first tweeted about Yun Jin in November 2021.
Yun-Han Opera Troupe director is a well-known figure in the Liyue Harbor opera community. Before her solo unveiling, Shenhe, another polearm user with Geo powers, was shown beside her.
Genshin Impact Yun jin banner release date
It will be released on January 5, 2022, under Genshin Impact Yun Jin's banner. This will cease on January 25, 2022, with the launch of Genshin Impact 2.4.
A reward for her participation in the "Fleeting Colors in Flight" event, which begins on January 25 and runs through February 12th, will be available after that. According to the program:
"Ningguang's clothing, "Orchid's Evening Gown," will be given to you if you meet all of the requirements for "The Moon's Comely Brow" during the event."
Obtain Affluence Talismans, Immaculate Talismans, and Conquest Talismans by completing four themed challenges. Your 4-star Liyue character can be exchanged at Prosperous Partnerships. "
The Transcendent One Returns and Invitation to Mundane Life, both of which begin on January 25 in conjunction with the new event, will both have Yun Jin available under their banners as well.
A final confirmation has been made that Yun Jin will appear in the regular 'Wonderlust Invocation' wish banner in the 2.5 release, as previously reported.
Genshin Impact Yun Jin abilities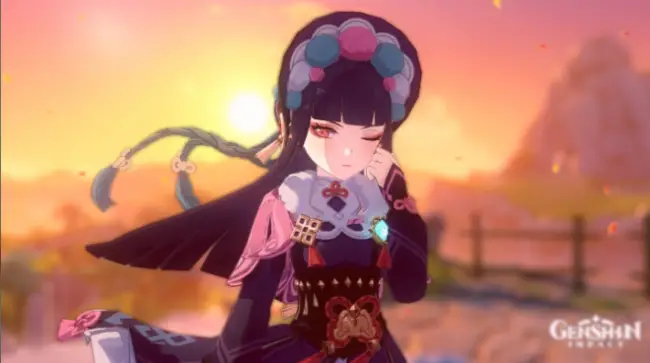 Geo polearm user Yun Jin has a four-star rating. Everything you'll ever need to know about the character Yun Jin may be found here. Honey Hunter World is the source of the entire movie set.
Normal attack: Cloud-Grazing Strike
Perform up to five successive polearm strikes like a regular assault.
Charged attack: Hurl yourself forward after depleting your stamina and inflicting damage on your foes.
Plunge attack: Deal damage to foes in your path and deal AoE damage to those around you when you land after a high jump.
Elemental skill: Whirling Opener
Press: Yun Jin unleashes her 'Cloud-Grazing' spear, causing Geo damage to the target.
With the 'Whirling Opener Stance,' Yun Jin charges up an elemental and physical damage shield that absorbs 150 percent more. Yun Jin's maximum HP is used to determine how much damage he can take. In other words, it'll stay in place until either the timer runs out or your shield breaks. Yun Jin unleashes a Geo attack according to the amount of energy taken, which can result in a charge level 1 or 2 assault.
Elemental burst: Cliffbreaker's Banner
Yun Jin inflicts AoE damage and bestows the Flying Cloud Flag Formation upon all members of the party within range.
Flying Cloud Flag Formation
Bonus damage is inflicted on opponents when a party member deals normal attack damage, with the amount dependent on Yun Jin's current defense stat.
This skill has a timer that expires, or it consumes all of its stacks, whichever comes first. If a standard attack strikes more than one enemy at the same time, it depletes one stack for each enemy struck. All of the effects and stacks are counted individually for each party member.
Yun Jin's passive talents
You have a 12% chance of getting twice as much food if you successfully cook food with Adventure-related effects.
Authenticity: Being true to one's self Use Whirling Opener just as Yun Jin is about to be hit by an attack, and she will unleash the level 2 hold charged variant of the weapon.
Not a Stiff-Armed Puritan: When the party comprises characters of one/two/three/four elemental types, the standard attack damage bonus offered by Flying Cloud Flag Formation is increased by 2.5 per cent/5 percent/7.5 percent/11.5 percent of Yun Jin's defense.
Yun Jin constellations
Stylized Equestrianism: The CD sales of Whirling Opener have fallen by 18%.
Myriad Flying Cloud Flag Formation increases the damage dealt by characters' normal attacks by 2% when they hit their targets. This effect can be stacked ten times and is triggered once every 0.3 seconds. When the impact of Flying Cloud Flag Formation is cleared or reset, this effect remains in place.
The Seafaring General: Yun Jin's Cliffbreaker's Banner is three levels higher. Ascend 15 is the highest possible upgrade level. Yun Jin's defense is increased by 20% for 12 seconds when she activates the Crystalise Reaction.
It increases the level of Yun Jin's Whirling Opener by three after using "Famous Throughout the Land." Level 15 is the highest that may be reached.
When a character is in the Flying Cloud Flag Formation, their usual attack speed is increased by 12%.
All we know about Yun Jin from Genshin Impact is what's revealed above.