You can get exclusive goods for the game on Twitch from Genshin Impact's partnership with KFC.
Get your hands on the Wings of Feasting glider while you can, TV!
Genshin Impact's KFC glider may be unlocked after completing a quest.
There is a new KFC x Genshin Impact glider available, and this time it is only available digitally.
It's no coincidence that the colors used to depict Colonel Sanders on the KFC logo appear on the Wings of Feasting glider.
Previously available only to Chinese Genshin Impact players, this high-end glider is now available to everyone thanks to Twitch.
Players in China had to wait in large lines at KFC stores to get their hands on limited-edition products as a result of the promotion.
Because you can get the wings from the comfort of your browser, the process is significantly more convenient for participants around the world.
In order to get the Wings of Feasting, you must support select video providers on Twitch TV.
A few preconditions must be met before you begin, but the process is far more straightforward than it was last time.
Genshin Impact's KFC glider can be unlocked by completing the following steps.
GENSHIN IMPACT x KFC GLIDER RELEASE DATE
From November 25 to December 8, Twitch will host the Adventurers' Guild event.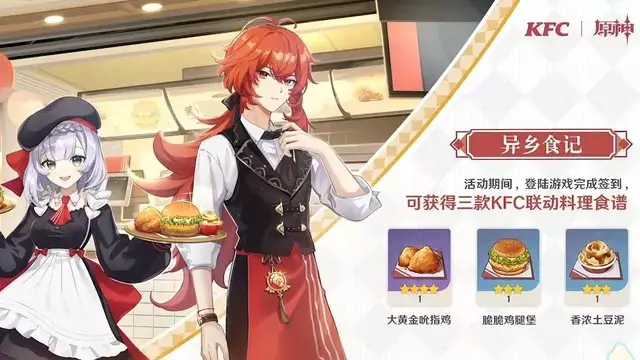 Until the Wings of Feasting event officially begins, you cannot unlock the wings of feasting.
HOW TO UNLOCK THE KFC GLIDER IN GENSHIN IMPACT?
In order to participate in the Adventurers' Guild on Twitch event, you must have a Twitch account linked to a credit card.
Mihoyo-certified streamers haven't been revealed yet, but we'll learn more about them closer to the event.
It is crucial to support these streamers.
Choosing a streamer to support requires purchasing a Tier 1 subscription to their channel at least two months in advance.
You can do this by donating two Tier 1 subscriptions to the same Twitch channel or by subscribing separately to two qualifying Twitch streamers.
Tier 2 and Tier 3 subscriptions are also an option for supporting a qualifying channel, but they are more expensive than Tier 1 subscriptions.
There are several conditions that may prevent you from claiming the KFC glider if you don't read the terms and conditions listed on the event details page.
Gifted memberships can't be anonymous or you won't be able to use your free Amazon Prime membership to claim the prize.
Streamers participating in the event who have recurring subscriptions are also disqualified for the incentive.
REDEEMING THE KFC GLIDER CODE IN GENSHIN IMPACT
You should receive a redemption code after successfully subscribing to the qualified streamers.
These things are yours when you use the Adventurers' Guild Twitch code:
Wings of Feasting
30,000 Mora
Jade Parcels
Two Tonkotsu Ramen
Two Sautéed Matsutake
Only those with Adventure Rank 10 or higher are eligible to use this code.
If you don't use the code within a week of the event's conclusion, you won't be able to get the KFC glider until December 15.
Once you've subscribed to your favorite qualifying Twitch broadcasters, you may soar through the air with your brand new KFC glider in Genshin Impact.