Dr. Stone is a Japanese manga series written by Riichiro Inagaki and illustrated by Boichi, serialized in Weekly Shōnen Jump since March 6, 2017 with the individual chapters collected and published by Shueisha into ten tankōbon volumes as of April 2019. Viz Media licensed the manga in North America.
Now Dr stone anime adaptation is on the move and getting popular in anime community but today we are going to talk about dr stone characters so lets get started.
Now Lets start with dr stone characters there are 8 main characters in dr stone anime which are mention below lets start with list.
9. Kaseki
Kaseki is an honest older man who is prideful in his work and skill as an artisan. Unassuming unless provoked, he displays boundless energy when excited about his work.
8. Suika (スイカ)
Voiced by: Karin Takahashi (Japanese); Sarah Wiedenheft (English)
A young girl from Ishigami Village who wears a melon on her head to cover up her "fuzzy sickness".
She ends up gravitating to Senku, helping him as he is the first person not to judge her for her eccentricities before he outfitted her melon helmet with customized lenses.
Suika often helps Senku out by being a scout for different missions.
7. Kohaku (コハク)
Voiced by: Manami Numakura (Japanese); Felecia Angelle (English)
The strongest warrior of Ishigami Village and Ruri's younger sister, a tomboyish young woman who is exceptionally strong, agile, and sharp-eyed.
She is the first villager Senku meets after awakening in the "Stone World" and becomes one of his staunchest allies as part of the Kingdom of Science's Power Team.
6.Chrome (クロム Kuromu)
Voiced by: Gen Sato (Japanese); Matt Shipman (English)
A youth from Ishigami Village who named himself the village's self-proclaimed sorcerer when stumbled upon the basics of science and mistook them as sorcery, wanting to save Ruri.
Chrome later learns about the scientific wonders of the old world and become Senku's partner as he helps him rediscover humanity's scientific legacy.
5. Gen Asagiri (あさぎり ゲン Asagiri Gen)
Voiced by: Kengo Kawanishi (Japanese); Brandon McInnis (English)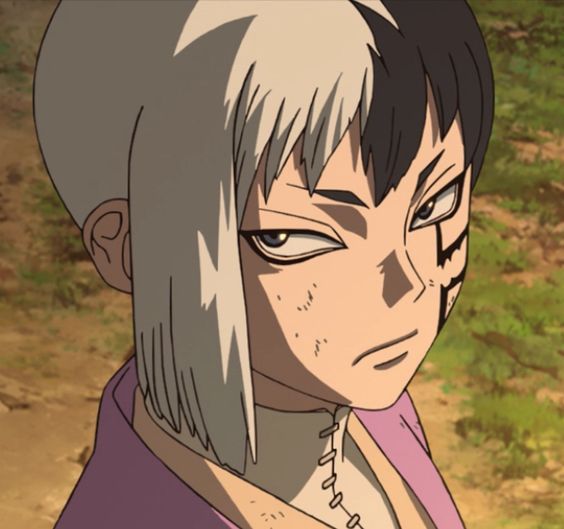 Another person from the "old world", Gen is a silver-tongued self-help guru who styles himself as a mentalist. Gen wears an overcoat over his yakuta and is always barefoot.
He was revived by Tsukasa who wanted an ally who can think like Senku and confirm his death. But being self-serving, Gen ends up defecting to the Kingdom of Science after witnessing Senku's accomplishments.
4.Tsukasa Shishio (獅子王 司 Shishiō Tsukasa)
Voiced by: Yuichi Nakamura (Japanese); Ian Sinclair (English)
A youth who rose to fame in mixed martial arts as "The Strongest Primate High Schooler", being strong enough to kill a lion with one punch.
He wears a red ghi and is usually barefoot. when being reawakened by Senku to save lots of him and Taiju from a lion pack, Tsukasa wears the pelt of the male lion he killed whereas attempting to find Senku and Taiju.
He resents adults because of his expertise with one who prevented him from gathering seashells for his Anime sister before she died, viewing the present adults as an greedy corruption whereas seeking to make a brand new society within the "Stone World" by solely reviving youngsters.
Tsukasa is the first antagonist of the manga's early story arcs, appearing to have kill Senku once he refuses to back off from restoring their civilization before continuing to determine his Empire of might.
Through he revived information to substantiate Senku's death, Tsukasa remained within the dark of his opposition's survival until learning it from Hyoga. Throughout the Communications arc, Tsukasa forced to ally himself with Senku when Hyoga betrayed him.
After Hyoga is defeated, the important injuries Tsukasa suffered from the fight force him to be placed in cryosleep along with his remaining forces absorbed into the kingdom of Science.
3.Yuzuriha Ogawa (小川 杠 Ogawa Yuzuriha)
Voiced by: Kana Ichinose (Japanese); Brittany Lauda (English)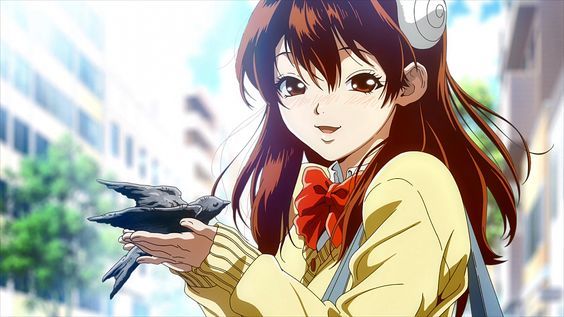 Taiju's love interest, a cheerful and kind cute girl. She listed in her high school's handicraft's club to pursue her goal of turning into a designer, and is exceptionally gifted at arts like handicraft and clothwork.
Throughout the Vs. Tsukasa arc, Yuzuriha is taken captive by Tsukasa. Senku has her and Taiju be a part of the Empire of may as a part of his set up. throughout the Age of Exploration arc, Yuzuriha starts a shop.
2.Taiju Oki (大木 大樹 Ōki Taiju)
Voiced by: Makoto Furukawa (Japanese); Ricco Fajardo, Emily Fajardo (child) (English)
Senku's supporter in dr stone characters , whom Senku refers to as a "big oaf" or "musclehead". He has unbelievable strength and apparently limitless stamina, however may be a pacifist who's ne'er thrown a clock in his life.
He is in love with Yuzuriha and can do something to require care of her, particularly when she's at risk. when Senku fakes his death to stay Tsukasa from looking them, Taiju and Yuzuriha infiltrate the Empire of would possibly to stay tabs on Tsukasa before rejoining Senku in Ishigami Village.
1. Senku Ishigami (石神 千空 Ishigami Senkū)
Voiced by: Yūsuke Kobayashi (Japanese); Aaron Dismuke, Mikaela Krantz (child) (English)
Senku is very intelligent genius in dr stone characters WHO excels in multiple fields of science, with a special love of physics and space exploration.
when wakening within the "Stone World", he sets to revive civilization by reinventing their lost technology and discovering a "cure" for the petrifaction.
Though somewhat arrogant, he's truly very noble and kind-hearted as he considers science as a way to elevate all individuals and having unshakeable faith in his friends.
After faking his death to stay Tsukasa from looking him, Senku befriends the residents of Ishigami Village and becomes their chief, looking for that he's a legend within the village's community at identical time due to the influence through the one in every of the villagers' ancestors, WHO happens to be Senku's late-adopted father Byakuya, one in every of the initial petrifaction survivors.