There are many ways to describe anime content, from shounen to shoujo to hentai. 
These descriptions are broken down into so many sub-categories that it is difficult to track.
Some are redundant or not used in other countries like Japan. 
Ecchi anime and borderline-hentai anime are two examples of such categories. 
There is not a category called "borderline Hentai", and it's not used by any anime-related websites. 
A show that has a lot of fanservice is called an "ecchi anime".
However, some shows exceed the boundaries of what can be shown while keeping the hentai brand in mind.
These anime are known by fans as borderline-hentai.
This is how it should look: You can imagine yourself watching an ecchi anime that is so outrageous, you have gone into puberty and maybe gotten a few chest hairs.
This, dear viewer, is borderline hentai animation.
We know that this doesn't tell you much.
But, we have an updated list to help visualize what it feels like when you hit puberty. 
Without further delay, here's Top Borderline Anime!
31. Strike the Blood
When a demon turns into vampires, they are receiving an enormous amount of interest. 
This is the problem Kojou Akatsui has to face. 
Then, he realizes that he's a powerful vampire, and Yukina Himeragi is assigned to find out where he is. 
However, they form together and work to defend the city from villains and this show is packed with action that will keep you on your seat. 
Beyond the thrilling plot, there are also some explicit scenes and nudity that are borderline Hentai.
30. Air Gear
Itsuki's life is in danger when he finds out that his college buddies could be in peril. 
However, he is assisted by the Noyamano ladies as they help him learn a vital technique. 
When the gangsters attack and take over the school, these abilities are useful in helping him save his fellow students and their beloved school. 
In the guise of this story, there is a lot of adult-oriented scenes which makes this one of the most s*xually explicit anime on the list. 
Of the anime that are considered to be borderline hentai, this one definitely, makes the cut!
29. Sankarea: Undying Love
Furuya is obsessed with the realm of zombies.
And immediately after the death of his cat, he is able to bring it back by using an old book. 
However, there's more danger than good to come for him and the animated series follows his story as it unfolds one after another. 
The old book of the occult is not a holy book, and, eventually, it throws him into a variety of traumatic circumstances. 
In the case of some of the material of the anime we consider it to be extreme hentai, however, it has a fascinating story.
28. Demon King Daimao
The character Atuko Sai enters a renowned magic school, it's believed that he will eventually become"the Demon King. In this way, people begin to fear him, and he tries to disprove the prophecy. 
However, prophecies have been known to be fulfilled and indeed, he was bound to fulfill his destiny. 
Some stunning ladies are at his disposal and, of course, the anime does not lack s*xually explicit content that makes it to this list.
27. Heaven's Lost Property
We are presented with the character Tomoki Sakurai, who is longing for peace and tranquillity and also encounters Ikaros whom we can call an Angeloid. 
The story contains a lot of mature content, and the concept and narrative are not for children to comprehend. 
This is easily one of the top entries in this list and is among the most s*xually explicit anime series that viewers have been exposed to.
26. Trinity Seven
Trinity Seven goes along to recount a tale from the world of fantasy where destruction is the only way to end it. 
The only way to save the day is the grimoire that Arata obtained via his good friend Hijiri Kasuga. 
Then Arata meets six magicians, and they make up The Trinity Seven which is tasked with the responsibility of restoring order to the city that is in decline.
25. High School DxD
This is most likely to be one of the s*xiest films on this list and is part of the genre of ecchi anime. 
The story follows Issei Hyodo, an undergraduate student who is killed by his girlfriend. 
The way he reincarnates is as the devil, and he is the second-in-command to Rias Gremory. 
This animated series is filled with many interesting scenes and an extremely s*xually erotic storyline.
24. Shinmai Maou no Testament
The storyline of this anime begins with the protagonist Basara his father who remarries. 
Alongside his stepmother, are two of her daughters in the absence of his father, the girl attacks Basara. 
The daughters belonged to the clan of devils, Basara himself was from the hero clan, and was able to defeat them. 
When he found out about the situation, his attention was on defending the girls. 
The cartoon is full of nakedness and certain scenes are certainly not appropriate for the younger audience.
23. Juubee Ninpuuchou
With certain adult themes, s*xuality, or explicit scenes, this movie is an anime for an adult audience. 
The film tells the story of Jubbe Ninpuuchou, an experienced swordsman that can be employed. 
A few days later, Jubbe rescues Kagero, who is a woman ninja which led to his involvement in political issues that he was able to keep from, was imminent. 
This film is thrilling and audiences enjoy it because of the incredible method of storytelling.
22. Afro Samurai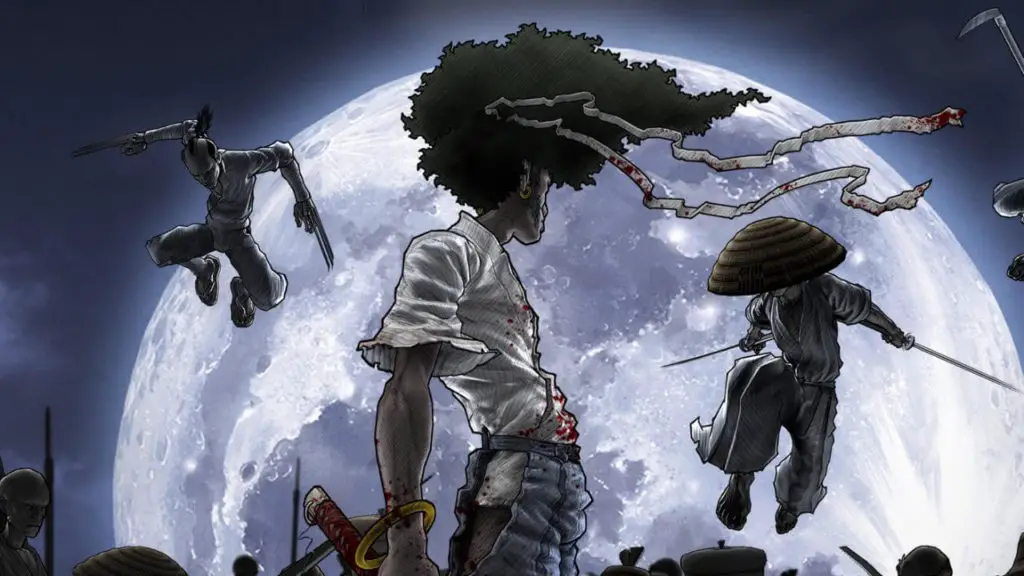 Afro is a samurai who had a terrible childhood after his father was murdered by Justice. 
The story unfolds as Afro is determined to get revenge and work to build up a confrontation with Justice. 
There is a lot of blood and violence in this film, and this certainly is not suitable for children.
21. Prison School
The storyline of the show revolves around Hachimitsu Private Academy which once was a center of learning, but has recently been converted into a co-ed high school that is a girl's college. 
Five boys are admitted to at the same time and get found in the act of the peeping Tom the school is in danger of being punished. 
The possibility of them surviving the experience, that's the main thing the cartoon is about. 
There are some hilarious moments, and plenty of graphic nudity to be included in the category of borderline Hentai.
20. Kenpuu Denki Berserk
A mercenary called Guts was in bloodshed business, but ultimately, a loss to his leader in an organization led him to join the group. 
In time, he gets better and is regarded as one of the top members of the group until he realizes he is a failure. 
It could be one of the most compelling stories of the anime in the genre borderline hentai.
19. Gantz
What if the afterlife wasn't about hell or heaven? 
In this show, the main characters die while having to rescue a man from the tracks of the subway. 
They then are taken to a place in which they are required to complete certain tasks and could need to be killed to stay alive. 
The plot of the anime includes adult content like murder, s*x, r*pe, or violence.
It's considered to be among the top hot anime hentai.
18. Hellsing
The Hellsing organization is charged with the essential responsibility of protecting people as well as dealing with supernatural beings who pose the source of danger. 
If a town is reported to have turned villagers into vampires and the Hellsing assigns the job to Alucard, who is an ethereal vampire. 
The tale is captivating and anyone who loves an eerie tale will enjoy the tale.
17. Phantom Requiem to the Phantom
The story of this anime is about the underworld and the mafia.
The protagonist is an innocent Japanese tourist who witnesses the murder of an unidentified. 
The victim is then brainwashed and given his name Zwei and is made a part of the mafia. 
The way he can escape from the world and recover his memory is the focus of this s*xy, yet interesting animated film.
16. Gangsta
The series concentrates on two main characters, Worick Arcangelo as well as Nicholas Brown. 
They are mercenaries and are referred to as Handymen. 
If they are forced to kill the prostitute Alex and her family, things take an unexpected turn when they decide to be guardians for Alex. 
There's another side to the story, where human beings gain unique powers after taking the substance. 
In the end, Gangsta has loads of s*xual assault and violence to be featured on this list.
15. Mnemosyne: Mnemosyne no Musume-tachi
The show features a central persona of Rin Asogi, who has acquired immortality and can solve crime with the assistance of her immortal companion known as Mimi. 
In her lengthy life, she was victim to different kinds of torture and even murdered, but she was able to resurrect the world thanks to her immortality. 
However, some were murdering immortals which meant she wasn't in a safe place and that's where the show takes a very serious turn. 
The show is full of s*xual scenes violence, gore, and violence in this show and it crosses the line of Hentai.
14. Sekirei
Although Sekirei is a highly enjoyable and entertaining show, the women on the show are portrayed as objects of ridicule and prizes that could be perceived as offensive. 
However, it tells the story of alien beings that kiss people with certain genetics. 
Following the kiss, humans acquire powers, and they become stronger.
Sekirei is about this extraterrestrial being called Musabi who aids a child known as Minato Sahashi after he failed in his examinations. 
There are a lot of explicit scenes that make Sekirei an adult-only content anime.
13. Blade of the Immortal
The story tells of an immortal character called Manji. 
Manji is bored of being immortal and would like to return to his former self. 
To do this it is necessary to kill 100 evil individuals for every man who was murdered by him. 
In the course of this mission Manji, the character Manji encounters a young girl who is seeking revenge for killing her parents. 
The plot has deep ideas and a distinct character in Manji's form.
Manji but, most importantly, there's plenty of violence, s*xual s*x, and other horrific details that make it a worthy entry in this category.
12. Nana
Nana certainly has a mature storyline that involves some s*xuality and concepts that aren't suitable for a younger generation to understand. 
The story tells the story of two women who share the same name.
While one of them is Nana Komatsu, a woman dependent on her boyfriend, the other one is a rock star with a strong name, Nana Osaki. 
Their separate lives cross an intersection and they get to know each other and become friends. 
What happens from their friendship and bonding is the foundation of the story.
The animation is very well-loved by the viewers.
11. Jin-Rou
There's plenty of violence, profanity, and mature themes in this movie and it is one of the best on the list. 
It's certainly not aimed at the young crowd and features a captivating story that can make you feel the characters. 
The film tells the story of an officer named Kazuki Fuse who could not shoot a suicide bomber.
Due to his inability, he was forced to undergo training. 
He set out to find the suicide bomber, and also met her sister. 
As they grew closer, conflicts between the local and capital police intensified, and he was trapped amid the conflict.
10. Amai Choubatsu: Watashi wa Kanshu Senyou Pet
Let's begin our list with a new type of anime.
These 1-2 episode OVAs are cut up into bite-sized episodes and broadcast on public television.
The uncut version is also available on the internet or DVD/Bluray physical releases. 
Amai Choubatsu Watashi Wa Kanshu Senyou Pet is one example of such an anime.
It tells the story of Saotome Hina, who was convicted of embezzling millions from a company and is sentenced to one year. 
She is the only female prisoner and is often targeted by inmates.
Myoujin Gakita, the chief security guard, also targets her for s*xual pleasure.
Amai Choubatsu, a short smut animation in which Hina is subjected to many s*xual acts and ultimately likes it, is a short smut manga. 
These s*xual torture scenes will only be seen in the R-18 anime.
The all-ages version is just as kinky, but there are many jump cuts.
Fun fact: Japanese youths enjoy cosplaying as Schutzstaffel officers.
The uniforms look great, especially when they are holding a whip. Maybe it's a fetish being abused by handsome Nazi soldiers that will make your heart scream.
9. Sin: Nanatsu no Taizai (Seven Mortal Sins)
God cast Lucifer, the archangel Lucifer from heaven for her prideful and rebellious ways. 
Lucifer was sent to Hell where she meets the Seven Deadly Sins and the Seven Demon Kings of Hell. 
Lucifer is cursed by one Sin during her struggle in Hell and she retreated to the Human World where she meets Maria, a young girl. 
Maria wanted her to become Lucifer's servant, so she did.
Lucifer and Levi must fight against demon kings, and Lucifer must also be freed from a curse.
Sin: Nanatsu No Taizai is often compared to Queen's Blade.
However, there are many similarities between the two animes. 
Sin: Nanatsu No Taizai, despite its hentai nature and recently, is just as lewd as Queen's Blade. 
Scantily-clad women warriors? 
Check. Check. Check. 
Do you see any scenes that make it difficult to look around and see who else is there? 
Double-check. This anime will be a hit! It's not for the story.
8. Masou Gakuen HxH (Hybrid × Heart Magias Academy Ataraxia)
Interdimensional machines have invaded Earth, forcing the surviving human species to flee to the ocean.
Since then, humanity has been developing new technologies such as the Heart Hybrid Gear, to fight the invaders. 
Hida Kizuna is the protagonist of the story.
His sister has called him to enroll in the Strategic Defense Academy Ataraxia. 
Why was Kizuna called to the academy? 
What is it to do with his past?
The anime's opening scene features an aroused girl performing a lap dance.
This will let you know that it isn't for everyone. 
Masou Gakuen HxH, an action sci-fi series, takes its cues from Valkyrie Drive Mermaid.
This anime features girls who are s*xually aroused to gain superhuman abilities and fight against an alien race of machines that threaten Earth. 
Hida Kizuna, our hero, can provide the energy necessary to power the Heart Hybrid Gear power suits. 
The girls will get more pleasure the more they receive power. 
However, just touching their breasts is not enough to increase their power output.
Kizuna must be imaginative with his limbs. They are all five.
7. 25-sai no Joshikousei
This is how it happened: Natori Hana (25 years old) was convinced by her aunt that she would attend high school instead of Kaho her cousin because teenagers are cool. 
It would have been fine since Hana and Kaho are identical, but unfortunately for Hana things did not turn out the way she expected. 
Kanie Okito, a former classmate, has become a teacher at the school.
He saw through her mask. Hana should not worry, Okito assured her he wouldn't reveal her identity…
Another smut anime, like Amai Choubatsu.
The anime is available in two versions: the all-age and uncut versions.
Your mileage will vary depending on which version you have watched. 
The all-ages version has Hana being seduced by the admittedly handsome teacher.
This involves kissing and caressing. 
The uncut version is just that: the teacher loves the "two-finger salute."
Let your imagination run wild.
6. Omiai Aite wa Oshiego, Tsuyoki na, Mondaiji
Saikawa Nano, a high school teacher, has set up a marriage interview for Takamiya Souichirou's friend. 
Nano initially resisted but soon became enamored of the handsome, well-mannered Souichirou.
The two eventually got into bed together. 
After a few exchanges with saliva and probing their bodies, Nano was stunned to discover that the man she is falling in love with isn't Souichirou but her younger brother Souji. 
That's awkward.
Short smut anime is a recent trend and may become a popular anime genre in the future. 
The story and pacing of Omiai Aite are very similar to 25-sai No Joshikousei.
However, the roles are reversed.
This time, the guy is the student, and is in a romantic relationship, with his female teacher. 
Nano discovered that Souji, her student, had posed as an arranged bachelor and Souji has the rights for her.
Then, her school life as a teacher will be completely different. 
The Clark Kent Disguise routine was surprisingly successful, it seems.
5. Monster Musume No Iru Nichijou (Everyday Life With Monster Girls)
Monsters exist and are already living with humans. They were able to pass the Interspecies Cultural Exchange Act.
All kinds of mythical and beastly creatures are allowed to live with human families to adapt to human society. 
Kurusu Kimihito, one of these hosts, lives with Miia (a half-human, half-snake being who is madly infatuated with our hero). 
Kimihito, as host of Miia, must do all he can for Miia to adapt to her new environment. Our hero is the kindest and generous man on Earth.
Agent Smi-Ms. Kurusu has attracted more monster girls to Smith and they now live with him. 
Are they the luckiest or least fortunate men on Earth?
Monster Musume can be considered an alternative to harem animation. 
Are you tired of harem anime that has a lot of beautiful girls falling in love with the main character who is a loser but still cares? 
What about a harem manga featuring tons of beautiful monster girls falling in LOVE with an attractive main character? 
BAM! 
You get Monster Musume. It's the little things in life that make all the difference!
Monster Musume is a kind of ecchi anime.
However, the stories are centered around the unique characteristics of the monster girls living in the Kurusu Family. 
Kimihito must be careful with these monsters because they are based upon certain creatures.
4. Aki Sora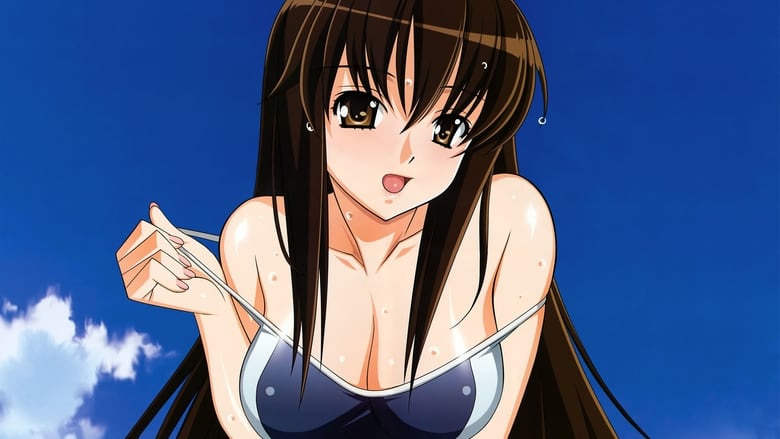 Aoi Aki and Aoi Sora were close siblings who shared an intimate bond as children. 
Aki realized the truth about her feelings for her brother Sora during puberty and they eventually fell in love. 
Aki and Sora share another sibling, Aoi Nami. And wouldn't it surprise you, Nami wants to be a part of the action.
Aki Sora is a well-known manga, for both the right reasons and the wrong. It was a series about incest that featured a lot of explicit s*x scenes and s*xually suggestive scenes.
Bill 156–Tokyo Metropolitan Ordinance Regarding Healthy Development of Youths was passed to affect the series.
The publication had to stop the series from airing sooner because of its explicit incestuous nature. 
Aki Sora had an anime adaptation and a sequel before the bill was passed. Both are very raunchy and contain plenty of s*x scenes. 
Comparable to modern hentai, the s*x is more controlled. It shows characters pushing during s*x but doesn't show actual penetration or genitalia. 
This, along with other factors (loopholes within rating titles), prevented AkiSora from being classified as hentai.
However, AkiSora was still able to be extremely s*xually explicit featuring a group of young people who are some of their blood relatives having s*x and other indecent activities.
3. Skirt no Naka wa Kedamono Deshita
Kominami Shizuka, a shy and conservative college girl, went to a college mixer to meet other students and maybe get rid of her anxiety around men. 
Shizuka meets Kirishima, a tall, beautiful, mature woman. 
They fell in love with Ryou's beauty and spent the night drinking and talking. 
Ryou, after too many drinks, takes Shizuka to her apartment to seduce her. Ryou is a cross-dressing male.
Another anime series featuring "lady porn", which is geared towards women. The core story revolves around Shizuka's rape and her development of Stockholm Syndrome towards Ryou.
However, the anime is more concerned with titillating viewers than telling the dark story about women who have been abused. 
Skirt no Naka offers two versions of Skirt no Naka: the all-ages version, which is lewd-free and s*xually suggestive but not for everyone, and the R-18 online version.
Both are available in official BD releases. 
The all-ages version is suitable for those who don't mind s*xual abuse.
However, the R-18 version will delight those who love danger and excitement.
2. Joshiochi! : 2-kai kara Onnanoko ga… Futtekita! ?
Aikawa Sousuke, a part-time worker, is a typical guy.
He was fortunate enough to share a rundown apartment with Yuki, the landowner, and Sunao, the attractive woman who lives in a room above Sousuke. 
Sunao fell through the hole and Sousuke's ceiling gave way on a sunny day. 
Sunao fell with Sousuke's penis…in her vagina…Thankfully, Sousuke was quick to his feet and cushioned Sunao.
This is the basic premise of the show. Each episode runs approximately 3 to 6 minutes. 
Each episode features our unfortunate hero Sousuke, who often gets into unfavorable situations.
This usually leads to him getting in trouble with women because he lacks self-control. 
Scenes of girls getting horny and showing off their skin are some of the scenes.
There is also some dirty dialogue that will make Joshiochi laugh! 
This anime was borderline hentai and was televised. It's not over, dear reader! 
This is the all-ages version of the one you just saw!
The second uncut version of Joshiochi is just like Skirt no Naka Wa Kedamono deshita. 
It contains all the s*x scenes removed from the all-ages version and goes literally "in-depth" about what happened after Sunao fell from the ceiling and landed on Sousuke. 
It was extremely, very kinky. It's not clear how Sunao landed perfectly on top of Sousuke, but Joshiochi, it is now! 
This anime series has a quirky personality that only the most dedicated fans are aware of. 
One piece of advice: Do not try to do what Sousuke did. It will only lead to you breaking your… uh?… thing.
1. To Love-Ru Darkness
To Love-Ru Darkness continues the story of Yuuki and his adventures with Lala Satalin Deviluke, an alien from another planet.
It also features a large cast of beautiful girls who have romantic feelings for our hero. 
In Darkness, Lala's sisters Nana and Momo have moved into Earth to be with her and cause havoc to Rito as well as everyone else in the area and school. 
Their presence increases Rito's chances of Rito slipping and grabbing the undergarments and getting a look at their bodies.
However, Momo has other motives. He wants Rito to start a harem if he wants the title of the ruler of the universe.
To Love-Ru was a harem anime show that defied the rules. 
To Love-Ru's first adaptation was a standard ecchi anime harem, covering all fetishes from vanilla fanservice, aliens, and tentacles.
But it wasn't until To Love-Ru Darkness, the third season, that we saw a shift in fan service delivery.
Fan service is now more deliberate, with constant boob, panty shots, and a lean toward the s*xual type, often involving Momo's plan for creating a harem, which is shown on the girl's. 
There are many close calls, such as Rito's hands reaching for the girl's intimate parts and scenes that involve Rito kissing Rito on the manhood.
The manga series moved to Jump Square and changed its target audience from younger teens to adults. 
It shows as Darkness' fanservice has some of the most inappropriate scenes in the entire series.
Last Thoughts
The list ultimately boils down to one question.
Can a series entertain, have a great story and provide the best tier of ecchi fanservice while also being entertaining? 
Some anime have explicit scenes, such as s*x scenes, or scenes featuring crotch shots.
However, these episodes were short in length, which makes it difficult to develop a connection to the characters and story. This is the literal meaning of "anything".
To Love Ru Darkness has all these qualities, which is why To Love Ru is a favorite among fans. 
Rito is a bumbling idiot who can trip on girls with incredible skill, but he also has a heart full of gold and is a caring person. 
Every girl in Rito's life has a unique personality and has their own story to tell. Momo is interested in creating a harem but has personal feelings toward Rito. 
Nana is self-conscious about her bust and is often teased by Momo. However, she is a friend who protects her. 
Yui is strict about school orders, but she sometimes has trouble controlling her feelings towards Rito, her childhood friend. 
These are just a few examples of how different each girl can be. The anime has all the episodes needed to tell their stories. 
To Love-Ru Darkness, a borderline hentai animation that isn't offensive to its fans but still gives you a good time is the best.
That's it! Let us know what you think. Did we leave any borderline hentai out? Please comment below, as always, to share your thoughts!