It's a fact that all fans love Romance Comedy Anime series. These kind of series never ever fail to entertains us with their funny scenes and some heartwarming situations.
So.. its would be a perfect date with your girlfriend if you watch these Romance Comedy Anime Series together it will surely keeps you entertain.
Lets start with our Romance Comedy Anime Series list without wasting any more time.
33. Waiting in The Summer (Ano Natsu de Matteru)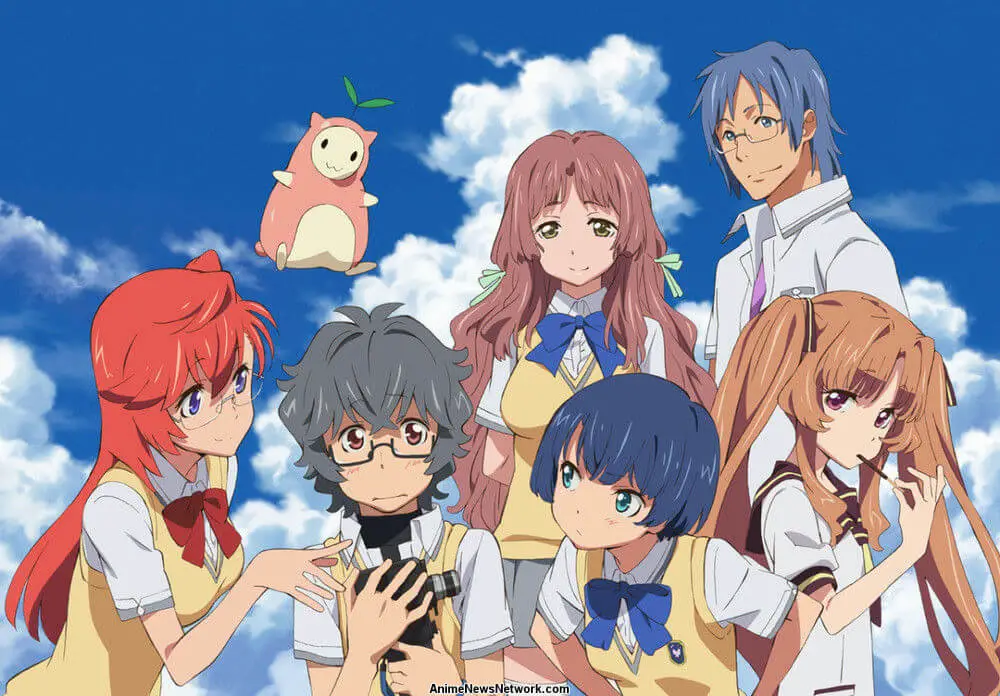 In this Romance Comedy Anime Series the October issue of Gakken's Megami Magazine is announcing on Tuesday that Onegai Teacher/Onegai Twins story creator Yousuke Kuroda and Onegai franchise character designer Taraku Uon are collaborating on a new original anime called Ano Natsu de Matteru.
The anime will be an adolescent romantic comedy. The three main characters are the two girls Ichika Takatsuki and Remon Yamano, and the boy Kaito Kirishima.
32.  My Love Story!! (Ore Monogatari!!)
This Romance Comedy Anime Series is about Gouda Takeo is a freshman in high school. (Both estimates) Weight: 120kg, Height: 2 meters.
He spends his days peacefully with his super-popular-with-girls, yet insensitive childhood friend, Sunakawa.
One morning, on the train to school, Takeo saves a girl, Yamato, from being molested by a pervert. Could this be the beginning of spring for Takeo?
31. Blue Spring Ride (Ao Haru Ride)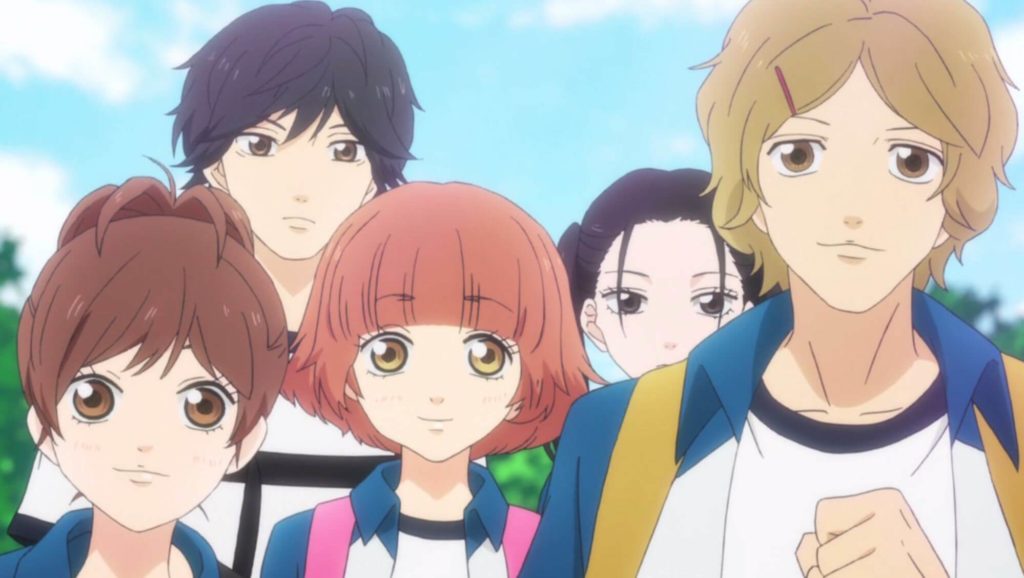 This Romance Comedy Anime Series is about Yoshioka Futaba used to be in love with a boy named Tanaka Kou in middle school.
However, after a misunderstanding, their relationship as friends ends when he transfers schools over summer vacation.
In high school, her world is turned around once more when she meets Kou again, this time under the name of Mabuchi Kou.
30. Actually, I am… (Jitsu wa Watashi wa)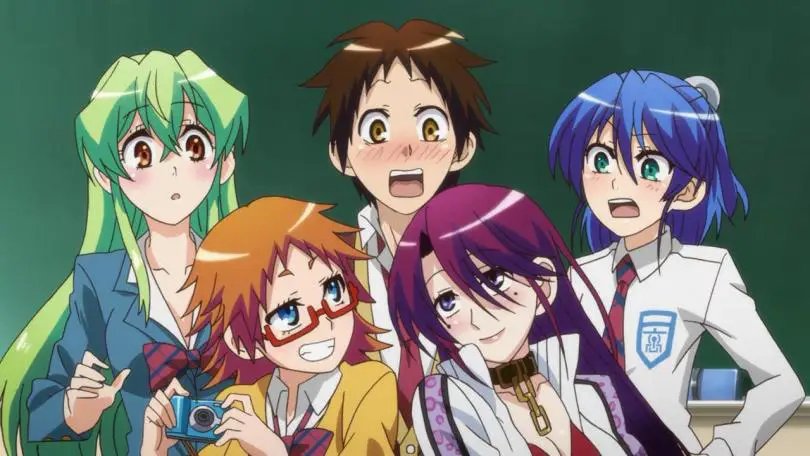 This Romance Comedy Anime Series is about Meet Kuromine Asahi, "the man who can't lie." On the way home, he learns an important secret.
His crush, Shiragami Youko, is actually a vampire! Can Asahi actually keep her secret? It's a fun, clumsy, one-of-a kind vampire romantic comedy!
29. Rainbow Days (Nijiiro Days)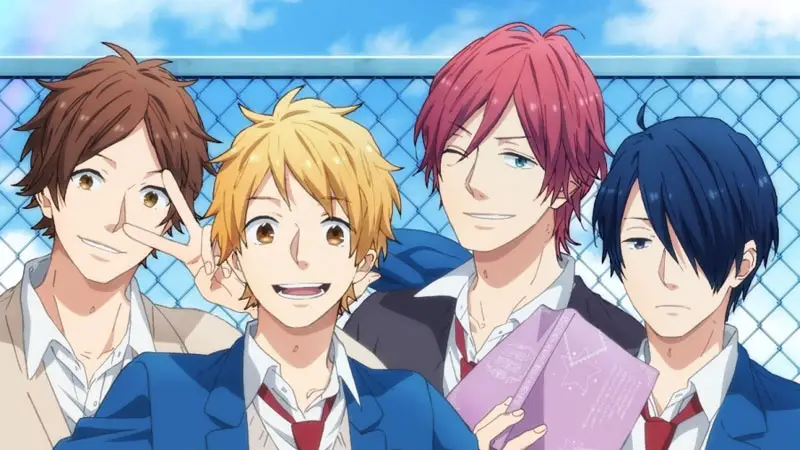 The Romance Comedy Anime Series details the lives of four main characters named Natsuki, Tomoya, Keiichi, and Tsuyoshi.
They spend their days trying to have fun by finishing their studies and debating about romance.
Natsuki, one of the main characters, has a crush on a girl named Anna at school, while others often get involved in their relationship.
28.  Wotakoi: Love is Hard for Otaku (Wotaku ni Koi wa Muzukashii)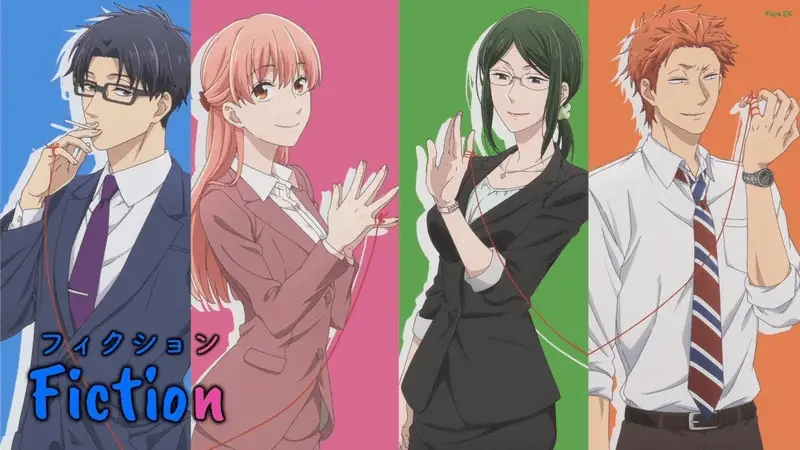 In this Romance Comedy Anime Series is start After discovering that they work at the same company, a gaming crazed otaku and a fujoshi reunite for the first time since middle school.
After some post-work drinking sessions they begin dating, but will it be a perfect relationship for the two?
27. My First Girlfriend is a Gal (Hajimete no Gal)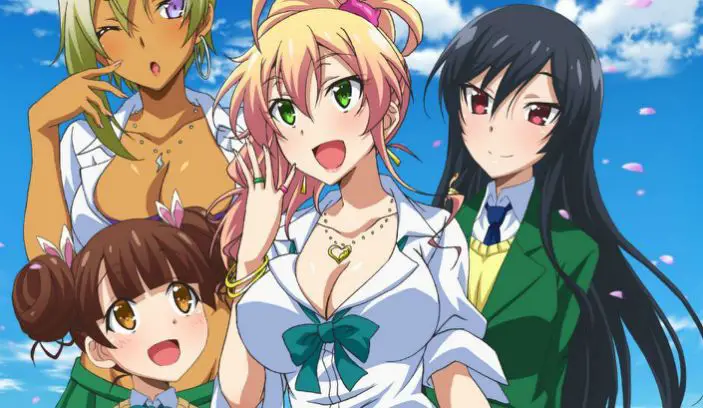 This Romance Comedy Anime Series is start in Spring. The "season of love" has arrived and it seems that finding himself a girlfriend was harder than Junichi believed.
To break the status quo, Junichi's friends have forced him into confessing to the gal, Yame Yukana. However, things do not go quite as he expected.
A series of "firsts" begins!
26.  Recovery of an MMO Junkie (Net-juu no Susume)
This anime Romance Comedy Anime Series is about Moriko Morioka is a 30-year-old single NEET woman. After dropping out from reality, she has taken off in search for a fulfilling life and ended up in a net game or "netoge."
In the netoge world, she began her new life as a refreshing and handsome character named Hayashi.
While starting out as a beginner, a pretty character named Lily reached out to help her.
Meanwhile, in the real world, awaits a shocking encounter with a good-looking elite company employee, a mysterious blue-eyed blonde.
25.  Saekano How to Raise a Boring Girlfriend  (Saenai Heroine no Sodatekata)
This Romance Comedy Anime Series is about life of Tomoyo Aki, a highschool otaku working part time to support his BD hoarding.
With remarkable luck, he bumps head-first into, Megumi Kato, the most beautiful girl he has ever seen. Naturally, the meeting twists his life into a complicated torrent of relationships.
Eriri Spencer Sawamura, his half-foreigner childhood friend who's always valued her relationship with MC. Kasumigaoka Utaha, a cold, composed renowned literary genius who shoves everyone aside from our protagonist.
What is this? An eroge introduction? The tale of a small not quite doujin circle, but not quite indie studio's journey through the tough territory of comiket and beyond.
24.  Monthly Girls' Nozaki-kun (Gekkan Shoujo Nozaki-kun)
This Romance Comedy Anime Series is about High school student Sakura Chiyo has a crush on schoolmate Nozaki Umetarou, but when she confesses her love to him, he mistakes her for a fan and gives her an autograph.
When she says that she always wants to be with him, he invites her to his house, but has her help on some drawings.
Chiyo discovers that Umetarou is actually a renowned shoujo manga artist named Yumeno Sakiko, but agrees to be his assistant.
As they work on his manga Let's Love, they encounter other schoolmates who assist them or serve as inspirations for characters in the stories.
23. Yamada-kun and The Seven Witches  (Yamada-kun to 7-nin no Majo)
This Romance Comedy Anime Series is about Ryuu Yamada is known as a delinquent in his high school; he has been bored of classes after one year of attending school.
One day, he accidentally falls from a flight of stairs onto Urara Shiraishi, the ace student of the school. Yamada wakes up to find that he has swapped bodies with her!
The two try to reverse the change and discover that kissing triggers the body swap.
On the suggestion of student council vice-president Toranosuke Miyamura, they revive the Supernatural Studies Club.
The club encounters other "witches" with different powers that are activated with a kiss!
22. The World God Only Knows (Kami nomi zo Shiru Sekai)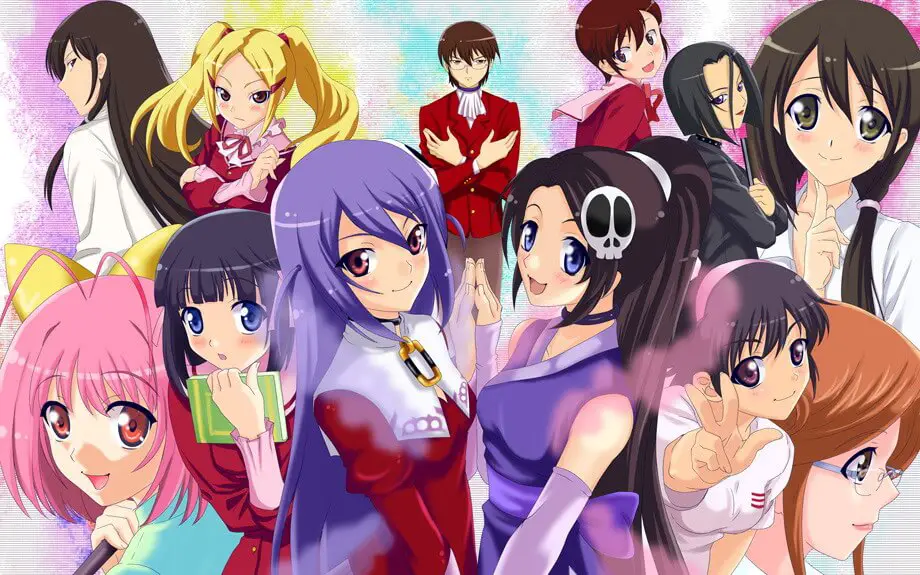 This Romance Comedy Anime Series is about Keima Katsuragi is an avid galge gamer known at his school as "Otamega" (a derogatory term combining the words Otaku and Megane) and on the internet a "The Capturing God."
One day he receives an e-mail offering him a contract to "capture" girls.
He accepts thinking it's a challenge and a demon from Hell named Elsee appears.
She asks for his help in capturing runaway spirits that are hiding in "real" girls.
He refuses stating he only like the girls from the game and she tells him that if he refuses then both of their heads will be cut off.
21.  Masamune-kun's Revenge (Masamune Kun No Revenge)
This Romance Comedy Anime Series is about Masamune Makabe once suffered greatly at the hands of a wealthy and beautiful girl named Aki Adagaki, who nicknamed him "Piggy" due to his chubby appearance.
Seeking revenge against his tormentor, Masamune works hard to improve himself and returns as an incredibly handsome, albeit narcissistic, high school student.
When he encounters Aki once again, he is prepared to exact vengeance. With the aid of the rich girl's maid, Yoshino Koiwai, Masamune slowly begins to build his relationship with Aki, intending to break her heart when the time is right.
However, as his friendship with Aki begins to grow, Masamune starts to question the objectives of his devious plans, and if bringing them to fruition is what his heart truly desires.
20. Skip Beat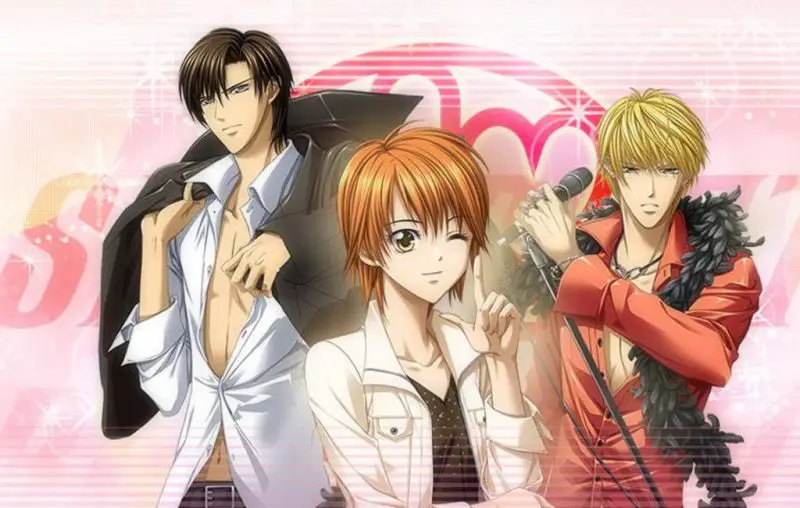 This Romance Comedy Anime Series is about Kyoko followed her true love and childhood friend Sho to Tokyo so she could help him reach his dream of becoming an idol.
She cleans, cooks, works three jobs and does nothing for herself because she loves him so much, but gets nothing in return. Still, she remains by his side.
But then one day she goes unannounced to his agency with a delivery, and overhears him talking about her; he reveals to his manager that he only took her with him as a maid, and that he doesn't care for her at all.
Upon hearing this, Kyoko doesn't just sit around and cry. She cuts and dyes her hair, changes her clothes and attitude and thus begins her journey to join showbiz and have her revenge against Sho.
19. Special A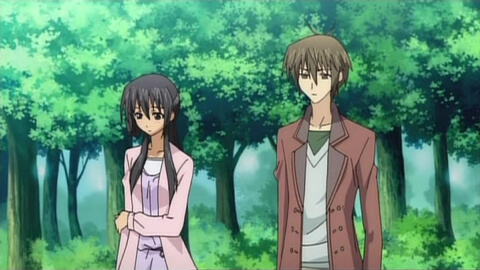 This Romance Comedy Anime Series is When Hikari was little, she and her father liked to watch pro wrestling, and she became very good at it.
She was the pride of her family until one day she was introduced to Kei, the son of her father's friend. He instantly defeated her in wrestling, and started what would become Hikari's major ambition to one day beat him.
To do this she enrolled in Kei's school, an ultra-elite school that costs her father a lot of money.
This unusual school created classes according to grades, and the top seven students become members of the Special A. They have their own building, and can optionally attend class.
Hikari is usually the only one who does so, since she desperately wants to beat Kei with test scores.
The members of the Special A have been close friends since their first year.
18. The Pet Girl of Sakurasou (Sakurasou no Pet na Kanojo)
The school Romance Comedy Anime Series revolves around a second-year high school student named Sorata Kanda who lives in Sakurasou, the dormitory for problem children at Sorata's school.
One day, Mashiro Shiina – a cute girl who happens to be also a cosmopolitan, brilliant artist – moves into Sakurasou.
Sorata thinks to himself that he should protect Mashiro from the weirdos at Sakurasou, but Mashiro has a surprising secret: she has no idea how to take care of herself.
She gets lost if she goes out, and her room is a complete mess. Sorata's dorm mates designate him as the "master" of Mashiro, and thus, an ordinary boy and a brilliant girl must live like "a master and his pet."
17. One Week Friends (Isshuukan Friends)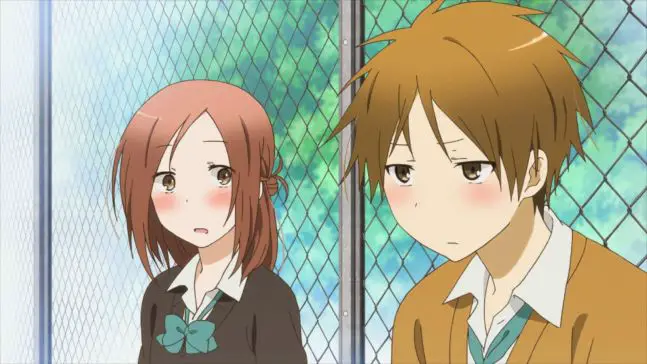 This Romance Comedy Anime Series is about Kaori Fujimiya is always alone because all of her happy memories, including time spent with her friends, disappear every Monday.
Deciding that he wants to be friends with her anyway, Yuuki Hase tries to get close to Kaori each week, wishing that she would one day call him "a friend."
16. Maid Sama! (Kaichou wa Maid Sama)
The Romance Comedy Anime Series centres on the student council head named Ayuzawa Misaki, who despises the mostly male, slovenly population at her school, which was once an all-boys school.
However, Misaki's quite handsome schoolmate, Usui Takumi, just discovered her secret — that she works after school at a maid cafe.
15.  School Rumble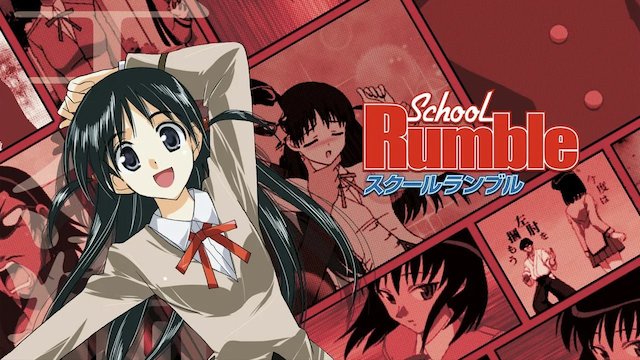 This Romance Comedy Anime Series is about Tsukamoto Tenma is an ordinary 2nd year high school student who has fallen in love with one of her classmates, Karasuma Ooji.
However, currently she is unable to confess her feelings to him.
To make things worse, she found out that Karasuma is transferring to another school in a year. On the other hand, Tenma's other classmate, Harima Kenji (who is a delinquent) is also in love with Tenma.
Not being able to confess his feelings, Harima gets depressed day by day.
14.  Please Teacher! (Onegai Teacher)
This Romance Comedy Anime Series is about Kusanagi Kei, a high-school student living with his aunt and uncle, has an encounter with a female alien.
This alien is revealed to be a new teacher at his school.
Later, he is forced to marry this alien to preserve her secrets. From there, various romantically-inclined problems crop up repeatedly.
13. Clannad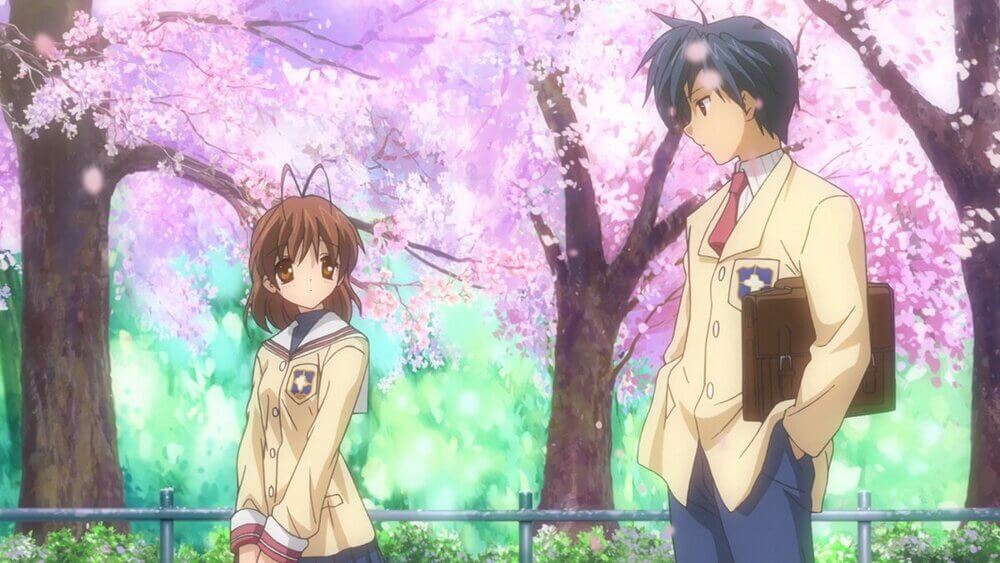 This Romance Comedy Anime Series is about Tomoya Okazaki is a third year high school student resentful of his life. His mother passed away from a car accident when he was younger, causing his father to resort to alcohol and gambling.
This results in fights between the two until Tomoya's shoulder is injured in a fight. Since then, Tomoya has had distant relationships with his father, causing him to become a delinquent over time.
While on a walk to school, he meets a strange girl named Nagisa Furukawa who is a year older, but is repeating due to illness.
Due to this, she is often alone as most of her friends have moved on. The two begin hanging out and slowly, as time goes by, Tomoya finds his life shifting in a new direction.
12. Kimi ni Todoke: From Me to You (Kimi ni Todoke)
This Romance Comedy Anime Series is about Kuronuma Sawako is the perfect heroine… for a horror movie.
With her jet-black hair, sinister smile and silent demeanour, she is often mistaken for the haunting movie character Sadako.
But behind her scary façade is a very misunderstood teenager.
Too shy to fit in, all she wants to do is make some friends. But when a popular boy in class befriends her, she is sure to make more than just that — she is about to make some enemies too!
11. Kokoro Connect
The Romance Comedy Anime Series story involves five high school students, Taichi, Iori, Himeko, Yoshifumi and Yui, who are all members of the Cultural Research Club.
One day, they begin experiencing a phenomenon in which they randomly swap bodies amongst themselves.
As these five friends face many different phenomena at the whims of a mysterious being known as Heartseed, their friendship is put to the ultimate test.
10. My Little Monster (Tonari no Kaibutsu-kun)
This Romance Comedy Anime Series is about Mizutani Shizuku is the type of person who only cares for her own grades.
But when she accidentally delivers lesson notes to Yoshida Haru, he becomes convinced they are friends.
Haru turns out to have a very innocent personality, but who would've thought that Haru would actually confess to Shizuku?
A cold-hearted girl and super-troublemaker romance with a fresh new perspective.
9. Haganai: I don't have many friends (Boku wa Tomodachi ga Sukunai)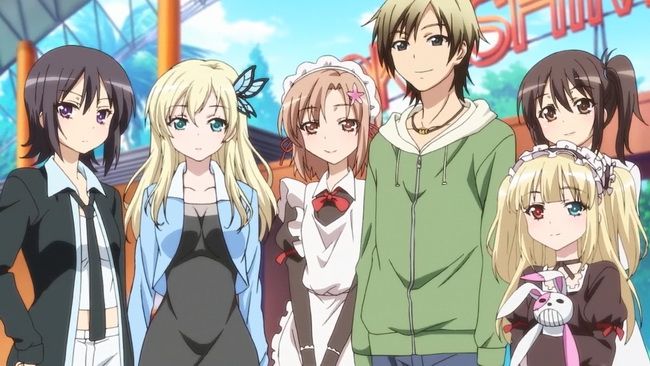 This Romance Comedy Anime Series is about Hasegawa Kodaka has transferred schools, and he's having a hard time making friends. It doesn't help that his blond hair tends to make people think he's a delinquent.
One day, he runs into his bad-tempered solitary classmate Yozora while she's talking animatedly to her imaginary friend Tomo.
Realizing that neither of them have any actual friends, they decide that the best way to alter this situation is to form a club and start recruiting.
That is how "Rinjinbu" was formed, a club specifically designed for people who don't have very many friends.
As other lonely classmates slowly join their little club, they'll try to learn how to build friendships through cooking together, playing games, and other group activities.
But will this group of relationship-challenged misfits really be able to get along?
8. Golden Time
This Romance Comedy Anime Series is about Tada Banri, a newly admitted student at a private law school in Tokyo, found himself completely lost after the opening ceremony, trying to find his way to the freshman orientation.
At that moment, he ran into another lost freshman from the same school, Yanagisawa Mitsuo, and they hit it off at once.
Somehow arriving at their intended goal just on time, there appeared in front of the two a beautiful girl holding a bouquet of roses.
The girl then whacked Mitsuo across the face with the bouquet and handed the flowers over to him. "Freshman, congratulations", was all she said, and then left. 
The stylish, well dressed, perfect woman that had swung at Mitsuo was his childhood friend, Kaga Kouko. As children they had promised to marry each other one day, fulfilling their dreams.
In order to escape from her, Mitsuo had gone out secretly and taken the examination for this well known private college, but now she showed up in the freshman orientation hall.
She too had taken the law school entrance examination, catching up with him there.
7. Fruits Basket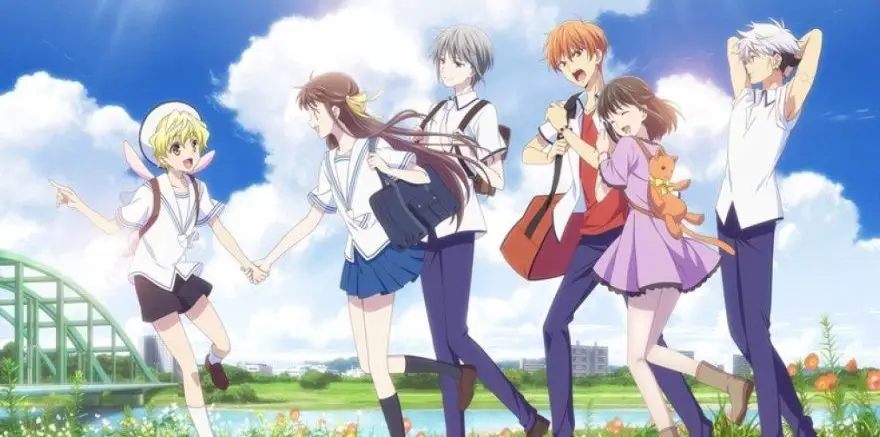 This Romance Comedy Anime Series is about Tohru Honda is 16 year old orphaned girl who gets invited to live in the house of her classmate, the handsome boy Sohma Yuki, and his cousins, 16 year old Kyo and 27 year old Shigure.
However, these young men and parts of the rest of their family (both close and distant) hold a curse; if they are hugged by the opposite gender, they transform into animals of the Chinese Zodiac.
Everyday is an adventure for sweet Tohru, as she gets to know everyone in the large family better (especially Yuki and Kyo), in both common and bizarre situations.
But, the Sohma Family curse is certainly no laughing matter… it also holds horrible cruelity and heartbreak.
6. Nisekoi
This Romance Comedy Anime Series is about Raku Ichijou is an average high school student. He also happens to be the sole heir to the head of a Yakuza Family called the Shuei-gumi.
Ten years ago, Raku made a promise… a secret promise with a girl he met. They promised one another that they will "get married when they reunite".
Since then, Raku never let go of the pendant the girl gave him.
Then one day, a beautiful girl named Chitoge Kirisaki transfers into Raku's class.
Their chemistry was more than off. There was not a moment where they were not fighting.
But by a weird turn of events, Raku and Chitoge agree to become fake lovers.
Although his heart is really interested in his classmate Kosaki Onodera, Raku must continue pretending to be Chitoge's boyfriend.
5. Ouran High School Host Club (Ouran Koukou Host Club)
This Romance Comedy Anime Series is about Haruhi is a poor tomboyish student at a school for the ultra-wealthy, able to attend because of a scholarship, and unable to even afford a uniform.
One day, she stumbles across the decidedly peculiar but very popular Ouran Host Club. She tries to leave, but accidentally breaks a vase, and unable to pay for it, she's told that she'll have to stay and do odd jobs.
That is, until they decide she would be more valuable as a club member. Not realizing she's female due to her appearance, they fix her up and give her a male uniform.
She's an instant hit, so they decide to have her keep up the charade even after they find out the truth.
Haruhi, being average almost to a fault, doesn't know what to make of the unconventional activities of the Host Club (or of the even more unconventional members), but having little choice, she plays along.
Before long, real bonds are formed, friends made, and Haruhi finds herself accepted in a way she could never have been otherwise in this affluent school.  
4. Lovely Complex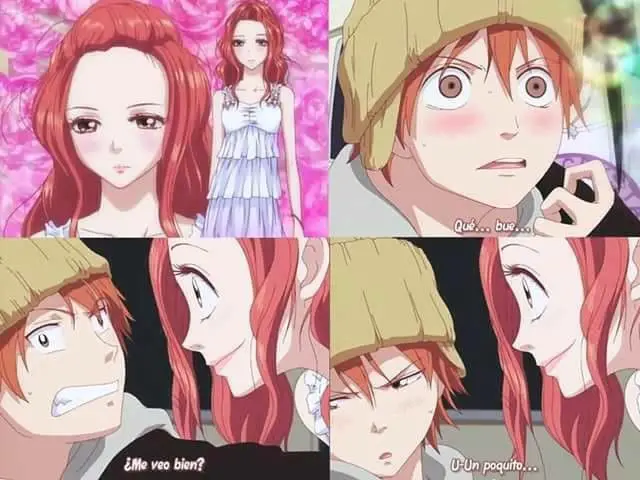 This Romance Comedy Anime Series Based on a shoujo manga by Nakahara Aya, serialised in Margaret.Risa and Ootani are always being laughed at as the comedy duo.
Risa, a girl, is taller than the average girl, and Ootani, a boy, is shorter than the average boy.
The two are always bickering and even their teacher sees them as a comedy act. But as their friendship develops, so do Risa's feelings toward Ootani.   
3. Love, Chunibyo & Other Delusions! (Chuunibyou demo Koi ga Shitai!)
This Romance Comedy Anime Series is about Yuuta Togashi suffered from chuunibyou while he was in middle school. When he graduated, he put that dark history behind him and forgot about it… or he was supposed to.
High school was smooth sailing and full of enjoyment – until the unavoidable, sad event occurs.
The event that locks Yuuta into a contract with Rikka Takanashi and disrupts his desperately ordinary life. Adapted from the back of the first novel.
2. My Teen Romantic Comedy SNAFU (Oregairu)
This Romance Comedy Anime Series revolves around an antisocial high school student named Hikigaya Hachiman with a distorted view on life and no friends or girlfriend.
When he see his classmates talking excitedly about living their adolescent lives, he mutters, They're a bunch of liars.
When he is asked about his future dreams, he responds, Not working. A teacher gets Hachiman to join the volunteer service club, which happens to have the school's prettiest girl, Yukinoshita Yukino.
 1. Toradora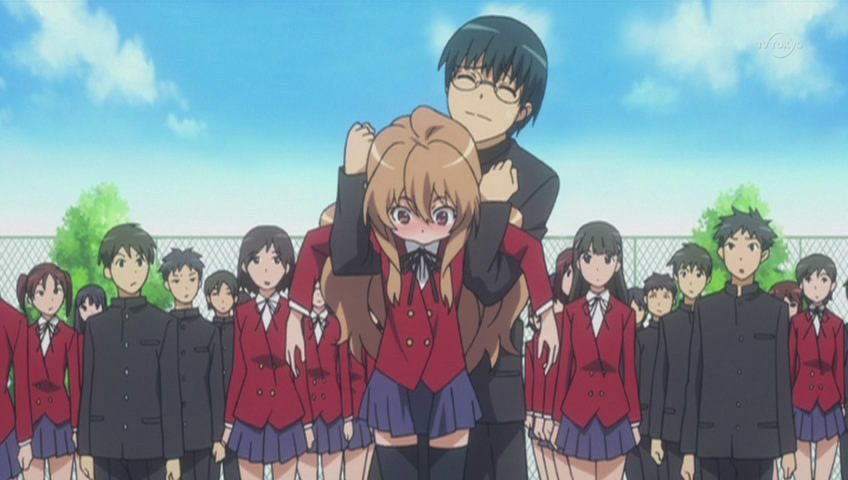 Fierce in appearance but gentle at heart, Ryuji forms an unlikely friendship with Taiga, a tiny girl with a sharp tongue and a tough attitude. Together they try to help each confess their love to their crushes.
Hope you like Romance Comedy Anime Series list make sure to comment below which Romance Comedy Anime Series you are going to watch next share this list with your friends and bookmark MOW.