Recently Cooking Anime Series Are getting popular among fans I think this is the most loved genre because of the Shokugeki no Soma (Food Wars!) impact on the fans.
But, Food Wars is not the only food anime series there are a lot of great cooking anime that you can watch after food wars.
So, Today we are going to create a awesome cooking anime list for all the foodies or chefs.
Lets dive into the list without wasting any more time here are 18 epic cooking anime series.
18. Chocolate Underground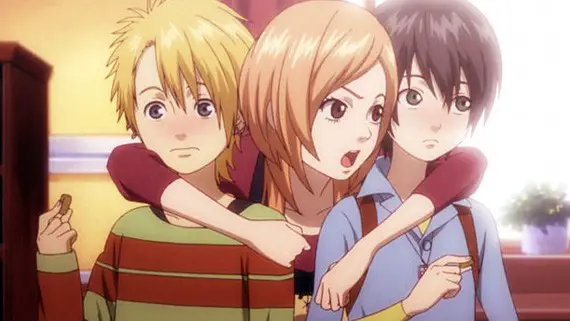 In this cooking anime chocolate and other sweets have been banned thanks to the political reign of the Good For You Party, and the new laws are enforced strictly, with force if need be.
Smudger and Huntley are two teen boys determined to eat chocolate again. They search out rumored chocolate bootleggers, eventually starting their own chocolate underground distribution.
Episodes: 13
Studios: Production I.G, Trans Arts
17. Dagashi Kashi
This cooking anime is about Shikada Kokonotsu's father owns a rural sweets shop, and his plan is for Kokonotsu to take it over one day.
However, Kokonotsu wants to be a manga author instead!
One day in summer, the cute but weird girl Shidare Hotaru, from the famous sweets company, comes to pay a visit.
Apparently, Kokonotsu's father is famous and she wants him to join her family's company. However, he will only agree if she can convince Kokonotsu to take over the family business!
Episodes: 24  Two Seasons
Studio: feel.
16. Bonjour Koiaji Pâtisserie (Bonjour Sweet Love Patisserie)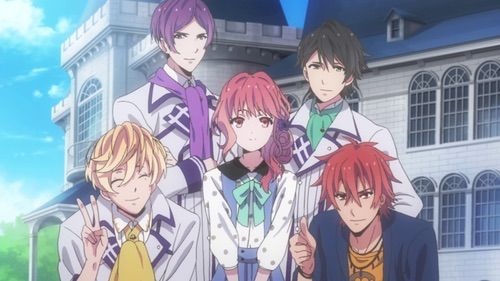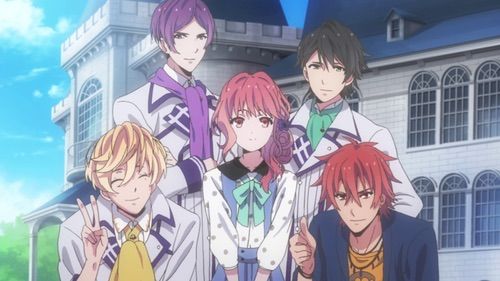 The original story of this cooking anime follows Sayuri Haruno, a girl who attends an elite confectionery school Fleurir on a scholarship to follow her dream to open a pastry shop. There she meets several charming young men.
Episodes: 24
Studio: Silver Link., Connect
15. Wakako-Zake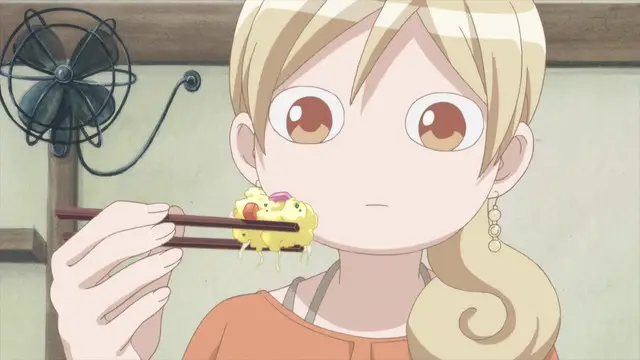 This cooking anime is about Murasaki Wakako, who is 26 years old, loves going out alone to enjoy eating and drinking, especially when something unpleasant happens at work.
This manga follows Wakako through many solitary outings, where she enjoys different combinations of food and drink!
Episodes: 12
Studio: Office DCI
14. Koufuku Graffiti (Gourmet Girl Graffiti)
The story of this cooking anime follows Ryou, a middle school girl who lives by herself. She has a knack for cooking and makes friendships with everyone through her food.
The cooking manga is "full of detailed cuisine art to whet the appetite and slightly erotic meal scenes." The "koufuku" in the title is a wordplay on two Japanese homonyms—one which means "happiness," and another that means "appetite."
Episodes: 12
Studio: Shaft
13. Muteki Kanban Musume (Ramen Fighter Miki)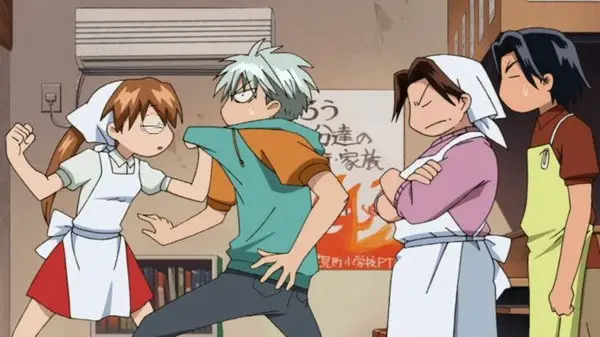 This cooking anime is about Miki Onimaru is a poster girl that works at her mother's Chinese ramen restaurant. She appears to be a normal girl, but she can become very violent if provoked.
She picks a fight with her mother and accquaintances as a result on an almost daily basis, causing a series of troubling mishaps in their otherwise normal lives.
Episodes: 12
Studio: Telecom Animation Film
12. Mister Ajikko (Born to Cook)
This cooking anime is about Ajiyoshi Yoichi is a culinary prodigy who manages the eating house together with his mother.
One day, Murata Genjiro appears in the eating house and is surprised at the delicious taste and delicate culinary skills of the katsu-don prepared by Youichi.
Subsequently, Youichi is being invited to the Aji-oh Building in which he is involved in a spaghetti match with the in-house Italian chef, Marui.
Youichi's novel culinary ideas, coupled with his enthusiasm of serving the best for his guests, allow him to defeat Marui in the match. From then on, Youichi begins to compete with other rivals in the race for the best tastes and dishes.
Episodes: 99
Studio: Sunrise
11. Bartender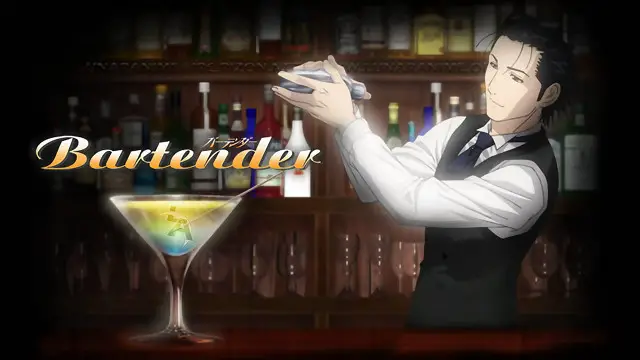 This cooking anime is about Hidden in the backstreets of the Ginza district is Eden Hall, a lone bar operated by Ryuu Sasakura, the prodigy bartender who is said to mix the most incredible cocktails anyone has ever tasted.
However, not just anyone can find Eden Hall; rather, it is Eden Hall that must find you.
Customers of varying backgrounds, each plagued with their own troubles, wander into this bar. Nevertheless, Ryuu always knows the ideal cocktail to console and guide each distraught soul.
Episodes: 11
Studio: Palm Studio
10. Ristorante Paradiso
This cooking anime is about Nicoletta is a young woman who decides to go to Rome to see her mother who left her when she was a child.
She plans to tell her mother's lover (a resonant owner who will not marry a divorced woman) that her mother was once married. Nicoletta latter struggles to understand her feeling for Claudio (an older man) who works at the restaurant.
Episodes: 11
Studios: David Production
9. Isekai Shokudou (Restaurant to Another World)
At the bottom floor of the building with a dog signboard, in the shopping district near the office street, there lies a cafeteria called "Youshoku no Nekoya," that has an illustration of a cat on the door.
It's been open for fifty years and has satisfied various salarymen from nearby offices. Despite it being called a Western cuisine cafeteria, it also provides other varieties of menus.
For the people of this certain world, it's their one-and-only special cafeteria. There is, however, one secret to "Nekoya." The cafeteria is closed to the public every Saturday in order to make way for special guests.
When a bell rings, customers from different places of birth and races appear who ask for mysterious and delicious dishes.
They are actually the same dishes served to the salarymen, but these special guests find them to be more exotic than to what they are used to.
As the cafeteria aims to serve masterpieces, it is usually referred as "Isekai Shokudou." And so, the bell rings again this week.
Episodes: 12
Studios: Silver Link.
8. Amaama to Inazuma (Sweetness and Lightning)
This cooking anime is about Kouhei Inuzuka is a teacher who has been caring for his little daughter on his own since his wife's death. He's no good at cooking, so he and his daughter Tsumugi have been eating packaged meals from the convenience store.
A series of events lead him one evening to a restaurant run by the mother of one of his students, Kotori. Her mother isn't there, but Kotori does her best to feed them both.
It turns out Kotori is often alone since her parents are divorced and her mother is frequently not around. The three of them begin to meet and cook tasty food together.
Episodes: 12
Studio: TMS Entertainment
7. Udon no Kuni no Kiniro Kemari (Poko's Udon World)
This cooking anime is about Souta Tawara is a web designer working in Tokyo. When he visits his family's Udon place in his hometown Kagawa Prefecture, he discovers a young boy.
Upon confronting the boy, Souta soon learns his secret and decides to quit his job in order to take care of the boy, Poko.
The daily adventures of the two slowly enfold as Poco energetically navigates his way through Kagawa, the "Udon Kingdom," along with Souta.
Episodes: 12
Studios: LIDENFILMS
6. Ben-to
The story revolves around a poor high school student named Y? Sat?. Sat? goes to the supermarket one day and discovers a bent? (boxed meal) on sale at half price.
Just as he reaches to grab it, he ends up on the floor unconscious. Sat? has just entered the fierce, no-holds-barred "supermarket survival battle" for half-price bent?.
Episodes: 12
Studio: David Production
5. Yakitate!! Japan
Azuma Kazuma isn't terribly clever, but he's got a good heart and great skill – at baking. Since childhood, he's been on a quest to create the perfect bread to represent Japan internationally.
Now, he seeks to enter the famous bakery Pantasia, in hopes of reaching his goal. But plots abound…
Episodes: 69
Studios: Sunrise
4. Yumeiro Patissiere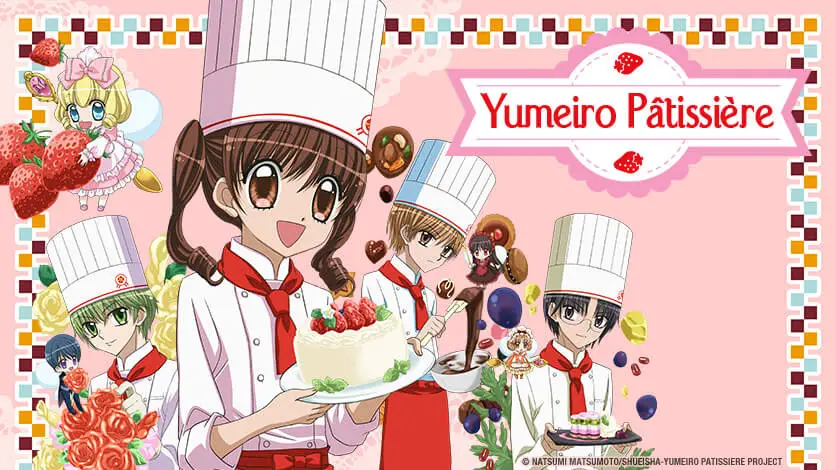 This series tells the story of 14 year old Ichigo Amano, a clumsy girl who dreams of becoming a pastry chef.
She draws closer to fulfilling her dream when she enrolls in the St. Mary Academy culinary school and meets a tiny "spirit of sweets."
Episodes: 50
Studios: Marina Sasaki, Takuro Tsuchiya
3. Chuuka Ichiban! (Cooking Master Boy)
The story takes place in 19th century China during the Qing Dynasty, where the Emperor was weakened and the country was close to chaos.
It is also during a fictitious era called "The Era of the Cooking Wars". It was an era in which top chefs with different cooking styles tried their best to improve their skills and to become the best chef in China.
It is a country where insulting a high-grade chef or fooling around with cooking could land a person in a jail, and impersonating a top-chef is as good as usurpation of authority.
Chefs compete with each other in order to gain respect and even power, but also with the risks of losing everything.
The country of China has four major regions: Beijing, Szechuan, Shanghai, and Guangdong. The beginning of the story takes place in Szechuan, Mao's birthplace.
After the death of Mao's mother, Pai, who was called the 'Fairy of Cuisine', Mao becomes a Super Chef in order to take the title as Master Chef of his mother's restaurant.
However, before he takes his mother's place as Master Chef, he continues to travel China in order to learn more of the many ways of cooking, in the hopes of becoming a legendary chef, just like his mother.
During his journey, he meets great friends and fierce rivals who wish to challenge him in the field of cooking.
Episodes: 52
Studios: Nippon Animation
2. Toriko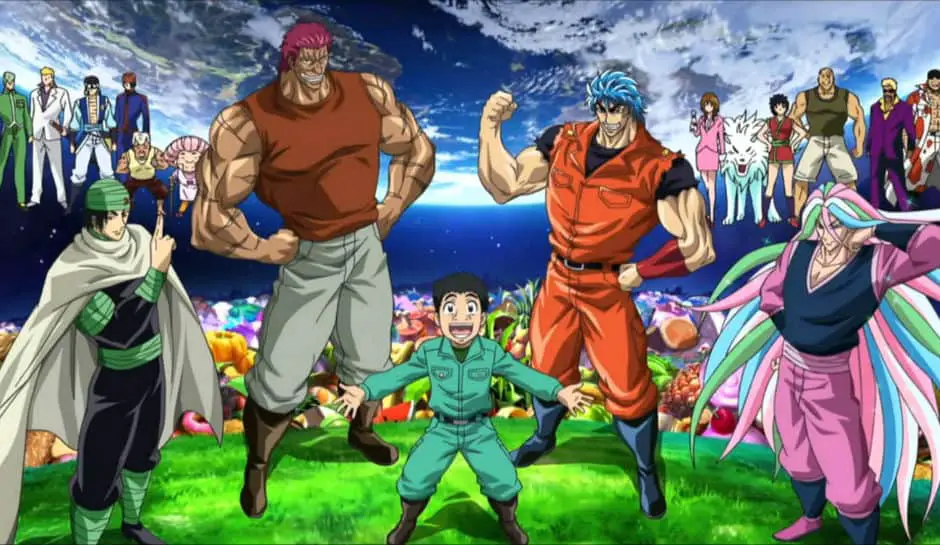 In the world of Toriko, many extravagant and delicious ingredients exist in the most dangerous places, and it is up to the Bishoku-ya, or Gourmet Food Providers, to hunt down these animals and plants in the face of danger.
Toriko is one such Bishoku-ya, taking his place as one of the Four Heavenly Kings of Bishoku-ya with his immense strength and appetite.
Together with Komatsu, a timid chef trianed in the art of preparing food; Coco, the poisonous Bishoku-ya who can see the future; Terry Cloth, the offspring of a clone of the long-extinct Battle Wolf; and many more, Toriko takes on job after job while searching for the foods great enough to make it into his dream full-course meal.
Episodes: 147
Studios: Toei Animation studio
1. Shokugeki no Soma (Food Wars!)
Yukihira Souma's dream is to become a full-time chef in his father's restaurant and surpass his father's culinary skill.
But just as Yukihira graduates from middle schools his father, Yukihira Jouichirou, closes down the restaurant to cook in Europe.
Although downtrodden, Souma's fighting spirit is rekindled by a challenge from Jouichirou which is to survive in an elite culinary school where only 10% of the students graduate. Can Souma survive?
Episodes: 24 P.S Four Seasons
Studios: J.C.Staff